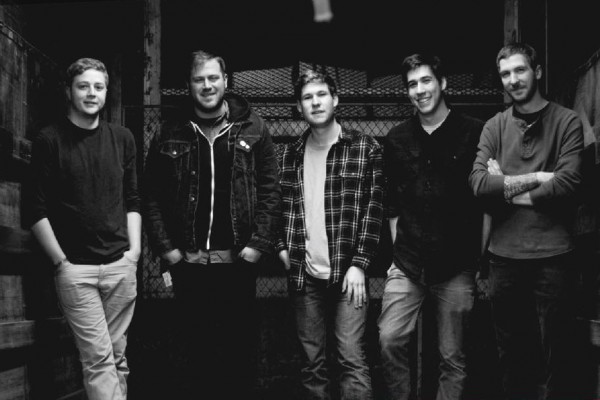 Punknews' Ricky Lineberger had the opportunity to interview some of the under-the-radar bands playing Fest 14 this year. Max and Jake of Meridian were kind enough to speak to Ricky L outside a house show in Charlotte on their tour supporting The Cathedral. They grabbed some Cookout and Jake skated while all of them talked Fest, new albums and touring.
Punknews: Describe Meridian in 10 words or less Max Stern:The band description that I wrote is "An Existential Crisis that you can sing along to." I don't know if that's an apt description now, but I'm gonna go with that.
PN: So you guys played Fest… MS: We played Fest for the first time last year. We played at CMC. It was tough.
Jake Stern: It was tough? Oh well for you, you played like a billion shows.
MS: And also, you'd kinda lost your voice from singing along all weekend.
JS: Oh yeah, but it was still so fun. It was such a blast. We were honestly amazed by the number of people that came out.
MS: It was great. Andy from the Bennies was just like screaming at us between songs and tried to give me a beer between songs at point and just sorta dropped it on me.
JS: And then spilled my beer on me right afterwards.
MS: And he was just yelling "GO MAX! GO JAKE!" It was so fucking funny. It was a really fun set, lots of people were singing along.
PN: How would you say it is different from playing with Signals Midwest? MS: Well for one Jake and I can play anywhere. We play with Steve and Tim and Rosco back home as a full band. We did a full band tour back in March which was really fun. But the thing I've liked about this project is it is so versatile. We can play with punk and hardcore bands and we can play as this guitar and banjo duo.
JS: And play with singer-songwriter types.
MS: And country bands and stuff like that. It's made touring a lot easier. It's nice to get out and travel.
PN: That was your first ever fest? JS: That's right.
PN: And you lost your voice? JS: Pretty quickly. It was unbelieveable. Fest is one of the most unbelievable things I've ever done. I don't know how we're going to deal with it this year, or how I'm going to deal with it this year because we're playing Pre-Fest too.
MS: Oh, it's not that bad.
JS: It's just a constant party. You're seeing all the friends you've met from touring all the time, like everywhere on the street.
MS: It takes 45 minutes to go anywhere, because everytime you're walking out you're running into people.
PN: Do you think you're more prepared for fest this year? JS: Oh yeah, absolutely.
MS: This'll be my fourth one. We've got 6 years of collective fest experience between us now.
PN: I know you will be…
MS: Oh, Jake's cooler than I am. He'll be fine.
JS: I feel like this time I learned my lesson and will not scream out and lose my voice before our set and I probably won't drink all day.
PN: That's a pretty tough bar to set for yourself at Fest.
PN: You're on tour right now and the first part of your tour was with Pinch Hitter, how was that? JS: It was unbelievable. Nick and Dave are just the nicest guys and the music they play is absolutely beautiful music. And we get to experience seeing them every night and see all our friends. We've toured the east coast and the midwest a fair amount so those shows were fairly well attended.
MS: It was really cool to tour with a band not from the States in the United States. We've been pretty much everywhere that we went on that tour prior to that, but having them there made a lot of experiences feel new. And I don't know, just good vibes man, good vibes.
PN: Are you seeing a good reaction to The Cathedral? MS: I think so, but that shit's really hard to gauge. I think people definitely like it, at least as much as the first record. It was a lot more of a full band approach and there are some pretty varied sounds on it. In the few reviews I've read people have said we're still finding ourselves but I just wanted every song to feel a little different.
PN: It really feels like Mountain Goats meet Signals Midwest. JS: Yeah totally.
MS: I mean it's the same sort of writing style that I have, but Jake and I worked a lot on harmonies and pop song structures and songs don't meander as much as the Signals stuff does.
PN: I can see that, "Layla, I'm Sorry" is a very
MS: Conscise
PN: It's a very good pop song.
MS: Thanks, yeah we did that in the same session as [i]The Cathedral[/i]. We had that song recorded for 2 years before it finally came out and now it's out on that split 7".
PN: What are you guys most looking forward to about Fest this year? JS: I guess we're getting the opportunity to play it acoustic and full band so it'll be really cool to play with the rest of the guys?
PN: You hoping for CMC again? You seem to be making a living there. MS: I don't know about "making a living."
JS: IF we did that would be awesome, cause that venue is really cool.
MS: I'm excited to see the Dikembe guys because they live in Gainesville and I don't get to see them very often. And all the international folks that come in. Now we know this crazy network of people all over the world.
PN: You guys are locked into Australia. JS: We've got the Australia connection.
MS: I'm excited to see Luca Brasi from Tasmania, I got to know those dudes last year and it's their first one.
JS: I'm obviously excited to see The Smith Street Band and the Bennies.
MS: I don't know if they are playing this year, they haven't been announced.
JS: Well I hope so because they have become a Fest staple for me.
MS: And I'm excited to see PUP of course and eat Gator Burritos. Honestly I only watch four or five bands a day at Fest. I don't watch that many.
PN: Is it all about the party? MS: It's not about the party, it's just about I go to bed pretty early. I just walk around and…
PN: Old man Max Stern, huh? MS: I'm pretty boring now at the ripe old age of 25. It's just good to see everyone. It's like punk rock summer camp for a week in Florida.
PN: Final question, why should people come see you at Fest? MS: I never know how to answer that question. I'd say do what you want. I think that Jake and I have been working on a lot of harmonies and dynamic stuff with vocals and I'm pretty happy with where that is right now. There are a lot of different styles that are associated with punk rock that I wouldn't exactly label as such and I'd say it's a nice change of pace.
PN: And we get to see you full band. MS: It'll be a great opportunity to see us full band.
JS: It'll be a lot of fun.