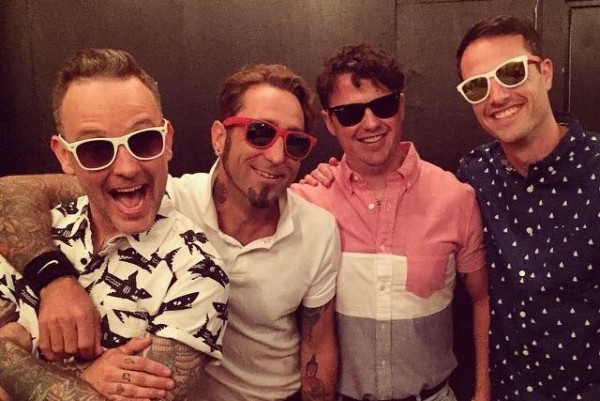 Winter may be coming, but don't tell The All Brights. As far as those sun-bleached boys are concerned, it's an endless summer, and nowhere is that more clear than on their debut EP, …Are Wild For The Night! , which dropped a few weeks back on Red Scare. On the EP, the band trades surfboards for driving pop-punk riffs and catchy singalong choruses. It's very much a soundtrack for a day at the beach, or in the case of The All Brights, every day at the beach. Punknews editor Adam Eisenberg caught up with band members Mattsimum Waves and Pat L. Board to chat about the new release, ask about the term "yacht punk" and find out why the 405 is always jammed.
The All Brights are relatively new band. How did you guys get together? Mattsimum Waves: I met Big Wave Dave on a Hawaiian surf retreat. The waves were totally firing on the North Shore that day. He had just finished destroying this epic A-frame and was surrounded by babes, so naturally I went up and introduced myself. I was a little intimidated at first because his abs were so much better than mine, but he turned out to be a totally chill dude and we instantly vibed. We came across Shreddin' Sean (bongos) at the luau that evening. He was wearing nothing except a banana leaf tied around his waist and was scaring the shit out of everyone in the limbo line. We were instant buds. We came up with all these great ideas for songs around the bonfire that evening and decided to put our plan into action when we got back to California. But we still needed a frontman. Someone to really win over the crowd. Pat L. (bass, backup vocals) and I have been close friends for as long as I can remember, so it was a total no-brainer to have him stand up front and lead the group. He sings like Brian Wilson and has absolutely no idea how to play the bass. It was a perfect fit.
How would you explain the concept of "yacht-punk?" Are yachts punk? MW: We can't really take credit for that term. It developed organically over time and started become a thing with our fans after our ninth or tenth yacht show in Santa Barbara. Are yachts punk? Fuck yeah, they are. The owner of Hot Topic has a yacht and that's where I bought my Misfits shirt. So yeah, I think it's safe to say that yachts are every bit as "punk" as the Misfits these days.
The 405 is always jammed. What are some of the best ways to kill time while sitting in traffic on the freeway? MW: You ain't lying bud! We recently had to cancel a few of our shows due to the 405 being jammed. You're much better off taking the PCH through the 'Bu. When it gets too gnarly, you can just pull over and dip your nugs in the ocean! No worries, bruh!
The song "West Coast Fuck You" seems like a swipe at East Coast punk bands. Who would win a West Coast-East Coast punk feud and why? MW: I wouldn't say it's a swipe at any East Coast bands. It's more of a testament to how awesome we are. It may not be totally obvious to the casual listener, but what we are really trying to say is, "This is the West Coast, so fuck you." As for who would win a West Coast-East Coast punk brawl? Please, bro. We have Fletcher.
Do you consider The All Brights a "novelty act?" Pat L. Board: What's a novelty act? Like Jimmy Buffet? Kenny Loggins? They're both pretty novel. I hope people think we are that novel.
You just released your first EP. Where do The All Brights go from here? PLB: You mean our full length short music thing that everyone who's anyone on the Internet keep talking about? I don't even know how that happened. Some Barney named Toby told us he was gonna make us famous and ran off with my flip phone.
MW: We're actually working on another EP right now with our editor/producer Ian Spector. We should have a fresh set of Frisbee-throwing, beach ball-bumping jams on wax by next Spring. Who knows, we might even play a few shows before then!