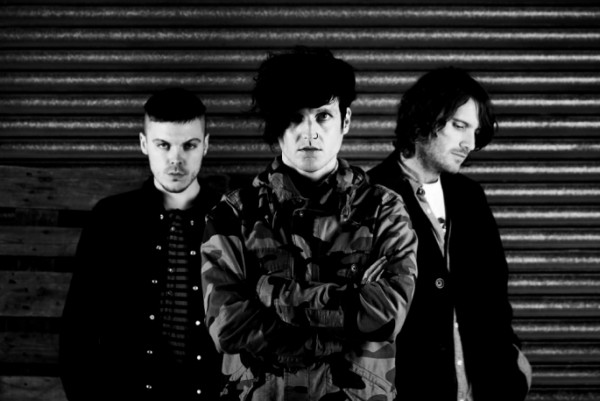 Recently, The Virginmarys released their new single Into Dust. That tune is off the band's upcoming LP due out in early 2016.
Well, today we are pleased to present a playlist by the band. The band picks some of their influences and favorite new tracks and gives some insight into the tunes. Jams picked include songs by Speedy Ortiz, Run the Jewels and Foals. Check out the playlist below.
Matt
Pins - "Dazed By You"
I heard this on the radio the other day and loved it. I love the beat that the tune starts with which then sets the vibe for the whole song. I just think it's a really cool tune.
Speedy Ortiz - "Raising the Skate"
I think this is the latest single from these guys off their new album and it's a continuation of the ace stuff from before!
Loyle Carner - "Ain't Nothing Changed"
I love the lyrical flow and content in this tune. It's an ace song with great social commentary.
High Wolf - "Wild At Heart"
I just think this is an ace tune. I love the style of it and how it's put together.
Wolf Alice - "Fluffy"
I saw these guys on the TV playing at Glastonbury and thought they were really good. Then I heard this tune and loved it!
Danny
Libertines - "Gunga Din"
'Woke up to this song on the radio and remember thinking.."this sounds like an old Libertines tune I've never actually heard??" and then realised it was actually the first single from the new album….Definitely a return to form with this one…'
Foals - "What went down"
'Off the back of their last album I thought this was a top tune to come back with from Foals… A bit heavier from the previous stuff which was a bit of a surprise but love the riff and total chaos at the back end of the track:)
Maccabees - "Something like happiness"
'One of my favourite bands of the last 5 years….. I'm always excited to hear new Maccabees music, there's always a new direction and new element to their stuff:)…Love this track and in particular his voice on it….'
Drenge - "We can do what we want"
Best new british rock band i've heard over the last year or so… The riffs are so heavy but with a really alternative vocal to accompany that really make it stand out to me:)……Love this tune and love this band…'
Dave Gahan & soulsavers- "All of this nothing"
'Been listening to this tune loads recently. It's got an almost Pink Floyd vibe to it. Top tune and the drumming is class on it'
Ally
Alabama Shakes - "Don't wanna fight"
Absolutely love Brittany Howard's voice, it's a top track off a really cool album.
Run The Jewels - "Dynamite"
Run The Jewels are smashing it right now and rightfully so. I went to see Killer Mike at a small venue in Manchester (UK) 2013 and he spoke of working with El P to do Run The Jewels. I had no idea it would take off like it has. So glad Run The Jewels exist right now. Musically and lyrically awesome.
Ibiza - "Prodigy" (feat Sleaford Mods)
Frantic and hard hitting Prodigy tune that somehow conjures up the grime and vibe of Ibiza, great words and delivery from Sleaford Mods.
Jon Spencer Blues Explosion - "Wax Dummy"
Class tune, really cool vibe and almost an old school hip hop feel to the verse vocal pattern. Really respect Jon Spencer Blues Explosion and they're incredible live.
Gaz Coomes- "The Girl Who Fell To Earth"
Beautiful song with a really lovely melody. Makes you feel like you're in a dream in the kind of way Pink Floyd's stuff can. Really love Supergrass so it's ace to see Gaz Coombes still producing great music.