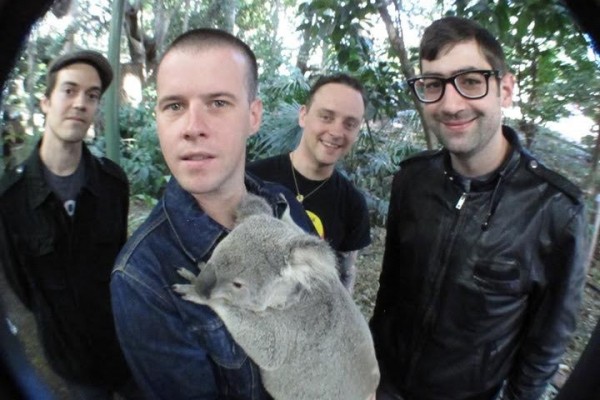 2006 seems to have been a great year for prolific punk albums. Just to name a few, Dead To Me's Cuban Ballerina, The Draft's In A Million Pieces, The Lawrence Arms Oh! Calcutta! all came out in 2006. The Loved Ones released a great album in 2006 as well, it is called Keep Your Heart and it will be turning 10 really soon. The band is celebrating the 10 year anniversary of this album in the best possible way by touring the US in early 2016. Editor Samantha Barrett spoke with bassist Michael Cotterman over some early morning coffee to speak about the celebration for the decade old record and what he is currently spinning on his turntable.
So Keep Your Heart is about to turn 10 years old. Time flew by so quickly. What does the album mean to you today as opposed to then?
It's hard to believe. Humm. That's a good question. I think, it's impossible for me to have an objective opinion about the album because it was the soundtrack to my life for about 2 years, when we were writing the songs and recording the album and doing the tour on it. I think that the album has held up pretty well and listening back to it now I think what stands out to me is that it's coming from a sincere place. When I listen to it now I think of all the memories of the times, of the tours. It was just kind of an intense period of my life. It was nice to think back on all of that. I am thankful that people are still interested in it. I guess that doesn't sound like a good answer but it is hard for me to have an objective opinion about it.
Tell me about what made you guys decide to commemorate 10 years?
Dave and I started talking about possibly playing some shows for the 10 year anniversary about a year ago. I've been playing in Dave's solo project band when I can and it was just something we were talking about while on the road. We were both aware that the 10 year anniversary was coming up, like I said it is kinda hard to believe that 10 years have flown by already. We talked about doing something, but we weren't sure what that something would be. Last spring we got an offer to play Grozerock and it turned out everyone was available. That's when we started playing again. Once we realized we could play together as a 5 piece band and it sounded pretty good, everything has fallen into place. There was no question that we would commemorate the 10 year anniversary.
The original plan was just to play a couple of shows but then we decided to expand it a bit. The first show sold out pretty quickly, the New York City show, then we announced a few more shows on the east coast then were also doing some on the west coast and then the Midwest.
Another thing that I really wanted to do was to get the album reissued on vinyl because someone I know told me that she paid a lot of money for a colored vinyl pressing on EBay or Discogs or something like that. I felt bad, if I had an extra copy I would've just given her one but I just wanted to make that available again. So, there is going to be a vinyl repress, it is also going to come with a download code with the original demo that we made with the album. We actually, at the time, considered releasing the demo as the album but then we decided against it.
Tell me a little more about the vinyl re-issue?
Fat Wreck Chords is doing it. The original album on red vinyl with the extra being the demo. We have talked about maybe expanding it. There was some songs that we were working on at the time of Keep Your Heart but they were fragments. We couldn't find any recordings of them. But who knows. Maybe they will resurface sometime in the future. Maybe in new songs…
Since you guys are together for the moment Dave mentioned in another interview that there are "ton of songs that would be a Loved Ones record". Any word that another The Loved Ones record might be an actual possibility?
We all have material that would be Loved Ones songs. It would be a question of could we find the time to do it with everyone's schedules and we would want it to be really good.
You wouldn't want it forced?
We would want to put the time into it to make a really good Loved Ones Record. Personally I think the stuff we have so far could potentially be Loved Ones songs. I feel really good about it, from what I have heard. We have emailed a few files to each other and played a few riffs on song ideas for each other. To me it sounds very promising.
Will you guys be playing this tour as the original line up for Keep Your Heart or as a 5 piece?
It's going to be the 5 piece band. Honestly, I feel incredibly humbled and flattered that they asked me to rejoin the band. I am grateful and I don't take it for granted. It's pure joy for me to play in the band. The 5 piece band is actually the best version of The Loved Ones because Chris and Dave can both do harmonies and they can run around the stage more. I can hold down the bass in the back.
Did playing with Dave Hause on his solo tours play a factor rejoining the band again?
Playing on Dave's Solo record and some of the solo tours is what led to me playing in The Loved Ones again. Dave and I started working together again starting in 2009 when Dave started to work on his first solo record. It was so much fun and it was such a good experience playing with them again. The following year they had a tour of Australia and Chris was unable to do it. They asked me to fill in and that's when I started to play with The Loved Ones again. That tour was great, it was a wonderful trip.
The Loved Ones did not do a lot that year. I think they played Home for the Holidays that year and they kinda went on hiatus. Everyone kinda had other things going on. Dave was working on his solo stuff and Mike was playing in a bunch of bands. Mike has had a great run over the last 5 years, his resume in the last 5 years have been pretty impressive. He played with War on Drugs briefly, Purling Hiss and he's now in a band called Strand of Oaks and Dark Blue. Now we do things when we can we make it work and take the time off from the other things in our lives.
Speaking of the The Bouncing Souls… I see here you guys are partaking in the festivities for Home for the Holidays this year. How did that come about?
I have to thank The Bouncing Souls. They did so much to help The Loved Ones, I am very grateful for that and I don't take that for granted. It is an honor that they asked us to play this year. For me every time The Loved Ones play is special, it's hard to say when the next time these things will take place. I am treating every Loved Ones show like this is it! This could be the last time I play this show or this could be the last Loved Ones tour. We're really going at this with that kind of mentality.
The Bouncing Souls was a huge help. I am very thankful they have been so good to us and I am very thankful for them. There are a lot of band that helped us a lot over the the years. Hot Water Music, Against Me! Alkaline Trio, None More Black, Paint It Black, in the early years of the Loved Ones. Those guys helped us out a lot by taking us out on tour. If I have never thanked any of them individually I am thanking them now.
What are you currently listening to?
I am listening to all kinds of stuff. I saw Public Image recently, I dug out their first single. That's what I have been listening to this morning. I also saw Jesus and Mary Chain a couple of months ago. I have been listening to them a lot lately, as well. I am looking at the stack of records on my coffee table since you asked…
I have been listening to Sugar a lot and I have new reissue of Promise Ring's Very Emergency. DIIV, a lot of the guitar stuff on this record reminds me of Sonic Youth. I have been listening to Mike's band Strand of Oaks as well. Someone gave me a David Bowie box set so I have been listening to that lately. It's insanely good.
Just this year in general the band that I have been listening the most is The Replacements. I lucked out and saw their DC show this spring. They are so good. The day that I got back from Grozerock they played in DC. It's a shame that their reunion is such short lived. That's a band that has a pretty big influence on The Loved Ones.