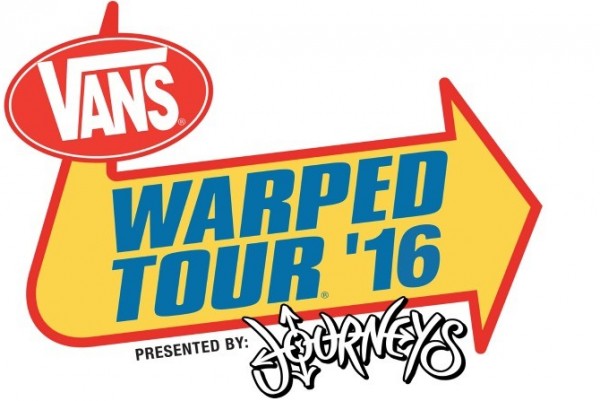 The full list of dates for 2016's Warped Tour has been announced. The tour begins on June 24, 2016 in Dallas and finishes on Aug. 13, 2016 in Portland. Notably, the tour with be returning to Boise and New Orleans and making its first-ever stop in Syracuse, New York.
Announcements about artists and ticket information will be made in March.
You can see the promo video of the announcement and the list of dates and cities below.
| Date | City |
| --- | --- |
| June 24 | Dallas, TX |
| June 25 | San Antonio, TX |
| June 26 | Houston, TX |
| June 27 | New Orleans, LA |
| June 29 | Nashville, TN |
| June 30 | Atlanta, GA |
| July 1 | St. Petersburg, FL |
| July 2 | Orlando, FL |
| July 3 | West Palm Beach, FL |
| July 5 | Charlotte, NC |
| July 6 | Virginia Beach, VA |
| July 7 | Syracuse, NY |
| July 8 | Camden, NJ |
| July 9 | Wantagh, NY |
| July 10 | Hartford, CT |
| July 11 | Scranton, PA |
| July 13 | Mansfield, MA |
| July 14 | Darien Center, NY |
| July 15 | Pittsburgh, PA |
| July 16 | Columbia, MD |
| July 17 | Holmdel, NJ |
| July 19 | Indianapolis, IN |
| July 20 | Cuyahoga Falls, OH |
| July 21 | Cincinnati, OH |
| July 22 | Detroit, MI |
| July 23 | Chicago, IL |
| July 24 | Shakopee, MN |
| July 26 | Milwaukee, WI |
| July 27 | St. Louis, MO |
| July 28 | Bonners Spring, KS |
| July 30 | Salt Lake City, UT |
| July 31 | Denver, CO |
| Aug. 2 | Oklahoma City, OK |
| Aug. 3 | Albuquerque, NM |
| Aug. 5 | San Diego, CA |
| Aug. 6 | San Francisco, CA |
| Aug. 7 | Pomona, CA |
| Aug. 9 | Phoenix, AZ |
| Aug. 11 | Boise, ID |
| Aug. 12 | Auburn, WA |
| Aug. 13 | Portland, OR |