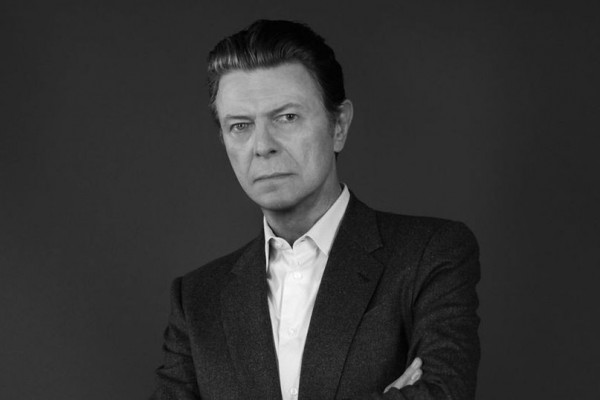 Today, we continue our Sonic Reducer series! In the feature, Punknews writers compress a band, genre, theme, or time period into a playlist that would fit on a single CD. Along with the playlist, you'll get either an overview of the topic, such as a band introduction, or a story about how the music in the playlist moved or changed the writer.
For today's installment, Punknews' Greg Simpson does a thorough look at the back catalog of the recently departed David Bowie. If you want to learn about Bowie, but don't know where to start, start here.
Sonic Reducer: David Bowie
Greg Simpson
David Robert Jones was born January 8th--the same date as Elvis Presley--in 1947, and a mere 69 years and two days later, the world was forced to go on without him. On his 69th birthday, he gave us a present, in the form of his newest album Blackstar, and then he was gone. It ended up being his parting gift to us. But let's go back, way back, and check out tracks from his very first recording in 1964 and slowly make our way to his last tracks in 2016.
14-year-old Davey Jones' and his best friend George Underwood (the same guy that punched him while they argued over a girl, permanently dilating his left eye) formed their first band, called George and the Dragons, and would perform gigs at their school. By the time they were 16, David left school and the group became more legit, eventually renaming themselves The Kon-rads, from an inside joke not really worth telling here. They got attention from a record agent from Decca, but after an audition the label ultimately declined to record them. In 1963, young Bowie ditched the group, also quitting his day job, the start of several years of jumping between bands and hoping for stardom.
He brought Underwood along and formed The King Bees. They landed a manager and David, now Davie Jones, finally got to make a record under Decca's imprint Vocalion Pop. On June 5th, 1964, the first recordings of the man who would become David Bowie were now on wax. The A side is their take on a blues standard "Liza Jane."
"Liza Jane" was not a hit, so Davie soon moved on. His manager basically forced him upon the already established band The Manish Boys. He began to influence the band to expand their mod sound to fit with what was happening in '65, with things like Dylan breaking big in England on his first electric tour, as well as slightly slower, more introspective and experimental albums like Rubber Soul appearing and taking rock and roll in new directions. The Manish Boys landed a British tour opening for The Kinks, and later released their single, "I Pity the Fool," which included a solo by then-session man Jimmy Page. The B side "Take My Tip" (which these days sounds über sexual) is where it's at, featuring the band's multiple sax players.
The Manish Boys did alright, but Davie was still not satisfied, moving onto preexisting band The Lower Third, and not long after, on again to a band called The Buzz. 1966, Bowie finally became "Bowie" officially, dropping the performing name Davie Jones after Davy Jones and The Monkees hit the air and the radiowaves. He took the name Bowie from the American frontiersman, for whom the Bowie knife is named. While he was already recording his first solo album, he joined up with a band called The Riot Squad and released one EP with them, which included a Bowie original "Little Toy Soldier," a very Velvet Underground-influenced song. On the B side they just went for it and covered the VU tune "I'm Waiting for My Man," with Bowie on vocals and harmonica, and the band keeping it fairly faithful stylistically with the addition of a bunch of sax.
In April 1967, Bowie released his first solo single, "The Laughing Gnome," and his debut self-titled album followed soon after. It was not a hit. His second album Space Oddity was a mixed bag, but it provided him with his first hit single, the title track. "Space Oddity," was released the same month as the Apollo moon landing, in July of 1969. In a 2008 interview on the podcast Sound Opinions (parts of which were rebroadcast in their most recent Bowie retrospective episode), producer Tony Visconti tells of how he came to produce every song on the album except the hit title track. After working extensively with him on the album, Bowie showed up with a last-second addition. Visconti refused to participate on the song on principle, saying basically that the song was a rip-off. He pointed out the straight pulls from Simon & Garfunkel lyrics and what was essentially a John Lennon impression on the "ground control to major Tom" bits, and Bowie simply replied, "I know, but the record company likes it." All of that aside, it's a great song and his first to be considered canonical by most fans and critics.
1970's The Man Who Sold the World gained notoriety for the cover featuring Bowie wearing a dress, a move that was simply a preview of the gender-defying fashion to come from him. Most of my generation first became familiar with the album's title track thanks to Nirvana's cover on their MTV Unplugged in New York album.
Many would agree with me that 1971's Hunky Dory was Bowie's first truly great album and I couldn't make a Bowie playlist without including my favorite song in his massive discography, "Changes." Bowie was a big fan of The Who, and "Changes" fits right into that lineage of great stuttering songs like "My (G-g-g-g-) Generation." Bowie considered it a throwaway dance song when he wrote it, but it quickly grabbed hold and was a crowd favorite throughout his whole career. It's had crazy amounts of influence in pop and rock and in other media as well, having been referenced in everything from The Simpsons (Homer, underneath his car: "Ch-ch-ch-changes! Time to change the oil! Changes! Don't want to be an oily man…") to the opening lines on the screen in The Breakfast Club ("These children that you spit on / As they try to change their worlds / Are immune to your consultations / They're quite aware of what they're going through"). It's a song that teenagers could relate to then and can still relate to now. Hell, even I can still relate to it as someone who has remained a little…weird. I love this song so much that my band named our latest album, just released in November of 2015, Face the Strange , and the instrumental opening track needed a title so we were silly and named it "Ch-ch-ch-ch-changes". It was my Dad's favorite Bowie record, and I remember jamming on that song even at an elementary age, so these songs are lodged in my subconscious forever. We're going to cover it at our next gig.
"Queen Bitch", again from Hunky Dory, also deserves inclusion simply for kicking ass. Influenced by Bowie favorite the Velvet Underground, it in turn would go on to influence the then-embryonic punk scene in New York.
Many of you are likely familiar with his seminal 1972 album The Rise and Fall of Ziggy Stardust and the Spiders from Mars, but if you're aren't, this is a perfect album to start up your Bowie collection. The quintessential glam record, a concept album about a rock star in a decaying world, has so many amazing songs I couldn't pick just one. So, here's "Ziggy Stardust" and "Suffragette City."
Let's skip ahead a couple of albums. 1974's Diamond Dogs isn't the most solid 70's Bowie album, but it produced one of most iconic songs, "Rebel Rebel". The album version is great, but the single version released after the album, with all instruments played by Bowie, really kicks you in the teeth.
Bowie went full-on American soul for 1975's Young Americans, and it produced his only number one US hit in the 70s, "Fame". Bowie at his funkiest.
In 1976 Bowie holed up in Berlin with Brian Eno, and in early '77 released the first of what would be known as his "Berlin trilogy," Low. It was his most artsy album to date, and a lot of props go to Eno, helping bring in strong synth textures and different song structures. It's a difficult but rewarding album, especially with the instrumental tracks leaving out that defining Bowie vocal element. It's a weird album, so let's get real weird with one of my favorites, the Wendy Carlos-esque synth-filled "Warszawa".
A scant 9 months later, Bowie and Eno return with "Heroes." The title track "Heroes" is another necessary addition to any Bowie playlist, and alongside Bowie's fantastic vocal performance, it features a memorable guitar line by Robert Fripp hovering like a UFO over the entirety of the song. Fun fact from producer Tony Visconti, also from the Sound Opinions podcast interview in 2008: Bowie and Eno were so focused in the studio and working around the clock. They were too impatient to wait until the next day to buy a cowbell that they wanted on the track, so they recorded Bowie whacking a metal ashtrack against an empty tape reel. Genius shit.
1980's Scary Monsters is considered by many to be the last necessary Bowie purchase after you pick up all his essential 70's albums (which is most of them), but some people actually consider it his best album (shoutout to Punknews alum editor Jesse Raub). "Scary Monsters (And Super Creeps)" shows tinges of the weirdness of the Berlin trilogy era yet it rocked like his Ziggy stuff, and was also a bit dancey like his work immediately to follow. Everything was wrapped up in a neat little package.
David Bowie's songwriting collaboration with Queen, a one-off single released in 1981 called "Under Pressure", needs no further introduction.
While the title track to 1983's Let's Dance was a number one hit, the best song from Bowie's "pop star" album is "Modern Love".
In 1988, Bowie joined a band--without his name at the front of it--for the first time since the 60s. Tin Machine was a collaborative effort, and collaborations are where Bowie shines the brightest in my opinion. Working alongside the fantastic guitarist Mick Ronson and The Spiders from Mars during the Ziggy Stardust-era and with Brian Eno throughout the Berlin trilogy had set the precedent, and in this case he didn't even bill it under his name because these three skilled musicians weren't just his backing band. They were a honest-to-goodness band in Bowie's mind, though his name was always tacked on by the press when discussing the group. Opinions were split when their self-titled album was released in 1989, with some fans seeing it "as the sonic and sartorial equivalent of your dad or uncle feeling his age and getting an earring or a too-fast Italian car" in the words of Marc Spitz in his great biography simply titled Bowie. With the musician at 42 years old, it's understandable that people were skeptical to see him trying to break into rock after a near decade of more pop and dance-based records, but listening to the album in 2016 shows it has held up great. Perhaps the production is dated, but so is nearly everything from the late 80s, especially in the gated drum sounds. But the style and songwriting seem to be a preview of the alternative rock that was just beginning to come into vogue with then-underground bands like the Pixies, and later with the more melodic work of Nirvana's breakthrough Nevermind. It may not be on par with those bands' best records, but it's a damn fine listen. Props to Punknews editor Mark Little (aka Mister Spike) for reminding me that this band existed and to give them my full attention for another listen. Unfortunately the group would disband in 1992, but it breathed new life into the middle-aged Bowie. Here is my favorite song from the album, the driving and melodic "Under the God."
Bowie had some decent songs throughout the 90s, but none of those albums would be considered classics. He found his footing again with 2002's Heathen and 2003's Reality. Bowie would suffer a heart attack while on tour the next year, and would not produce another album of new material for a decade. 2013 brought The Next Day and it was a very solid comeback, a record that downright rocked more than he had in ages. Listening again to the album this week, I realize I must play the opening title track. While he may not be referring to himself in "The Next Day", the line "Here I am, not quite dead" is downright chilling knowing that he was diagnosed with cancer not long after this album's release.
We've finally arrived at Bowie's newest and final album, Blackstar. Even in the year before his death, David Bowie was still pushing the envelope, recruiting the Donny McCaslin jazz quartet as his backing band. Here's the creepy video for "Lazarus", which many have noted seems to be an acknowledgment of his illness; a goodbye of sorts.
According to Rolling Stone, producer Tony Visconti got a call from Bowie about a week before Blackstar came out, with Bowie planning to return to the studio for yet another album. While songs like "Lazarus" and its accompanying video sure make it seem like he was writing his epitaph, he actually thought he had enough time left to grace us with one more album. Unfortunately, that was not to be. There have been very few artists who have pushed themselves to expand and flip their art to the degree David Bowie has, for the sheer length of time that Bowie has. He will be missed.
Check out the Spotify player below for even more Bowie--over 4 hours worth--with at least one track from every one of his solo studio albums. Thanks for reading and listening. Hope I did the man and his catalog justice.