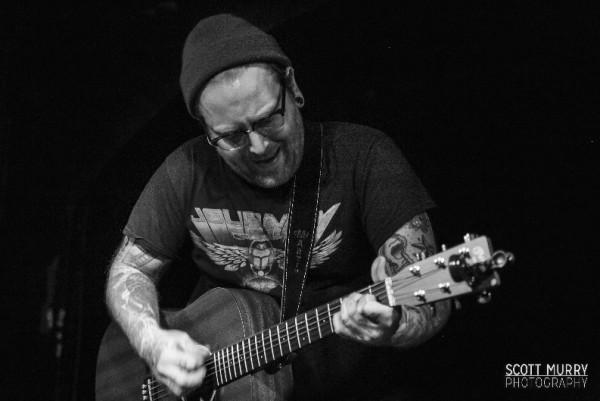 Welcome back to the Saturday Photo Feature! Today, we've got some excellent shots from Scott Murry! Scott saw Brendan Kelly, Derek Grant and Aaron Rev in Boston on January 21. Check out his shots and recap of the night below.
During the winter months, life can get pretty grim on the east coast. Wind, snow and sub-zero temps keep punks pale and pasty. Cabin fever sets in. For one beautiful weekend in January, Red Scare Industries set out to relieve this tension with Brendan Kelly and Derek Grant headlining a "Red Scare Acoustic Swinger's Party." The first of three nights kicked off in Cambridge, MA at the Middle East Nightclub.
It was a mighty bill of solo acts from across the country. I arrived midway through the night as Aaron Rev from the band Success was taking stage. The charismatic lead singer played a mix of originals and covers with an enthusiastic crowd singing along. One older gent even offered up his Ireland soccer shirt and waved a hammer in the air. He may not have been fully coherent, but it seems these were positive interactions. Rev finished up super positive saying, "The world is a sucky place -- so tomorrow, be sure to do something nice for someone that you don't know."
Continuing the posi vibes with a bit of humor, Derek Grant (drummer of Alkaline Trio and The Suicide Machines) forewarned the audience, "I'm gonna do a lot of staring tonight, at nothing in particular." Fans tried to interrupt his focused gaze, hollering out requests from throughout his career. One got through -- and Grant introduced an Alkaline Trio song, "Here's one by my friend Matt [Skiba]. Matt from Blink-182." The crowd was even treated to a cover of "Hybrid Moments" after Grant referred to Jerry Only as his surrogate father. While Grant is primarily known for his drumming career, it was cool to see his riff-rolling talents for the first time.
Brendan Kelly stumbled to the stage at the end of the Swinger's Party with a big smile. It immediately seemed a handful of fans were hoping the evening's title was literal, yelling out, "SEX!" repeatedly. Kelly played two songs and announced that he was done for the night, "That's the extent of what I planned." With a quick story about some "rubes" outside of the venue requesting a Lawrence Arms song, he contested, "It won't translate. It will be the most awkward acoustic song ever." He played it anyway and the crowd erupted to sing along.
Kelly's set meshed together tracks from his Wandering Birds, Falcon and Lawrence Arms catalogs. Playing "Seventeener (17th and 37th)" Kelly explained the lyrics came from a late New Year's Eve party, "It was 9 a.m., and quiet as fuck as Matt Skiba and I were walking home." People continued to yell obscenities and he said, "I'm trying to bear my souls you assholes!" He continued the story, sharing that the NYE evening revealed to him and Skiba that they weren't going to die young and beautiful. The crowd sympathized -- and he snipped back at them with a smirk, "penitent Cambridge." It was a win for emotions. Especially as someone yelled sperm, and Kelly replied, "Let's not talk about that. I don't like the shininess of sperm."
The evening was a success in alleviating a punk portion of Boston's seasonal curmudgeon-ness.