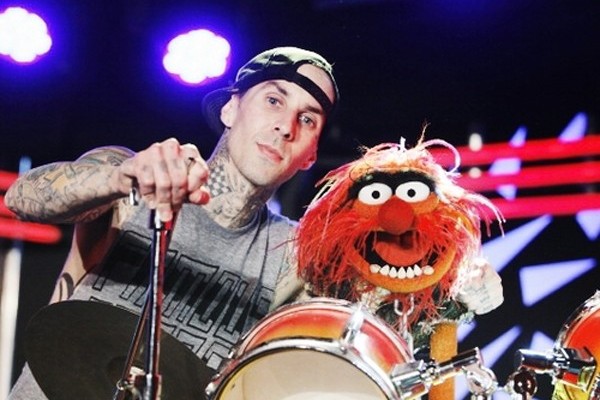 Today, we continue our recurring series, "Sonic Reducer." In the series, Punknews writers compress a band, genre, theme, or time period into a playlist that would fit on a single CD. Along with the playlist, you'll get either an overview of the topic, such as a band introduction, or a story about how the music in the playlist moved or changed the writer.
Today's installment comes from reader Mark Gallant who takes a look at each of Travis Barker's different projects. Check it out below.
Sonic Reducer: Travis Barker
Mark Gallant Drummers are rarely the focus of articles or features written on the subject of punk rock. It's usually a wild front man or prolific guitar player who claim the spotlight. There are some well-known players – Marky Ramone, Bill Stevenson – but their reach doesn't extend too far beyond the genre. After I read Travis Barker's book Can I Say, it made me think about just how stylistically diverse his playing has been over the past 20 years. It's not every day you hear a drummer who comes from traditional punk rock with such a varied palette that is always played at the highest of skill levels.
Feeble – "Song For My Father" (1995)
After high school, Barker moved from Fontana to Laguna Beach to give drumming a serious shot with local punk band Feeble, who's singer had an in with city's sanitation department: "Everyone in Feeble had a job working as trashmen, so we had a lot of fun. We were terrors. We figured out how to ring one of the big trucks so the windshield-wiper fluid would go out in a big spray on the truck's right. Then we'd drive next to the beach and squirt people who were walking on the sand." I was totally unfamiliar with Feeble before reading "Can I Say" but it sounds like fast, straight-up punk representative of the early 1990's and I am always down with that.
The Aquabats – "Super Rad" (1997) The first touring act that Barker played in was the The Aquabats, who put forth a superhero-themed brand of ska-punk while in full costume. Although he wore the rash-guard and foam helmet outfit with no complaints, Barker never liked his stage name of "Baron Von Tito" – which was a variation of the Red Baron, a pilot that Snoopy always used to fight in the comic Peanuts – because it reminded him of his fear of flying: "That name haunted me from day one in the band." The Aquabats were the first band I ever saw live and while I do enjoy ska-punk, their experimentations with other genres like instrumental surf rock never really grabbed me. Barker appeared on only one album, "The Fury of The Aquabats!" before moving on.
Blink-182 – "What's My Age Again?" (1999)
The first Blink-182 album that Barker played on was "Enema of the State," which was recorded over a total of only four days with all of the drums being recorded in just one day. The title came from Tom DeLonge's worry over his diet as he was experimenting with enemas and the lead single, "What's My Age Again?" was about how Mark Hoppus is a grown man who acts like a child. Barker recalled: "Soon after we handed it in to MCA, they freaked out and told us it was going to be huge: we would be going platinum and playing arenas around the world. We laughed it all off – that just seemed ludicrous." I think this is one of Barker's strongest recordings; the drumlines are fast and creative, plus everything sounds great. It was also cool to learn that despite his high level of playing that he really doesn't labor too much over the amount of takes for a song: "If you need fifty takes to record something and you can't play the part live, you should rethink the part."
Box Car Racer – "I Feel So" (2002)
The first side project that Barker worked on was Box Car Racer with Blink-182 bandmate Tom DeLonge. Barker would set up a pre-show practice kit when he was on tour with Blink-182 and sometimes DeLonge would bring in an amp to jam along. The duo aimed for heavier, slower rhythms with influence coming from Fugazi and Quicksand: "Everything was so fast with Blink, it was cool to play something slow and heavy with Tom." Although I was a diehard Blink-182 fan, I did not dig anything about Box Car Racer; sure, Barker's playing is top notch but the songs just sounded like generic rock to me. I passed on this then and I pass on this now.
Transplants – "Diamonds & Guns" (2002)
Barker teamed up with Tim Armstrong and Skinhead Rob to explore a fusion of hardcore punk and hip-hop on the first Transplants album. "The whole album was done in Tim's basement – it was dark as fuck, there wasn't even a light in there. Some of the songs had crazy loops, some had my live drums on top of it – the whole thing made you want to drive too fast or punch somebody, or find some other way to break the law." I thought this album was solid overall, but I definitely enjoyed some songs more than others. It was cool to hear Barker begin to experiment with hip-hop beats.
Blink-182 – "Feeling This" (2003)
Barker helped clear a new path for Blink-182 in 2003 with their "Untitled" album. The band wanted a different approach from their previous works so they booked a home studio and took as much time as they wanted: "I smoked a lot of weed in that house, hotboxing multiple rooms – which felt weird, because I knew it was an actual family's house, but that's life." The lead single was "Feeling This" and Barker wasn't too fond of the video's producer, David LaChapelle, insisting that he be greased during the shoot: "When I explained to them that I didn't want to be oiled because it made my drumsticks slippery, he got upset and greased me up himself." Even though Blink-182 have claimed that this album is their best, I would rank it among the five worst albums that I own. For me, they are a band best served with four chords and four-letter words, not experiments with Robert Smith from The Cure.
+44 – "When Your Heart Stops Beating" (2006)
After Blink-182 disbanded in 2005, Barker and bandmate Mark Hoppus decided to move forward with their own project called +44. While shooting the video for the album's title track, "When Your Heart Stops Beating," Barker was hitting the drums so hard that he broke his right arm. Instead of cancelling any future shows, he taught himself how to play the band's full set list with only one arm and a series of foot triggers where needed. This also brought him to discover a new pill called Norco: "I was on so many drugs that my confidence was at an all-time high." +44 only released one album and I thought some of the songs on it were very strong melodic punk anthems (likely leftover arrangements from Blink-182), while others were very weak ventures into electronic pop. Barker's drumming is impressive on the record but I found it had no lasting power as the band never really developed enough to be more than a one-off side project.
Expensive Taste – "Them Are G's On That Bitch" (2007)
Barker and Skinhead Rob joined up with rapper Paul Wall and formed Expensive Taste, who only released one mixtape in 2007. Barker produced everything, spending up to 12 to 15 hours a day on the project: "It was my first shot at making beats, learning how to program and using different keyboards – my introduction to something I loved." Firmly rooted in hip-hop, I found this release interesting at the time but as I look back on it I tend to lump into the same category as +44; no lasting power.
TRV$ DJ-AM – "Stay Fly / Lollipop" (2008)Barker began collaborating with DJ-AM (Adam Goldstein) with the idea of bringing live drums to a DJ set: "The first time we jammed, we played for seven hours. I didn't know what he was going to play because he didn't know what I was going to play. It was intensely satisfying. I had never gotten to show anybody all the styles I could play." The duo did a residency in Las Vegas and played other one-off events, including the one in South Carolina that preceded the eventual plane crash that claimed the lives of Lil' Chris Baker and Che Stills, as well as leaving Barker severely burned and riddled with injuries. I had a copy of this mixtape released in 2008 but I've since it let go. I'm sure it would be cool to experience live drums as part of a DJ set in person and all of the styles Barker plays definitely showcase his skill, but having never seen this act live it never held my interest.
Blink-182 – "Heart's All Gone" (2011) Blink-182 reformed and released "Neighborhoods" in 2011: "This was the first album we wrote after my plane crash. I still had bandages and sores all over my hands and legs when we cut that, and my left hand was numb. I was nowhere near ready to be in the studio, but I was excited to record again." I enjoyed this record a lot more than where they left off with "Untitled." There are a couple of slow spots here or there, but overall I think it has some really great songs and some of Barker's most creative work, like the single "Heart's All Gone."
Travis Barker – "Can a Drummer Get Some (Remix)" featuring Lil' Wayne, Rick Ross, Swizz Beatz & The Game (2011) In 2011, Barker released his own album called Give The Drummer Some that featured collaborations with a total of 35 different artists, mainly from hip-hop: "Making a solo album meant I could do whatever I wanted musically – and what I wanted was to collaborate with all my favorite MCs and musicians, giving back to the genre of hip-hop that I love so much." Even though I rarely listen to hip-hop, I can appreciate Barker wanting to make a contribution to the genre. I have a copy of this album and I play it once or twice a year, usually as background music. It's not my bag of jams but I think it's pretty cool that he sticks solely to drums on the entirety of the record; no backing vocal spots, no lyrical arrangements, just drums.
Dr. Teeth & The Electric Mayhem – "Can You Picture That?" featuring Travis Barker (2012)
Barker appeared alongside The Muppets for the release of their feature film on DVD in 2012: "I never forgot how much I loved Animal when I was a kid. He never played anything difficult – he was a puppet! – but he was always exciting to watch. There's nothing worse than a drummer who looks like he hates his job." All I can add here is that it would be hard to argue that any Muppet is more punk rock than Animal.
Travis Barker & Yelawolf – "Push 'Em" (2012)
Barker collaborated with Southern rapper Yelawolf for an EP in 2012 entitled Psycho White. The duo instantly clicked when they met for the first time: "We never had a plan to put anything out – we were just happy vibing and making cool shit. After a couple of years of doing that, we realized we had some great material and people should hear it." I was leery of another one-off side project from Barker, but I actually enjoyed this release. The tempos change up frequently and the songs are all very unique; it doesn't flow like a mixtape.
Transplants – "In A Warzone" (2013) Barker was reunited with Tim Armstrong and Skinhead Rob for their Transplants comeback album entitled In A Warzone. This album pretty much came out of nowhere and presents a raucous blast of hardcore punk with a dash of hip-hop flavoring here or there. When Barker described the title track he noted: "We come out with fists swinging." Personally speaking, I think this is the best album in Travis Barker's catalog of work. My expectations were pretty low after "Haunted Cities" and I wasn't sure if I even wanted to hear new material by the Transplants, but this album sonically smacked me in the face with some of the fastest drumming I have ever heard. Barker's playing is raw and aggressive; you can actually hear his snare strikes get harder throughout some of the songs. I also found it inspiring that this album is just about as commercially unappealing as possible: "It was just what came out of us at that time."
Riff Raff & Travis Barker – "Spazz Out" (2015) Rapper and pop culture personality Riff Raff reached out to Barker to collaborate on a rap-rock jam for the summer of 2015: "For reference, he sent me some videos of him singing over random chord progressions: when I was in the studio, everyone who heard those videos immediately fell in love with what he was doing." I like where this song starts but not where it ends. However, it serves as an example that Barker is open to taking stylistic risks.