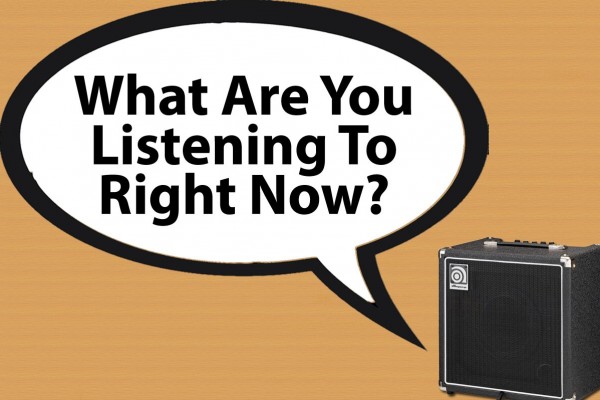 Welcome to a new installment of What Are You Listening To Right Now? Today we've got another roundup of everything we've been putting into our ears lately. Remember, this feature isn't just about us. We want to hear from you, too, so be sure to share what you've been listening to lately in the comments section. You might just help us discover the next big thing.
Mean Jeans - Nite Vision
One of the neat things about reviewing music is that you usually get your hands on things early, so even though Mean Jeans' new 7-inch technically drops today, I've been spinning it for the past week or so. As a band I've enjoyed since their earliest releases, getting a taste of their upcoming LP (out April 22 on Fat Wreck Chords) is exciting, especially since it's been a while since we've heard anything new. While last year's singles collection was an excellent way to tide us over, Nite Vision finally hints at where the band is headed, and if you've followed the evolution of Mean Jeans' sound so far, you'll be interested in to know that it seems the band has taken everything its done so far and synergized it something special. -- Adam Eisenberg
The Hives
I distinctly remember a Rolling Stone magazine cover from 2001 or 2002 with the giant heading Saving Rock and Roll or something ridiculous, and the subtitle being a list of "The" bands: The Strokes, The White Stripes, The Vines and The Hives. The Strokes put out two classic albums, The White Stripes even more than that. The Vines were an awful flash-in-the-pan band with attitude but no substance. But it was The Hives at the top of the heap for me, now and always, and they have never made a bad album (in fact, their most recent album was perfect by this reviewer's account). They were the punkest band of that bunch, and rather than being influenced by the electric blues (The White Stripes), noodly proto-indie rockers Television (the Strokes), or whatever the hell The Vines listened to (Silverchair, maybe?), The Hives were "Maximum R&B" in the way the early Who stuff was, more influenced by punk and mod, with the right amount of Kinks, Sonics and Nuggets-style garage stomp and 60s-era Rolling Stones swagger and bravado. Veni Vedi Vicious, their second album and their breakthrough, might be considered their seminal album. But I think they reached their apex with 2004's Tyrannosaurus Hives. The single "Walk Idiot Walk" was the most mod and strut-worthy of the bunch, but "Diabolic Scheme" was my favorite, a killer foray into screamy soul. If you want more, scope out my Best Of The Hives playlist on Spotify. -- Greg Simpson
Lee "Scratch" Perry - "Captive"
This month marks the 80th birthday of perhaps the greatest producer of all time, The Mighty Upsetter, The Madman, Mr. Lee "Scratch" Perry. Perry is about as legendary as a music figure can be, inventing or playing a substantial part in reggae, dub and experimental music. He may have even created the concept of "Remix." Oh yeah, he also pretty much took Marley, Tosh, Bunny Wailer, Junior Murvin, Max Romeo, The Congos and Dillinger to the next level. But, beyond his '70s heyday, he has continued to grow, evolve and change, creating ever weirder music. Right now, he is on a tour, where if his insane Santa Cruz performance from a few years ago was any indication, he is still ON FIRE. You could rattle off 30 LSP songs and still not do his galaxy justice, but I've been digging "Captive," which merges his political side, the heavy experimental side and his whimsical side into one of the heaviest and moving reggae numbers ever created. May the Mighty Upsetter upset for another eight decades and more! -- John Gentile
Couple Hundo - Have A Great Summer
Have a Great Summer is a super infectious and poppy self-released EP that Brooklyn, NY's Couple Hundo released this past October. This punk group released their debut four-song EP and had already played shows with the likes of Iron Chic and Worriers. They band sound like if Archers of Loaf meets Leatherface with a pop punk spin. -- Samantha Barrett
Slapstick - Slapstick
Since a few of the new Falcon songs have progressively been released these past few weeks, I have found myself to be listening to a variety songs from Brendan Kelly's musical endeavors like The Lawrence Arms, The Broadways, The Wandering Birds and, of course, The Falcon – specifically, Unicornography. I think that it goes without saying that all of those bands are great. However, I keep finding myself going back to Slapstick's self-titled/discography LP. Slapstick is easily one of Asian Man Records' best bands that it has had on its roster and one of the greatest ska bands of the '90s in my opinion. What is so great about this release is that the band had no issue writing awesome (and sometimes very chaotic) tunes regardless of whether they were ska, punk or a mixture of both. They had no problem switching back and forth like that, which keeps this pretty long LP interesting from beginning to end. And I have to mention that "Broken Down" is a very underrated punk anthem. Slapstick is band that is not talked about enough and very much deserves to be recognized for the big achievements they made during the short time they were together. -- Ricky Frankel