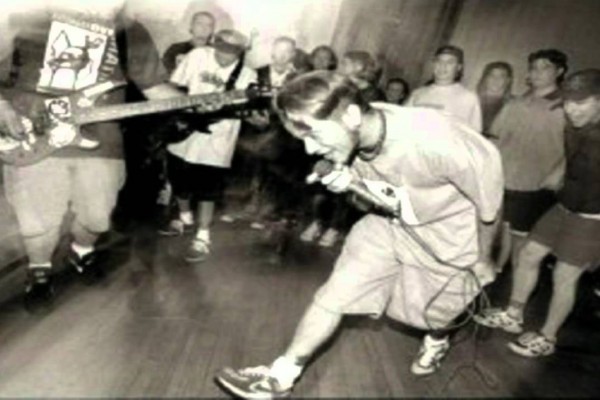 Next weekend, Long Island's Silent Majority are getting back together to play a couple of benefit shows. But, perhaps unlike many other hardcore reunions, this reunion comes with little build up or chest thumping- just the announcement of a few simple shows.
To that end, Punknews writer Mike Musilli penned some of his thoughts about the importance of the band. Check it out below.
The Peculiar Reunions of Silent Majority
By Mike Musilli
The great tidal wave of reunions in our musical underground seemed to have begun washing ashore a little over a decade ago, and they were largely correlative to the rise in big-money festivals around the country. In the right atmosphere, for the right price, and amongst the right crowd, it seemed that nearly every seminal band has or would reunite. Hell, we need look no further than the recently announced Danzig-led Misfits performances slated for this year's Riot Fests. But for a very select few, the reunion rides a much different wave.
Such is the curious example of the reunion shows of Long Island's Silent Majority. They are Long Island's great old wise men, its bards, and maybe even the LI underground's greatest architects. Nothing new there. But it's in the circumstances of their re-awakenings that suggest SM transcends other reunions in a peculiar way. And as their latest reunion shows draw near, the reasons for their transcendent adoration are ever-worthy of sharing.
To recount the band's storied history is not the point here. So I'll spare you by simply noting that SM cultivated a sound that later found itself floating through the musical and lyrical content of Taking Back Sunday, Brand New, Glassjaw, and The Movielife. And while the national music scene may not have known how important Silent Majority was to the spectacular rise of those bands, Long Island certainly did and so too did the members of those very bands.
The 2005 Silent Majority reunions, however, were prompted solely by money, by searching for something lost in their personal lives, by playing together again. But not in the sense that we've come to consider those ideas in lieu of other reunions. Those SM reunions were born from the untimely death of James McAuliffe from Heads vs. Breakers. It was about raising money, it was about recalling what they'd done some many times before, it was about playing for others. In short, it was about helping. James was a part of the community Silent Majority helped to create. He was a friend. He was a bandmate. He was a Long Island boy taken from his loved ones far too soon. And so the Silent Majority guys did what they had done for so many years: they booked a benefit show. All proceeds would go to James's family to help pay his medical bills, and anything else needed. The results: two sold out shows played exclusively by Long Island bands, led by the Island's great musical guardians. And all the in spirit of community.
And yet this selfless ethos was nothing new to Tommy Corrigan or Rich Jacovina, Silent Majority's most recognizable members. Both had been integral parts of the PWAC (People with AIDS Coalition) collective who are, arguably, the most influential group in Long Island's punk history. Both helped book shows at the PWAC warehouse for many years. They donated much of the door money to the coalition that owned the warehouse. The coalition itself raised awareness about AIDS on the island. It was through the PWAC collective that Long Island came to stand on its own two feet in terms of hardcore and punk. Of course there were other venues on the Island that booked shows prior to the PWAC but none were so inclusive, none were so DIY, none were so committed to creating an underground music community for the droves of suburban punk and hardcore kids that populated their shows. And this part of their lives, of donating and helping those less fortunate, seemed to carry itself directly into their reunion shows for James.
For it was with the PWAC and more specifically Silent Majority that suburban hardcore kids felt comfortable with their own disenchantment and disillusionment. Sure New York City and that hardcore scene was undeniably paramount in both influence and mythology. But with the PWAC and Silent Majority, New York suburbia finally had its own flag to wave. And it was a flag to wave proudly. The guys in Silent Majority had always committed themselves to their musical community. It was just a part of their collective DNA. It was in their music, their lyrics, and their actions. James was one of those kids who was swept up by just those sentiments. And when his family needed help, Silent Majority came out of hibernation.
That reunion was in stark contrast to the sometimes overblown and often over-publicized reunions that would take place in subsequent years. Cro-Mags. Refused. Judge. Sheer Terror. Chain of Strength. At the Drive-In. Gorilla Biscuits. Quicksand. American Nightmare. The list goes on and on. And that's not to say that these bands don't deserve to get back together for whatever reasons drive them. They are absolutely deserving and entitled to that. I mean, why not do it if you can rekindle some magic and do it on your own terms? But the Silent Majority example still stands apart. Theirs are reunions of community and charity in the face of great loss.
And so it is that the great polar bears have awoken from their hibernation yet again this year, just over a decade after they were called upon for James. Once more they've come back for another member of their community stolen away far too soon. Rob McCallister, guitarist for Capital and Iron Chic (and countless other LI bands) passed away earlier this year. Without hesitation, without needless coaxing, without excessive fanfare or dramatic buildups, Silent Majority announced they would be playing again to raise funds for Rob's family. And true to form, they will take nothing for themselves.
There is something to be learned from the re-awakenings of Silent Majority. They didn't make it in the same way that most bands measure success. They didn't have the look or the calculated game plan that managers and booking agents sought to exploit. They didn't have an explicitly melodic sound that could pander to different genres. But what they did (and do) have was unbridled and unapologetic earnestness. They drew people to them by offering musical stories of the suburban plight, of living lives shattered by divorce and heartbreak and addiction and solitude. Those stories may not have won them the popular vote. But it won them the hearts of a community. And soon enough they will bring people together again. Because that is what Silent Majority does. Just as they didn't fit expectations when they were an active band, they defy the norm even in their reunions. They will reunite again and they will do it for others, for community, and for no financial gain.
They've taught us time and again that music is community. They've taught us that music is family. They've taught us that when you've created a community, you never truly leave it. And they've taught us that when your community needs you most, you come to its side and you stand with it without hesitation. These lessons are indeed why Silent Majority transcends simply being Long Island's old wise men. And these lessons are why their reunion shows are a step apart from the countless others we've been fortunate enough to experience.
If we recall the lyrics to a song they wrote way back in 1997, "Polar Bear Club," they might even be our great prophets:
"To me this is a lifestyle, not some silly trend. And years from now when they're all gone, I pray that we're still friends. In the sand at Gilgo Beach in the year two thousand and sixteen. I'll be forty two and so will you, in our chairs down by the sea. Faded tattoos on our legs and back, and our feet are buried in the sand. I just bought a microphone for my kid 'cause she's trying out for a band."
Indeed those lyrics remind us just why music is so much more than sound. And as their 2016 reunion shows draw near, those lyrics also remind us why Silent Majority is so much more than a band. They know the indelible mark they left on their musical community, echoed on in so many modern bands. They humbly acknowledge the influence they had in creating the Long Island hardcore and punk underground. But none of it is overblown. All of it is earnest. And it's in that very earnestness that their curious and selfless reunions are born. They are here to help. And while we hope they don't have to reunite anymore under such tragic circumstances, we selfishly hope that this certainly isn't the last time that Silent Majority comes out of hibernation.