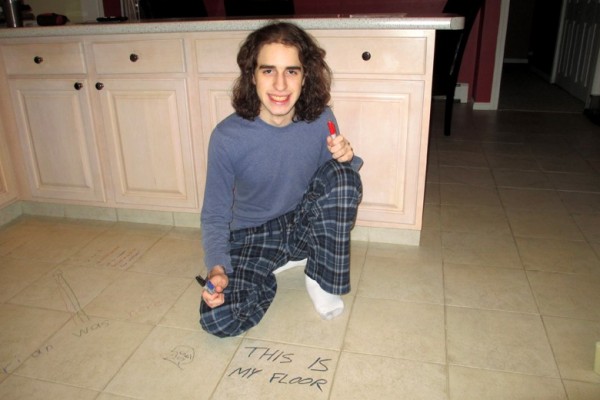 Today, Punknews is pleased to debut the new song by Adrian Cohen.
This premiere might be a little different than our usual fare. Cohen is a 16 year old savant that composes songs, using his dad as a lyricist. Cohen is a calendar counter, eats over 200 cantaloupes a year (he volunteered that info, we didn't like ask him, "how many cantaloupes do you eat in a given year"), and writes songs from a truly unique perspective. Whereas most bands we cover tend to write towards a genre's precepts, or intentionally move away from certain traits, Cohen, like a very small group, seems to write in almost a true vacuum. You could, perhaps, compare his process to that of Daniel Johnston, Brian Wilson, and Wesley Willis, but each of those artists have their own style.
You can pre-order his upcoming album, Sticks and Stones right here. Meanwhile, hear his new single, "Cooler than Cool," and check out an interview with Adrian and his dad, below.
What day of the week was May 7, 1723?!!! Tell me, right now!!! Don't think about it! NOW NOW NOW!!! Adrian: I think it was Friday. [Ed- he is correct.]
At what age did you start composing music? Adrian: I was 14 when I did my first song, "Waved to Me."
Derek: A few years ago, after playing lots and lots of covers, we figured it was time for an original. This was the first and only one where Adrian did all the music first and then we came up with words later.
What do you personally get out of composing music? Adrian: It's fun. I like coming up with catchy melodies and stuff. Recording them is really cool. We get to play around with different instruments, which I find even cooler. I love when my songs are put onto CDs.
"Cooler Than Cool" seems to be about a romantic relationship. How did the song come about? Derek: It's about a guy that really loves a girl. I wrote it just ambiguous enough to also be a girl pining for a guy, or any other romantic combination. The sentiment is pretty universal and wasn't based on any personal life events, although it really would apply to anyone that really loves someone. I'm pretty sure the title was inspired by Happy Days, and that wouldn't even be the first song of Adrian's that can make that claim.
What's your average day like?
Adrian: For the past 9 months, during the week, I leave for school at about 7 and come home shortly after 2. I wake up between 5:30 and 6 and go to bed around 10:30ish. In the spring, I always had tennis team practice for a few hours after school. At night, I listen to a lot of music, do homework, and play piano for about 30 minutes. Starting tomorrow, I'm on summer vacation. I'll listen to lots of music on TuneIn radio on my phone, CD player, radio station apps, or satellite radio.
Derek: You ask Adrian a question like that and he could probably tell you the exact time he woke up every day last year. We come up with a new song every 3 or 4 weeks. We try not to do them too fast because he only spends about 3 hours / week in the recording studio and it takes about 7 hours in the studio to finish a song. It's a year-long process, and at any given time, he has 1 or 2 songs that are either done or nearly done, but are yet to be recorded.
What artists currently are influencing you? Why do you like (or dislike) those artists? Adrian: I don't think that I've ever been truly influenced by anyone, but I really like Styx, The Beatles, and Led Zeppelin. I really like how Styx and the Beatles have multiple lead singers. I really like Styx's prog rock style and all the instrumental parts. We're currently working on a song that's supposed to be our version of "Penny Lane," but that's where the influences end.
Derek: I'd love to be able to write songs like those by The Fratellis or Oasis, and even though they're always in the back of my mind, our songs never come out like theirs, so I think Adrian's right when he says that we're really not influenced by anyone.
Why is the new album called Sticks and Stones? Adrian: because the Sticks part comes from my favorite band, Styx, and Stones comes from Stonehenge, a place we went to last summer. Stonehenge is also the name of a song on the album. I thought Stonehenge was a really cool place.
Derek: Stonehenge was such a sight to see that I had to come up with the definitive origin story and put it to music. One of the pictures I took of Adrian there wound up being the cover of the CD.
Please tell us about your songwriting process. Adrian: My dad does the words and I do the music. Then we sit at the piano together and come up with stuff to make it cool. It's a lot like how Elton John and Bernie do it.
Derek: I'll write the words first, usually with some kind of basic melody in my head. When I finish, I'll sing it to Adrian and then we'll go to the piano. He'll create the music either the way it sounded when I wrote it, or the way that he hears it. Then he'll add the cool stuff - hooks, transitions, instrumental bridge, intro, outro,… He'll try various things and we decide together what works the best. Sometimes, during some jamming, Adrian will come up with a killer riff that we'll then isolate and build a whole song around.
I believe you are a fan of cantaloupes. Please tell us why that fruit is so great? Adrian: Yeah, I love them. They can be very juicy at times and I really like the taste of that. I eat them every day for breakfast and during the school day, at lunch, too. Derek: …and the best part is that they don't have a season. They're available all year long. Sometimes if a cantaloupe is about to go bad, I'll tell Adrian that he can eat as much as he wants, and he'll cut up and finish the whole thing. Maybe that should be a song - cantaloupe, antelope, can't elope, rope-a-dope…