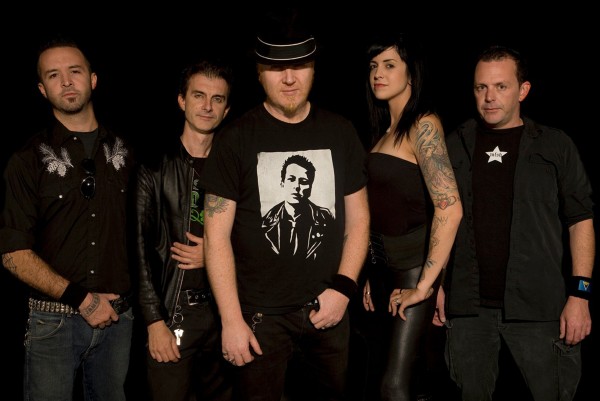 Today, Punknews is excited to debut the new track by The Mahones!
Canada's The Mahones have been staying true to their Irish roots for 25 years now, so they're releasing a retrospective, The Very Best: 25 Years Of Irish Punk. For the compilation, they re-recorded "A Great Night on the Lash," which finds the band saluting the wee rolling greens of Eer'land, the Pogues, and punk rock itself in four minutes. There are fiddles, flutes, and drunken sing-a-longs. Speaking to Punknews, the band's Finny McConnel said, "This song is about the night Shane MacGowan came to see The Mahones in Montreal, and then we went out drinking…for three days."
The album is out August 26 via Sailor's Grave Records. But, you can check out the new tune and album info below, right now.
25 Years of Irish Punk Tracklist:
01. Scruffy's Intro
02. A Great Night On The Lash
03. Paint The Town Red
04. Shakespeare Road
05. GIve It All You Got
06. A Drunken Night In Dublin
07. Ghost Of A Whiskey Devil
08. Across The USA
09. Streets Of New York
10. Queen And Tequila
11. One Last Shot
12. Down The Boozer
13. Angels and Devils
14. Is This Bar Open 'Til Tomorrow
15. Teenage Kicks
16. Drunken Lazy Bastard
17. The Hunger & The Fight
18. Punk Rock Saved My Life
19. Last One To Die
20. Alternative Ulster
21. Wild Rover (Live In Italy)
| Date | Venue | City |
| --- | --- | --- |
| July 10 | Colorado Irish Festival | Littleton, CO USA |
| July 30 | George Street Festival | St. John, NF Canada |
| Aug 13 | Fergus Highland Games | Fergus, ON Canada |
| Sept 10 | Fort Henry Celtic Festival | Kingston, ON Canada |
| Sept 23 | Get Shamrocked Festival | Murrieta, CA USA |
| Oct 20 | Bugerweeshuis | Deventer, Netherlands |
| Oct 21 | Ex Haus | Trier, Germany |
| Oct 22 | MTC | Cologne, Germany |
| Oct 23 | Musik & Frieden | Berlin, Germany |
| Oct 25 | Derur Kert | Budapest, Hungary |
| Oct 26 | Arena | VIenna, Austria |
| Oct 27 | Dynamo | Zurich, Switzerland |
| Oct 28 | Officine Sonore | Vercelli, Italy |
| Oct 29 | Dublin House | San Benedetto del Tronto, Italy |
| Oct 30 | Swamp Club | Massa, Italy |
| Oct 31 | Centrale Rock Club | Erba, Italy |