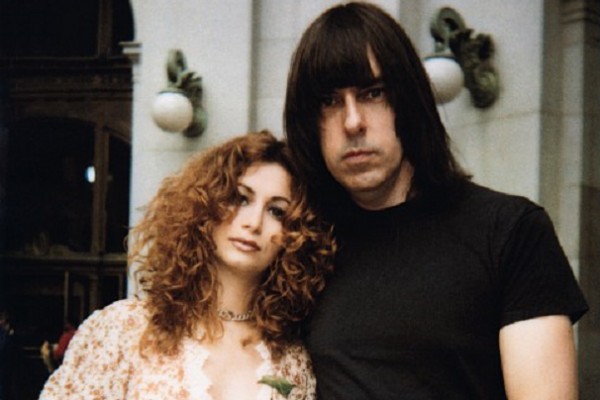 On July 24 at the Hollywood Forever cemetary, Linda Ramone (wife of Johnny… duh) will throw her annual Johnny Ramone tribute. To make things extra special, it's also the Ramones' 40th anniversary, so Linda has got a lot of cool stuff planned. There will be a screening of Rock 'n' Roll High School. Roger Corman will be there, as will Henry Rollins, Steve Jones, and a bunch of other people. Plus Kirk Hammett is bringing his horror movie poster collection!
To kick off our own celebration of the Ramones' 40th, Punknews' John Gentile spoke to Linda about the Johnny celebration, the responsibility of being the protector of the Ramones' legacy, and of course, that very, very famous love triangle…
You can read more about the tribute here and check out the interview below!
What does the tribute mean to you? I always sit there and ask myself, "would Johnny like being here?" I always do a tribute with him in mind. Johnny loved collecting- baseball cards, movie memorabilia- so when I do the tribute I always want it to make something that Johnny would like and that the fans would have a good time at.
It's a celebration. It isn't about who comes or whatever… it's all about having fun, remembering Johnny, and remembering the Ramones. It's all about the legacy. I always have a great time because every year I do a different theme. Last year I had Rod Zombie, who was a close friend of Johnny and mine, we had him show one of his movies. We had Duff Mackagen and Fred Armisen and Billy Idol, and they all did some Ramones songs. The year before that we had John waters, because Johnny loved his movies.
This year we are doing the ramones' Rock 'n' Roll High School because it is the Ramones' fortieth anniversary, so we are going to celebrate more about the Ramoens themselves. I'm very excited about our guests. Steve Jones from the Sex Pistols is hosting it, Henry Rollins is my special guest star, I have Roger Corman coming- I'm really excited about having him coming because he's king of B's- it's just a good time for people to celebrate and meet up. People meet up and talk about bands they like. I love all of it.
You mentioned Johnny's collections. I was always surprised that he was into vintage horror movie posters. Why do you think that is something he liked to collect? Johnny's made collectables were horror movie things, and baseball. Not really rock music, because once he became a member of the Ramones- [prior to the band] he was more into going to concerts like young person, the Who, The Doors, Jimi Hendrix, everybody- but once he was in the Ramones it became more of a job, and he continued his hobbies, which were Horror and baseball.
He loved horror. This year we have Kirk Hammett's collection in the mausoleum.
What do you think that he got from horror movies specifically? When he was young and an only child, and his parent's owned a bar, he sat at home, alone, watching horror movies. That's why.
Do you feel as though the general public perception of Johnny Ramone is accurate- that he's this serious, steadfast guy that's always working, that is uncompromising. Yeah, I guess so. Johnny was definitely a worker. When he lived at home and got a job as a construction worker, and before he moved out, he had like forty thousand dollars saved. That was a lot of money back then. He would go to work every day, he wouldn't buy lunch- he'd have his mother make him a sandwich and he'd buy a soda. He saved every single penny. That was Johnny. From the first day he was in the Ramones, he was always talking about retirement. He was 20 and talked about retirement! He always set a goal for himself. That was Johnny.
You and Joey's brother, Mickey Leigh, are basically the archivers and preservers of the Ramones now. Is it ever a burden or tiring for you to always have to be the standard bearer for the Ramones? Never. Not at all. No. Johnny loved preserving his legacy. When he was dying, he said to me, "I'd rather be here preserving my legacy because I'm the best person for it, but if I have to pick one person in the world, I pick you, Linda." So, to have Johnny pick me, and say I would do a great job at keeping his legacy alive and the Ramones legacy alive, that's the most important thing to me.
Around town, you see people in Ramones shirts. Criticism, which isn't necessarily my criticism, is that people wear Ramones shirts without a knowledge of the band- almost like a brand, rather than a respect for the music. Do you have a stance on that issue? I enjoy seeing Ramones t-shirts on people from little people to big people. I understand why some people might say that it is a fashion statement, but everyone who then walks by, whether or not the person wearing the shirt knows who the Ramones are, everyone who walks by sees the Ramones. I see no problem with everyone wearing a Ramones shirt. Yes, of course, music fanatics and music fans, want people to know about the music… I grew up as a fan of New York Dolls, my brother was a fan of Black Sabbath and Montrose.
When I was dating Joey, all we would talk about was Slade and Sparks. And of course, Johnny, had a jukebox, and we would play everything from Elvis- he had an Elvis room- to Frankie Lane to Leslie Gore. I got used to hanging around so many people who only wanted to talk about music.
But, it's a different world now. Kids are only into things that are popular. There really isn't much of a cult scene. It's a different world so the older "rules" don't necessarily apply.
Linda, you have exquisite taste. You were a fan of the Dolls before they were big. You were a fan of Tom Verlane before he was big. You were a fan of the Ramones during their earliest gigs. What music are you listening to these days? I still listen to the same thing I always listened to- glitter rock, punk rock, and British invasion. In the morning I listen to the crooners- Dean martin, Frank Sinatra, Sammy Davis, Vince Damone. I was just on Jonesey's Jukebox, and I got to pick some songs, which was great. Just on the radio we played everything from the Damned to Siouxsie and the Banshees to the Clash to Roxy Music- I love good music. I don't really listen to anything new. I live in my own world!
People always say the Ramones fought all the time. But you once said something along the lines of, "well, they had to at least get along enough to be in a band for over twenty years, together." There's a whole thing to it. Don't forget, the only two left from the beginning to the end is Johnny and Joe. Johnny loved the idea that everyone thought that they hated each other that much. If they really hated each other that much, they wouldn't have been able to stay together . Honestly, Joey used to send Johnny Christmas cards every year. Do you send someone Christmas cards if you hate them?
Yes, they had differences. Joey wanted to have a hit single and be poppy. Johnny really wanted to be in a punk band. Did I cause some of the riff raff? Of course! I dated Joey first and then I dated Johnny.
But, I didn't leave Joey. Joey and I broke up and it was a mutual agreement between us. People don't bring that up. I don't talk about our personal business. But, that was between me and Joey. We broke up mutually. I didn't break his heart. He didn't fall apart. It was something that had to be. I left Joey and then went to Johnny and fell in love with Johnny, because that was what was supposed to be. At the end of the day, nobody broke anybody's heart. We all putt he Ramones first. Joey Did. Johnny did. I did. Personal things came second. The Ramones always came first.