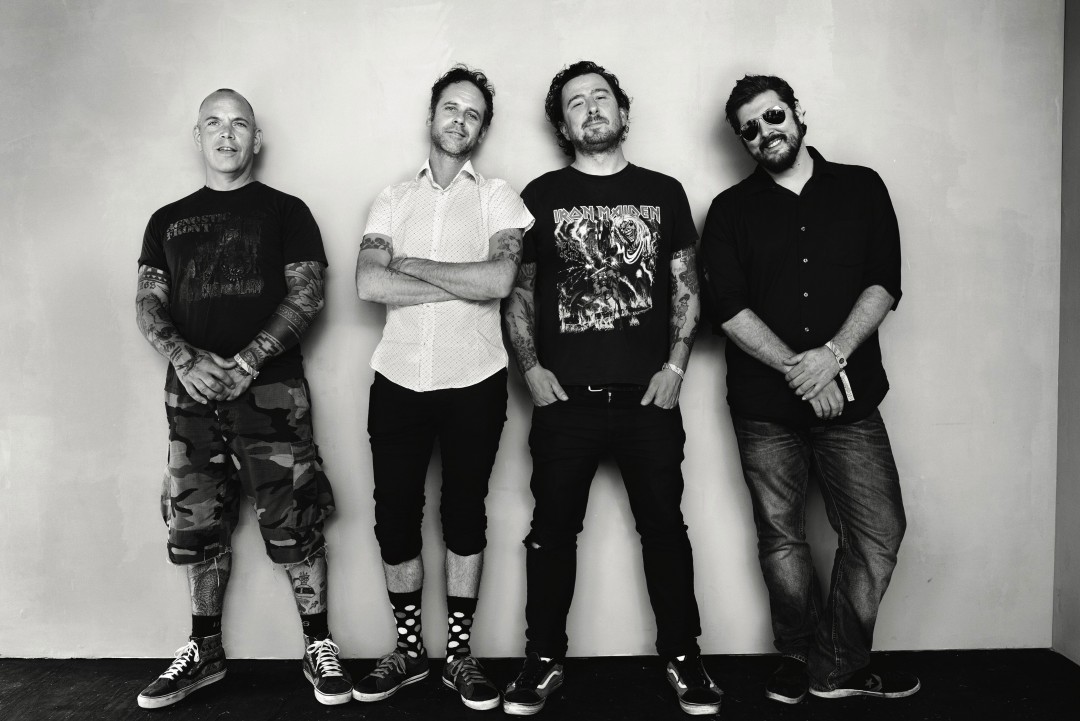 The Bouncing Souls have been churning out some incredible 3 chord punk tracks for over 27 years. From their 1994 release of The Good, the Bad, and the Argyle to their 2012 release of Comet , the band have 9 albums under their belt they have decided it was time to release their 10th album this week with drummer George Rebelo of Hot Water Music. Their 10th album is titled Simplicity will be out on July 29th on Rise Records. Punknews editor and super Souls fan Samantha Barrett spoke with singer Greg Attonito to discuss aliens, conspiracies, and the new album.
You guys have a new record coming out and it will be your 10th studio album release. Tell me about the process that went into making this album?
Let's start when George Rebelo entered the band, roughly two to two and a half years ago. The first conversation started like "Hey, it would be cool to write some music with George? Yeah, how cool would that be?" Entering any band that has been together for almost 30 years it's kind of a daunting task. We did not put any pressure on George, we wanted him to just hang out, learn songs and gel together. I think it took a good year to year and a half for us to all start to gel together as a band. Then we started a process again, there was no deadline. George and I will be in New Jersey for two festivals so let's stay for 2-3 days and let's do some songwriting days. Let's see what happens. Over a course of about a year and a half, we began to create a little pile of ideas for songs and kept doing that. We said when we get to a point where we have enough for a record then we will think about recording. When we finally got to a point where we had 8 or 9 solid ideas we booked sometime in the studio. In February we recorded in the Lakehouse in Asbury Park. We recorded one song there and we really liked it.
Our general attitude was, we have made 9 studio albums, we have been a band for so long there is no point in rushing into making a record. Let's just do a record we feel great about. Having that attitude when you're creating makes a huge difference in the world. It was nice to be at this point we are always so busy with other projects, The Bouncing Souls doesn't have to take a financial burden like it did in the past.
You guys don't live in the same state anymore right?
Exactly, which has its advantages and disadvantages. Sometimes it's good because we get together just for a short time and we feel real focused. We don't live together so we book those times where we are doing music. Everyone will drop everything and we get up a bunch of ideas in that session and kind of process it in our brains for a few days or weeks and that helps instead of being around each other all the time. It's good to have the space to process that stuff and come back with different ideas, I thought about this thing for that part (of the song) and you send it to everyone and everyone's like that's cool, that's great. Technology has definitely changed the game since we started writing together.
This would be the first album recorded with George Rebelo. How was the process writing him? What has George brought to the table in this new version of the Souls?
It was great. George is equally great as a friend as he is a drummer. I think we thought of him first as soon as Michael choose to leave the band. We were like "Who do we want?" We all instantly said, George Rebelo. It happened that fast, we said: "I dunno how that would work out but how cool would that be." That was kind of the thought. Playing together at first, it was a little janky at times because we are not used to things, as we began to gel more we got into the songwriting process. We're not the same Bouncing Souls as we were with Michael McDermott and there is no trying to be, to create an illusion that we are. It's definitely The Bouncing Souls because Pete, Brian and I have always been The Bouncing Souls. George brings himself into that, I think it is a cool version of The Bouncing Souls with him, it's just different than the one with Michael or the one with Shal.
To answer your question after all that, the songwriting process was great. George has a lot of experience under his belt and he assimilated very well with our wacky process. He just went totally along with it and was able to at the right times, he just has great timing. When you're in a group you're inputting and you're listening to everybody. He is great at that. He would be like "how about this?" and he would start to play and we would go off of that. That's what makes I call songwriting magic, where you can be in a room with people who have some good ideas on their own and we pile them in and mix them around and you get this greater thing. George just went right along with it and we had a great time doing it. In the end, that's what also goes into our song, that feeling you have, the meaning of the song goes into it. I think George just did really well with it and we had a great time writing songs together.
You guys made mention on a post awhile back that this album felt like a mash up between my two personal favorite albums (How I Spent My Summer Vacation and Anchors Aweigh). Was it intentional that you guys went back to those two albums or did it just evolve that way?
It evolved that way. I think maybe the most intentional thing was… this might sound funny but in the very beginning we said let's write songs that we will actually play live. When you have gone through a million different writing processes once, if you try to do that thing again it doesn't really work so you need to try something different. That's why we got like all of these different types of Bouncing Souls records. Some of them are more live and some of them are more studio. In the end, you have this really cool collection.
We have written a bunch of good songs but we don't play them live, let's try to stick to really editing down and rocking tunes. If it's gonna be a minute long and we like it we will still like it and want to play it live instead of "now we need to another chorus and we need this and now I am bored, I don't even want to play this song." That was the thing that we went by, I think it really helped. That element makes it sort of like Anchors Aweigh and Summer Vacation. The other big thing was when we were about ready to book the studio time we choose to go with John Seymour, who produced Summer Vacation and Anchors Aweigh with Pete and Brian. As soon as we came to the studio, John came down to hang out with us, within a couple of days it just felt like those sessions. By the way, John works and the way John hears us, it started to sound to us like Anchors Aweigh and Summer Vacation as this new version of the Souls.
Since it took you a span of many months or a year it gave you time to go back and forth on stuff like that, about what you like and what you don't like anymore, it is in your head space.
Exactly. Something a lot of times when you first start to rock it as a group you say this is awesome. You listen to it, a month later and you're like that's not so awesome anymore. I think John Seymour's touch helps too.
How would this album fit into the already vast catalog and history of the band?
It's tough to say… Those things really settle in with time there is nothing we can do about it. I think it sort of has something to do with the people that listen to it and find that meaning. I am totally happy with that. I think that's what is fun about making music and putting it out. I am very fortunate to have that kind of response to create something and to be a part of a creation that you feel a certain way about and you want to say something about yourself or about the world and express something. Let the world sort of define it and let them say something about it, react to it, love it, hate it or do something about it. I think that is the fun part. How it fits in? We will see and that is the part I am looking forward to seeing how that will play out.
Tell me about the song "Hey Aliens," Do you believe in aliens or is there more to the story?
Um… first of all, yes! I think it would be when you look around and you see how endless space is, it truly has no end. How is it possible that there wouldn't be some sort of life beyond this planet? How minuscule our planet is in the big picture of our galaxy. Yes, I believe aliens exist. Second thing, as far as getting into the song, I have heard all these stories, conspiracies about all those aliens. Have they been on earth? and all of this other stuff in movies and pop culture. In the end, all you have is what feels right or what to believe or not to believe depending on your perception of yourself and your place as a human in the world. I did not intentionally want to cover these kinds of things but when the idea hit me, I would love to expose a lot of the… to try to cover this briefly… the US government isn't want it appears. Just let's just put it that way.
It's supposed that we are to be free Americans, we have the opportunity to create our own life, our own business all that stuff. Is it a little bit of an illusion? It is an illusion because most of everything is owned and being controlled by a lot of people that we don't even know who they are, our freedom isn't what we think it is or less than we think it is. I always want to be able to touch on that subject in songs but a lot of times it sucks because who wants to hear about that stuff in a punk song.
I thought how funny would it be in a funny cartoon comical idea to reaching out to a bunch of aliens that have better technology, to just help us take out the bad humans on earth. Almost like a sci-fi movie. The song is like a little sci-fi cartoon in my brain. Like in any goofy cartoon/movie or song, there is an ounce of truth in it so it came out of a silly song. "Hey aliens, can you help us down here with these bad humans" as soon as I wrote it, I was like cool! I can really get this stuff out, I want to touch these subjects in a way that… listening to this song from a distance you're gonna be like this song kind of rocks and want to rock along with it. But if you really dig into it and look at the words you're gonna be like "This is interesting? What's happening here?" It's using all of these subjects all this stuff and that is why I am really happy with the way that song came out. You can think about it, do you think there are aliens? It's up to you to decide.
One of my favorite things ever is making my yearly pilgrimage to Asbury Park to see you guys each winter. How does it feel that a tradition like "Home for the Holidays" has concluded for you guys?
There are mixed feelings about it. That has a been great experience from the beginning. What is satisfying about it was it was an idea that was put into motion of what we all kind of hoped it would turn into. It became better than we ever imagined and it was like having the biggest family party every year. For a thousand people for three or four nights in a row kind of family party. The aspect of it, knowing that it was going to be like the last one was a little bittersweet.
There was so much glory in the whole thing. We have all seen when bands get stale. I don't want to think about this band as being stale, I want this band to be in a place for me that is special. So that was also part of the decision. Before it gets there, that is part of being an artist in your life, to be able to keep life fresh and keep things interesting for yourself and then for others. It wasn't totally that simple of a decision, there was a lot of discussions. I'm glad that we followed our intuition about it and now that we have made the choice, I feel good about it. I am going to miss it but I am going to be stoked about not doing it.
You guys have "Stoked for the Summer" coming up.
Exactly, it makes way for a new thing.
Is "Stoked for the Summer" like the new "Home for the Holidays"?
In theory, it is supposed to be a continuation of "Home for the Holidays." We want to play at least once a year at The (Stone) Pony in Asbury Park. Let's try it in the summer instead.
For "Home for the Holidays" there was a lot of community involvement with an entire agenda of events to do. Is that something that is going to come in upcoming years?
What's funny is that was born because 9 years ago in December, Asbury Park was super dead and all the way up until about 2-3 years ago. "Home for the Holidays" brought a lot of life to the Asbury Park area that really needed it. Asbury Park is absolutely taken an 180 and they certainly don't need us anymore. I am glad about the timing, it is what it is. I am not saying we'll never play at The (Stone) Pony after Christmas… Times have changed and we have changed with it as well. It's all one thing that seems to be happening as well. We evolve…
You and your wife are a duo called Playdate. What made you decide to cross over to tunes for the kids?
The idea was born in a few consecutive events that happened. The first one was when we have invited over 10 years ago to our nephew's 2nd-grade class to make music in his class. His teacher knew we made music and invited us to his 2nd-grade class. We went and wrote a song with the kids on the fly and it was a lot of fun. That planted the seed. Right around that time, Shanti had come up with an idea for a book that stemmed from some poems… and that led to me illustrating the story in a course of a few years while I was on tour. We put out the book and went out on a little tour for the book. It just seemed natural for us to bring guitars. We would read from the book and we would play a couple of songs so that is where we started to have this experience of writing and interacting with kids. Bringing all of the positivity into the things we want to do in our music and in the book and bringing it to the kids. The big catalyst that helped us was when Mike Park from Asia Man Records, he started a children's music label called Fun Fun Fun Records. He literally said, "I know you have kids songs, you have to make a record". "Mike is going to put our record out, let's make the time". We needed that extra nudge to finish it off. It just keeps growing, just a great experience and it's been so cool.
How is it different writing and playing for a bunch of kids than a bunch of punks?
It has opened up my mind in many ways as the songwriter and the performer. I realize how I as boxed in in some ways with songwriting until I started to get into writing songs for kids. It's because all of these ideas was on my mind about punk music and whatever… Stylistic things in my brain that I did not even know they were there, kept coming up. There is a freedom of writing a song about an owl, you can just be like an owl goes hoot hooo… We want it to be real simple but also have depth to it, the kids will gravitate to, like a real positive energy, caring, loving energy that is really what was important to us but also to be musically stimulating to parents and just be cool and not annoying music. Those are the things that inspire us we want to be able to play and feel good to sing. It's this thing that feels real simple something that almost anyone can enjoy. It broke down some walls in some great ways.
After 20 something years of being on stage and playing in front of thousands of people in the world, I find myself getting really nervous to a bunch of 4-5-year-olds. I had to check myself, "hey dude, who the hell do you think you are? You can't even be relaxed and make music?" They are more intimidating to me than being in front of fifteen thousand people on a European festival or whatever.
That is what is so cool and pure about kids because you have no idea what they are going to do they are not going to be polite about it. Punk rockers are going to come and kind of pay attention, then later on they are going to say they hated it or whatever but kids you either have them or don't. And that was a great challenge for me as a performer. Shanti and I really developed as we went, we really learned a lot and grew a lot together because we created it together. How do we draw the kids in? How do we keep them in? I learned a lot and became free as a performer. It was a really great experience because I think it opened up my mind to something I did not know and that is what life should be for all of us we want to be able to grow.
Besides "Stoked for the Summer" and you're already announced tour with The Menzingers and Roger Harvey this Fall. Are you guys planning on playing any other shows this year?
Yes. We are doing East Coast and Midwest tour at the end of November and December. We also plan on announcing New York City record release shows around that time as well.