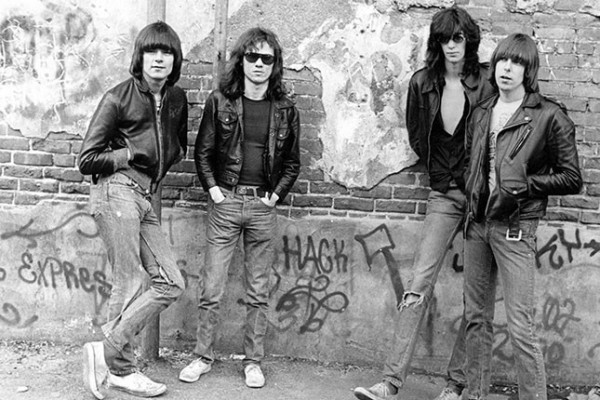 Today, we continue our Sonic Reducer series! In the series, Punknews writers compress a band, genre, theme, or time period into a playlist that would fit on a single CD. Along with the playlist, you'll get either an overview of the topic, such as a band introduction, or a story about how the music in the playlist moved or changed the writer.
Today, Punknews writer Tom Trauma covers Ramones for Ramones Week!
Sonic Reducer: The Ramones!
Tom Trauma
The Ramones are the most important punk band of all time. They're also the most influential punk band of all time. The Ramones were not the first punk band. They might not even have been the best punk band. (Though I think it could easily be argued that they were.) Their first three albums were the template for almost all the punk that would follow. I won't get into the Ramones' history here. There are many wonderful books that cover their acrimonious life and times in tremendous detail. Any self-respecting punk rock fan should already have at least a decent working knowledge of the Ramones. If not, you'd better getting reading and listening.
The one benefit of being the resident grumpy old man at punknews.org is that I was able to see some of the great bands (while the other staffers were still in diapers). I was lucky enough to experience the Ramones twice in the 90's. Even nearly 20 years into their career, their live shows still packed a punch. If I could go back and watch any show again, it would be Ramones/Social Distortion at Ferris State University in Big Rapids, MI on November 4, 1992. I can't tell you how many hundreds of shows I've seen over the years, but none of their memories elicit the emotional response in me that this one does. Just thinking about it makes happy and sad, and ultimately leaves me feeling melancholy.
What follows are the songs I would request if I could raise Joey, Johnny, Dee Dee and Tommy from the grave. I know Marky, CJ and Richie are still alive and kicking, so they could take their rightful place when appropriate. They might look a little old though, because my re-animated original Ramones are going to be in their mid-20's prime. This is not any kind of definitive list, and it was very difficult to chop this down to an hour. These are mostly punk standards. I've loved these songs for as long as I can remember. You should learn them and love them too.
"I Wanna Be Sedated"- This is the first Ramones' song I can remember hearing. It would have been in 1986 or so, and it was played on a Milwaukee rock and roll radio station after midnight. I was mostly into hair metal at the time and it blew me away. From Road to Ruin, the first album with Marky on drums.
"Blitzkrieg Bop"- This is the first song on the first Ramones album. Has there ever been a better introduction to the world?
"Beat on the Brat"- If you have kids you'll understand. Every song on Ramones is a classic.
"I Wanna Be Your Boyfriend"- Still one of the finest punk ballads of all time.
"53rd and 3rd"- The sad story of Dee Dee's life as a street hustler.
"Gimme Gimme Shock Treatment"- The first of many lighthearted songs about mental illness appeared on Leave Home.
"Pinhead"- Inspired by the 1932 black and white cult horror classic Freaks. Ramones fans should definitely watch this film that features actual circus freaks.
"Commando"- Dee Dee was an army brat, and it had a profound influence on his songwriting.
"Cretin Hop"- Proving that making fun of the handicapped doesn't have to be mean spirited. Opening track on Rocket to Russia.
"Sheena is a Punk Rocker"- I have two daughters, and suggested Sheena as a name both times. It didn't stick until we got our border collie.
"Teenage Lobotomy"- More fun with mental illness!
"Ramona"- I also suggested Ramona as a name for both my daughters.
"Danny Says"- Ramones' tribute to their manager Danny Fields. There's documentary about the man, also called Danny Says, coming soon. From the ill fated, Phil Spector produced End of the Century.
"Rock'n'Roll High School"- Title song from the funny for all the wrong reasons movie. It's a cult classic and still worth watching. Fun fact: Cheap Trick was originally supposed to be the band in the film.
"The KKK Took My Baby Away"- Even the mediocre Ramones albums had at least one classic song. This one was from Pleasant Dreams.
"Psycho Therapy"- Another great song about mental illness. Also another great song from a mediocre album. This time it was Subterranean Jungle.
"Too Tough To Die"- After a few failed attempts at mainstream success, Too Tough to Die was a punk return to form for the Ramones. The first record with Richie on drums.
"Something to Believe In"- A wimpy song from Animal Boy that I love. Joey had such a great voice for hopeful pop.
"I Wanna Live"- This is just my favorite song from Halfway to Sanity.
"I Believe in Miracles"- Brain Drain celebrated the return of Marky, but was also the last record for Dee Dee.
"Pet Sematary"- My kids didn't grow up listening to Ramones lullabies. They grew up listening to the Ramones. This is one of the boys' favorites.
"Poison Heart"- Mondo Bizarro introduced the world to CJ. Another one of the boys' favorites.
"R.A.M.O.N.E.S."- Lemmy (RIP) wrote this about the Ramones. They liked it so much that they recorded for their farewell LP, Adios Amigos!. Features CJ on lead vocals.