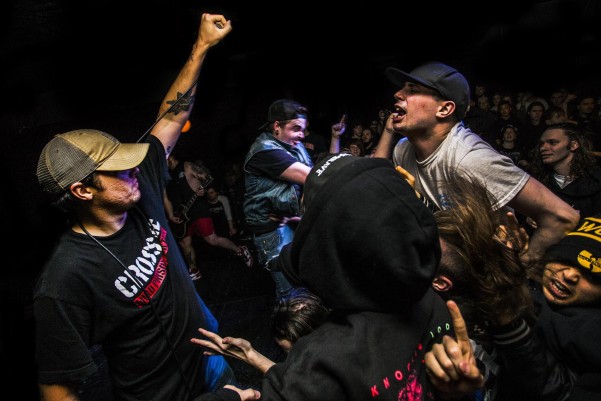 Today, Punknews is pleased to debut the new (and final) album by Expire.
After 8 years, Expire are closing up shop. But before their final bow, the band is putting out their third and final album, With Regret and embarking on a MASSIVE tour (including a series of house shows)! The new album finds the band staying true to the tenets of modern hardcore. But whereas many bands would be tempted to be indulgent on their final record, With Regret finds the band tightening on on their sound, and making their hardest, most compact release. Plus, if you listen closely, you can hear a little bit of weirdness creeping up between these punchy riffs.
The new album is out this Friday via Bridge Nine Records and you can pre-order it Right here. In the meantime, check out the new album and the band's world tour dates below, right now.
| Date | City | Venue | Tour leg |
| --- | --- | --- | --- |
| 9/8 | Seattle, WA | Studio Seven | U.S. tour (w/ Stick To Your Guns, Stray From The Path, Knocked Loose) |
| 9/9 | Vancouver, BC | The Rickshaw Theatre | U.S. tour (w/ Stick To Your Guns, Stray From The Path, Knocked Loose) |
| 9/10 | Portland, OR | Hawthorne Theatre | U.S. tour (w/ Stick To Your Guns, Stray From The Path, Knocked Loose) |
| 9/11 | Orangevale, CA | The Boardwalk | U.S. tour (w/ Stick To Your Guns, Stray From The Path, Knocked Loose) |
| 9/12 | Salt Lake City, UT | The Complex | U.S. tour (w/ Stick To Your Guns, Stray From The Path, Knocked Loose) |
| 9/13 | Denver, CO | Marquis Theater | U.S. tour (w/ Stick To Your Guns, Stray From The Path, Knocked Loose) |
| 9/14 | Kansas City, MO | Davey's Uptown | U.S. tour (w/ Knocked Loose) |
| 9/15 | Chicago, IL | The Bottom Lounge | U.S. tour (w/ Stick To Your Guns, Stray From The Path, Knocked Loose) |
| 9/16 | Detroit, MI | Shelter | U.S. tour (w/ Stick To Your Guns, Stray From The Path, Knocked Loose) |
| 9/17 | Toronto, ON | The Opera House | U.S. tour (w/ Stick To Your Guns, Stray From The Path, Knocked Loose) |
| 9/18 | Montreal, QC | La Tulipe | U.S. tour (w/ Stick To Your Guns, Stray From The Path, Knocked Loose) |
| 9/19 | Howell, NJ | Gamechanger World | U.S. tour (w/ Stick To Your Guns, Stray From The Path, Knocked Loose) |
| 9/20 | Worcester, MA | The Palladium | U.S. tour (w/ Stick To Your Guns, Stray From The Path, Knocked Loose) |
| 9/21 | New York, NY | The Gramercy Theatre | U.S. tour (w/ Stick To Your Guns, Stray From The Path, Knocked Loose) |
| 9/22 | Philadelphia, PA | Voltage Lounge | U.S. tour (w/ Stick To Your Guns, Stray From The Path, Knocked Loose) |
| 9/23 | Richmond, VA | The Canal Club | U.S. tour (w/ Stick To Your Guns, Stray From The Path, Knocked Loose) |
| 9/24 | Jacksonville, FL | 1904 Music Hall | U.S. tour (w/ Stick To Your Guns, Stray From The Path, Knocked Loose) |
| 9/25 | St. Petersburg, FL | Local 662 | U.S. tour (w/ Stick To Your Guns, Stray From The Path, Knocked Loose) |
| 9/27 | Houston, TX | Walter's | U.S. tour (w/ Stick To Your Guns, Stray From The Path, Knocked Loose) |
| 9/28 | San Antonio, TX | Alamo City Music Hall | U.S. tour (w/ Stick To Your Guns, Stray From The Path, Knocked Loose) |
| 9/30 | Mesa, AZ | Nile Theater | U.S. tour (w/ Stick To Your Guns, Stray From The Path, Knocked Loose) |
| 10/1 | San Diego, CA | SOMA | U.S. tour (w/ Stick To Your Guns, Stray From The Path, Knocked Loose) |
| 10/2 | Anaheim, CA | Chain Reaction | U.S. tour (w/ Stick To Your Guns, Stray From The Path, Knocked Loose) |
| 10/8 | Calgary, AB | Dicken's Pub | Final Canadian Shows |
| 10/9 | Edmonton, AB | Denizen Hall | Final Canadian Shows |
| 10/21 | Elgin, IL | TBA | House shows, address announced day of show only |
| 10/22 | Grand Rapids, MI | TBA | House shows, address announced day of show only |
| 10/23 | Cleveland, OH | TBA | House shows, address announced day of show only |
| 10/24 | Columbus, OH | TBA | House shows, address announced day of show only |
| 10/25 | Indianapolis, IN | TBA | House shows, address announced day of show only |
| 10/26 | Nashville, TN | TBA | House shows, address announced day of show only |
| 10/27 | St Louis, MO | TBA | House shows, address announced day of show only |
| 10/28 | Cedar Falls, IA | TBA | House shows, address announced day of show only |
| 10/29 | Omaha, NE | TBA | House shows, address announced day of show only |
| 10/30 | Minneapolis, MN | TBA | House shows, address announced day of show only |
| 10/31 | Milwaukee, WI | TBA | House shows, address announced day of show only |
| 11/9 | Brisbane | Crowbar | Final Australian tour (w/ Born Free) |
| 11/10 | Brisbane AA | TBA | Final Australian tour (w/ Born Free) |
| 11/11 | New Castle | The Small Ballroom | Final Australian tour (w/ Born Free) |
| 11/12 | Sydney | Bald Faced Stag | Final Australian tour (w/ Born Free) |
| 11/13 | Sydney AA | Bald Faced Stag | Final Australian tour (w/ Born Free) |
| 11/15 | Melbourne | Bendigo Hotel | Final Australian tour (w/ Born Free) |
| 11/16 | Melbourne AA | Wrangler Studios | Final Australian tour (w/ Born Free) |
| 11/17 | Adelaide | Metro | Final Australian tour (w/ Born Free) |
| 11/18 | Perth | The Boston | Final Australian tour (w/ Born Free) |
| 11/19 | Perth AA | YMCA HQ | Final Australian tour (w/ Born Free) |
| 11/23 | Prague, Czech Republic | Futurum | Final European/UK tour (w/ Counterparts, Landscapes, Knocked Loose) |
| 11/24 | Wien, Austria | Viper Room | Final European/UK tour (w/ Counterparts, Landscapes, Knocked Loose) |
| 11/25 | Munchen, Germany | Backstage | Final European/UK tour (w/ Counterparts, Landscapes, Knocked Loose) |
| 11/26 | Aarau, Switzerland | Kiff | Final European/UK tour (w/ Counterparts, Landscapes, Knocked Loose) |
| 11/27 | Wiesbaden, Germany | Schlachthof | Final European/UK tour (w/ Counterparts, Landscapes, Knocked Loose) |
| 11/28 | Haarlem, Netherlands | Patronaat | Final European/UK tour (w/ Counterparts, Landscapes, Knocked Loose) |
| 11/29 | Southampton, UK | Talking Heads | Final European/UK tour (w/ Counterparts, Landscapes, Knocked Loose) |
| 11/30 | Plymouth, UK | The Hub | Final European/UK tour (w/ Counterparts, Landscapes, Knocked Loose) |
| 12/1 | Cardiff, UK | Clwb Ifor Bach | Final European/UK tour (w/ Counterparts, Landscapes, Knocked Loose) |
| 12/2 | Glasgow, UK | Cathouse | Final European/UK tour (w/ Counterparts, Landscapes, Knocked Loose) |
| 12/3 | Manchester, UK | Sound Control | Final European/UK tour (w/ Counterparts, Landscapes, Knocked Loose) |
| 12/4 | Huddersfield, UK | The Parish | Final European/UK tour (w/ Counterparts, Landscapes, Knocked Loose) |
| 12/5 | Norwich, UK | Owl Sanctuary | Final European/UK tour (w/ Counterparts, Landscapes, Knocked Loose) |
| 12/6 | London, UK | Underworld | Final European/UK tour (w/ Counterparts, Landscapes, Knocked Loose) |
| 12/7 | Hasselt, Belgium | Muziekodrome | Final European/UK tour (w/ Counterparts, Landscapes, Knocked Loose) |
| 12/8 | Hamburg, Germany | Logo | Final European/UK tour (w/ Counterparts, Landscapes, Knocked Loose) |
| 12/9 | Oberhausen, Germany | Resonanzwerk | Final European/UK tour (w/ Counterparts, Landscapes, Knocked Loose) |
| 12/10 | Leipzig, Germany | Felsenkeller | Final European/UK tour (w/ Counterparts, Landscapes, Knocked Loose) |
| 12/11 | Berlin, Germany | Lido | Final European/UK tour (w/ Counterparts, Landscapes, Knocked Loose) |
| 1/25 | Tokyo Shibuya | The Game | Final Japanese tour |
| 1/26 | Nagoya | Club Zion | Final Japanese tour |
| 1/27 | Osaka | Clapper | Final Japanese tour |
| 1/28 | Shizuoka Numazu | Poco | Final Japanese tour |
| 1/29 | Tokyo Shinjuku | Antiknock | Final Japanese tour |