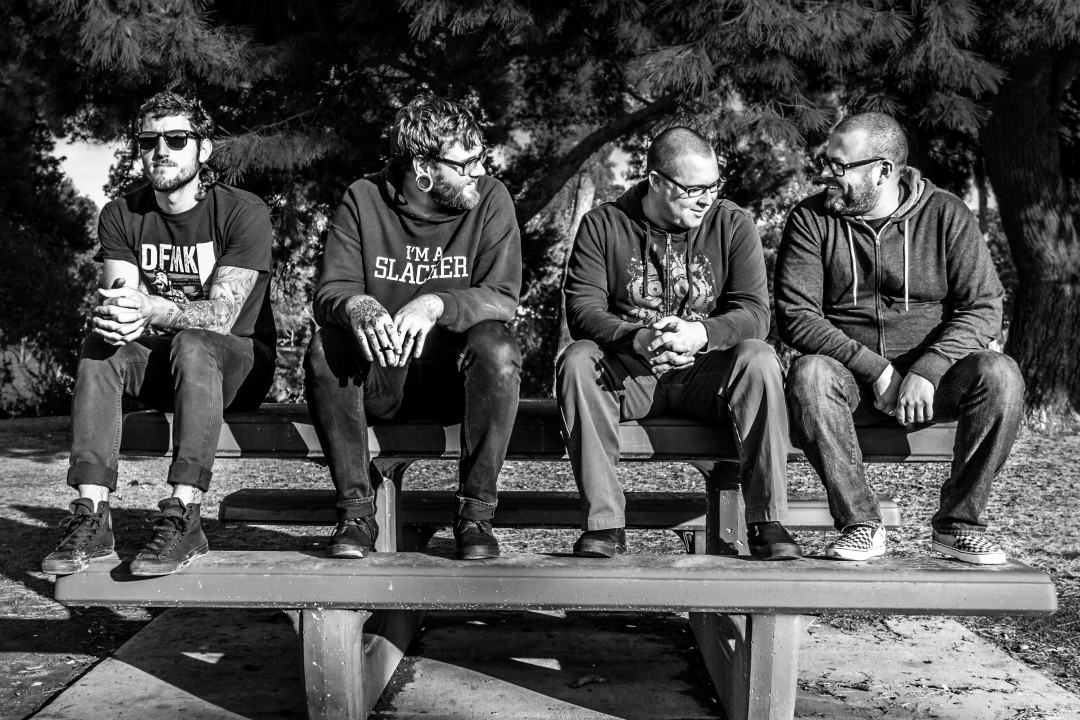 Southern California punks Western Settings have been very busy this year. The band has released two EPs this year and have been touring the US and Europe. The band released Old Pain this past April and WS in July. Editor Samantha Barrett spoke with vocalist/guitarist Ricky Schmidt about the EPs and touring.
Old Pain came out this past April. What went into making Old Pain?
That one, we just got done with Yes It Isand we were actually in the process of writing for a split with another band, we were just going to do two songs. We actually ended up talking to Tyson (Chicken) from Dead to Me, he wanted to get into producing and he reached out to us. He asked if we were interested in working with him. We were working on this split and decided to write an EP, decided to write some more songs to make the EP. That's how that kinda came about, it was cool it was really awesome working with him. It was fun working on doing that process with him. We recorded for the first time with Ian MacGregor, he is super professional, that was the best recording, quality wise, that we have ever done. It was cool.
So Tyson reached out to you? Was he a fan of your band?
He had heard us before and I have met him a couple of times at show. We didn't really know each other before this, somehow he had heard about our band. We got a message on twitter and he was like "Hey it's Chicken from Dead To Me, I wanted to talk to you guys about working with you." I called him, I was on the bus on my ride to work. Yeah, man It was pretty cool.
That is pretty impressive.
Yeah it was kinda a good day. We were all really excited that day.
Old Pain came out on 2 different labels. How is it working with Creator-Destructor and La Escalara?
Ben Murray was one of our good friends for a while. We have been running into him for a long time. He was interested in doing that record when he heard we were shopping around a little bit. We showed it to Ben and he was interested in it. He handled the whole vinyl side of the release and La Escalara Records did the digital side. Yeah that was cool. Ben's awesome that guy is so busy he got so much stuff going on and he is releasing all kinds of cool music. Its cool to work with him and have him help us out.
I noticed that you guys have a new guitarist, how did that come about?
Yeah! Our last guitar player, we were actually on tour we just made the decision that it was better to focus on whatever we wanted to focus on and he ended up leaving the band. Not on bad terms, but on good terms. Dylan's not with us anymore. We put out a post just asking for a new guitar player. This guy contacted us immediately and told us he wanted to be in the band. "I'm your new guy, I want to be in the band." We sent him some stuff and asked him if he has done anything in the past anything we can hear. Tom sent us some stuff that he has done in the past, it sounded really good and in the style of what we were doing already. We had him come out to a show with us to see if we all get along and it went well. That was cool. Then he came to the practice space a few times with us and that went really well too. We asked him if he can tour, can he do this and do that and he said yeah I can do all that stuff so he became our new guy. He is doing a great job.
You guys recently played with Face to Face. How was it playing with Face to Face?
It was really, really cool. It was unreal actually. I hit him up on facebook and he got back to us. We were talking more and more and played a show with him. Played a record release show in Long Beach and a then the opportunity for a Face to Face show came up. They are all super nice and they are a very special band.
You guys just released a EP called WS. What made you decide to do 8 bit tracks?
One of my friends put that together. We didn't really have anything to do with them and we also recorded those acoustic songs on there, we recorded a couple of versions.
You guys covered a Bouncing Souls song what made you decide to cover a Bouncing Souls song?
That was actually my very first punk record. My friend gave me a burned copy of it on CD and I love it and it's a great song too.
You guys are heading to Europe in October?
Leaving the 29th of September.
Would this be the first time you are in Europe?
Yes. We are going to Germany, Spain, Belgium, Italy and Switzerland. A lot of it will be in Germany. We are very excited. We hear very good things about everything out there. We have heard everyone out there is really nice and shows are fun there. We are definitely really excited.
You guys have played Fest for the first time last year. How was your first Fest experience?
Fest was definitely a blur last year we definitely went out and partied like idiots. It was fun though. It's cool being in one place being with all your friends from all over the place that you have met. Everyone all in one place in one time from everywhere. Meet new people left and right, see old friends left and right. It just a overwhelming thing. I don't think I slept a total of 3 hours for the whole weekend. There is so much going on you don't ever want to stop.