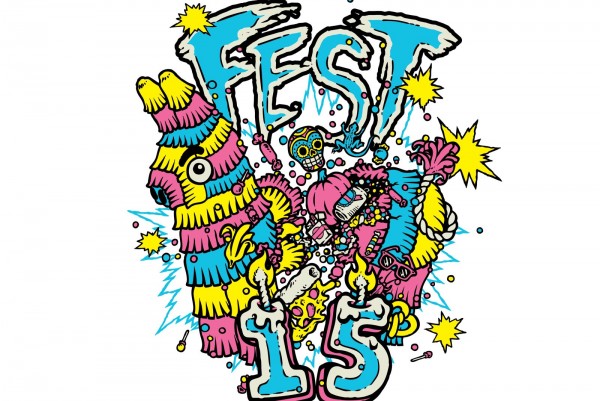 Today we bring to you the conclusion of our 2 part collaborative editorial titled"inFESTation". "inFESTation" is an collaboration piece between Punknews and the PostPunk Collective. The piece is focused on the experiences and happening of this year's Gainesville The Fest 15. The PostPunk Collective is a group of individuals involved in a fall PostPunk graduate English course at the University of Florida. The graduate course explores all forms of media that corresponds with cultural shifts in the U.K. during the 1980s. For more information on the course, you can click here. Credits to the authorship of this piece is listed on the botton of the piece.
AJJ
AJJ (formerly Andrew Jackson Jihad) is an acronym acid-washed of the symbolism of the twenty dollar bill and American-made Islamophobia. The letters in this acronym refer to nothing: a new kind of meaninglessness that is always shrugging—but with an IPA in one hand and a rich, dark stout in the other.
The material magic lingering in lo-fi recordings somehow crystallizes into a live performance through Sean Bonnette's charming, frantic, and warbly croon. Bonette's lyrics suggest fresh epiphanies as fast as he can collapse them for those who can make out the words above the communal pulse of the drums that booms beyond the mosh pit's periphery. The lyrical cycle never devolves into an aimless nihilism, but it does channel the hate that lives in that nihilism into a constructive philosophy of the day-to-day. Their song "Kokopelli Face Tattoo" sums up this positive re-rendering of hate with a fair observation: hating you won't make you suck any less.
For diehard punks who prefer their punk music without the extra serving of bouncy folk that AJJ offers, or those still clinging to the Sex Pistols' pessimistic No Future, the band offers a ready-made response: If you want to hear the devil's music then you should probably listen to the devil's music. Their music may not be the devil's, and it certainly makes no pretensions toward holiness. Instead, it abandons these extremes altogether to build a practical and nuanced punk for pessimists that still know how to hope.
Newcomer…
As a newcomer to the punk music scene unfamiliar with most of the bands playing at FEST 15, I was attracted to The Island of Misfit Toys because of their whimsical name. Seeing the group perform at Rockeys Dueling Piano Bar on Friday night, I was struck by how lead singer Anthony Sanders managed to convey a sense of childlike (but never childish) vulnerability throughout the set.
Many of the songs in the set, including "Burble" and "Up There," subtly built from mutedly delicate beginnings to heights of near-screaming intensity, a transition that Sanders handled effortlessly alongside accompanying vocalist and violinist Kenna Hynes. Because the band's sound was not always overwhelming, it was possible to hear devoted fans in the audience signing along with some of the lyrics, including the refrain to "Burble": How can I do better than my best? / I'm just a kid, I'm just a kid. Seeing an evidently thirtysomething man declare that he's "just a kid" would seem ridiculous under most circumstances. Sanders, largely because of his round face that I would be tempted to call cherubic if it weren't for his beard, pulls it off. He became obviously and endearingly emotional at the end of the song (I do what you tell me to / because I love you) *tears* to the point that one of his female bandmates patted him on the back. The risk inherent in being an emo band is that the group's music could come off as narcissistic, but moments of apparent empathy and camaraderie like this one belie that stereotype.
FEST's Fashion
There's black, of course. Black jeans, black t-shirts, black sneakers. Goth mingles with neo-punk mingles with skater style, skull-motif bags bumping against skinny jeans and tattooed arms poking out from well-worn hoodies. Grunge's hallmark open plaid flannel shirts reveal band names and taut bellies. Pineapple patterns pop up on shorts and bags, the spiky leaves of the plant conjuring street-punk Mohawks. Flashes of color interrupt the primary uniform (cut-offs and a black t-shirt emblazoned with a band name): dyed hair, camel-brown boots, yellow patches on blue denim vests, red Toms, a stray tie-dye shirt. One woman's black-to-crimson ombre tresses give her the regal bearing of a vampiric Halloween goddess. Another's pompadour, flanked on either side by shaved scalp, evokes a sassy skunk.
Amid all the black, a young woman in a white flowered sundress all but glows on the sidewalk. Her blue hair, Elvis Costello glasses, and heavy black Asics mark her as part of the punk crowd, as does her floppy messenger bag adorned with buttons. But her dress—patterned with wisps of feathers and dainty slips of coral primrose, pintucked bodice pulling into a sweetheart neckline, puckered elastic back evoking smocked children's dresses—collides genres as only punk can. Edgy aesthetics annex childlike sweetness.
Just down the street, four 30-something men, adorned with sleeves of ink and spacers in their earlobes, order drinks with sleepy expressions. They have that just-awakened-from-a-nap look, with the tired eyes that young parents would recognize. I imagine them going home and kissing sleeping toddlers, a living suspension of punk and innocence.
UV-TV at The Atlantic
I was trying to describe UV-TV to someone. I said they reminded me of The Clean, Look Blue, Go Purple with louder guitars, maybe JPS Experience, but, no, they didn't exactly sound like those bands. What I was trying to say was they reminded me of being young and home in New Zealand, and I ended up describing them as the time I jumped from the rocks at Muriwai during a storm. I was nineteen. The sea and the sky were the same ash gray, the surf break anarchic and still churning a mile out from shore. After an hour inside the squat lifeguard tower, wind and rain drumming the windows, the beach deserted, a senior lifeguard insisted, for something to do, that we go swimming. Entry point: the rocks at the south of the beach, yeah, the ones being pummeled by waves. The jump had to be carefully timed to the swell: too soon and I'd be knocked over, too late and I'd crack my skull on the wide rock shelf. I wore a borrowed wetsuit. Ill-fitting, it ballooned dangerously in the wrong places. I braced myself. Then someone yelled "Now!" and all I could do was dive into the chest of the withdrawing wave. When I came up for air, another wave took me under. But I didn't panic. There was no time for it. And I was drunk on adrenalin. The air pockets in my wetsuit made it hard to swim, and I felt ludicrous but, somehow, still powerful. I remembered thinking: F&ck you, sea! And that was the closest I could get to describing what UV-TV sounded like to me.
Augmented Interview Subject, aged 25, Gainesville FEST 15, October 29th, 2016
It was a worthwhile way, being at shows and feeling like I was a part of something, feeling good to have that childhood fire, my body vibrating between the walls of sound repeating and repeating, though some years I was super fѰcking broke and didn't go to the FEST, which is why once I volunteered and this band gave me albums and stickers for free, they saw how much I thrashed and gyred to their tunes. It wasn't all childhood fire though—I met people on the scene, it seemed like it was all an act for them, as they repeated and repeated the same looks and ideas. They had things they needed to work out, and they were clinging to the safety of these concepts. (I mean, that's like everywhere, though.) Concepts, control machines—your ideas get watered down out of fear of not being accepted, especially in dealing with the self. Yes, disillusionment disillusionment. The self. The first FEST I went to was with my friend Henry, I skipped school to go. Yes, that childhood fire childhood fire. And my earliest memory of music? It was listening to country music in the back of my mom's car, like driving late at night with Johnny Cash, Merle Haggard, Willie Nelson. Sometimes the headlights of trucks trailing us would reflect off the rearview mirror, penetrating into the backseat, where I heard Cash singing, I shot a man in Reno just to watch him die. The light pierced my lip. Sure, I wouldn't mind being interviewed. Thank you.
"Brunch Punk Love"
"Is it okay if I drink?" James indicates one of the two PBR tall boys resting at the edge of the wire patio table. Its twin belongs to Josh. Absolutely, I tell James. That would be the punk thing to do. It's half-past noon on Sunday but FEST ain't over yet. James, Josh, and Crystal are lounging in the filtered light outside of Maude's Classic Café. Crystal's breakfast sandwich on an "everything" bagel is being prepared as we speak. How long have you guys been coming to FEST? Third FEST for Crystal (Indianapolis), fifth for Josh (Virginia). It's James's first; "circumstances" have prevented the 1.5-hour trip from Inverness until now. Josh groans when asked how long he's been into punk. "Let's go ahead and show my age…" He's 33, found punk at 13. Get 'em when they're young. James is sheepish as he claims a paltry 6 years: he's 21 now. Crystal is from "a tiny little farm town in Wisconsin," so punk came late. "But once I found it, it was amazing." This year's FEST has been great, they agree. "It's always great," says Josh. FEST is a "synergistic thing"; every piece of it—the shows, the people, the food—comes together to create a "unique experience." Strangers at FEST are "friends you haven't met yet," says James, then Crystal: "It's so inclusive and really awesome." Josh seconds her: that "jadedness and punk exclusivity" isn't FEST. Crystal's bagel arrives. I'll leave you guys to enjoy your brunch, but can I get a quick picture? "Can we act like we just saw something really cool over there?" Sure! Okay. One, two…
This piece is a collaborative piece by the following co-authors. Ashley Tisdale, Kel Martin, Michael Lupi, Chloe Lane, Thomas Johnson, Madeline B. Gangnes, Megan Fowler, Jason Crider, Jill Coste, Kevin Cooley, Marsha Bryant, Kelly Beck, Samantha Barrett.