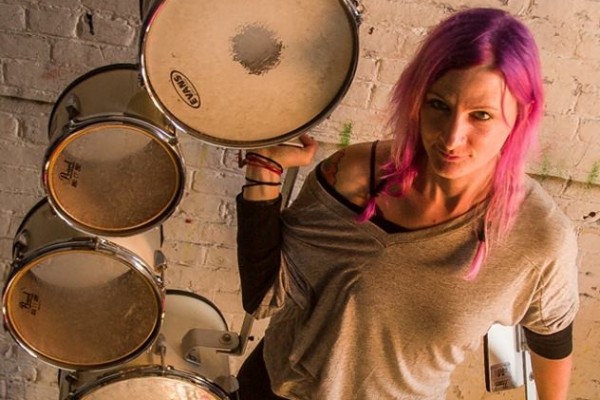 Jess Townsend is a freight train crammed into a 5'7'' frame. As the drummer for the band/carnival show that is World/Inferno Friendship Society, Townsend has kept that pack of animals rocking along with her heavy, energetic boom-bap for nearly seven years. Finding anyone who could get the Inferno crew to act in unison is an exercise in futility, but somehow, night after night, Townsend is able to crack the whip and get the crew rocking along with her forceful finesse.
But not only that, she's backed early La punk legend Alice bag on tour, has supported legendary feminist-rocker June Millington, and has played in Parlour Bells.
Now, in addition to drumming in Inferno, she's giving out lessons and you can get schooled on that here. In the meantime, check out Editor John Gentile's interview with Townsend below.
How did you get started drumming?
I was at a party with my family and there was a drumset in the basement. I immediately fell in love after "jamming" along to a few CCR tunes. I must have been ten-ish. Anyway, my folks got me a set a short time later and allowed me to practice in our small cape between the hours of nine and five.
Were you parents supportive of your drumming?
They were very supportive. If the noise bothered them, they never let me know it. I don't really know how they did it, I mean we lived in Maine and our neighbors weren't that close and three houses down they could hear me!
Who are some of your favorite drummers?
Sandy Nelson is one. He has a super tasteful vintage thing going on and I admire how the band was HIS BAND, he wasn't someone's drummer. Also, Jim Chapin! The Moeller Technique!!!!!! He teaches a striking method for playing faster and longer while using less energy. Kenny Aronoff. Aside from being technically awesome, he is a very visual player.
I may be wrong, but weren't you in marching band in high school?
YES!!!! I started off playing the sax in the marching band and was self-taught as a drummer so wasn't a drummer in the band. The quads player was graduating the following year so I begged my band director to give me a shot and he did. I went to a school with a small marching band so I was the only quads player and all the drummers want to play the quads! It was such a blast! I recently sent that band director a letter thanking him for taking a chance on me and letting a self-taught lefty play the quads. I think about that all the time. Marching band set me on a course.
A lot of marching band people groan or wince when you bring up their… unseemly past… but I think most of them actually loved their time in the unit. Is this true?
I agree! I think anyone who bemoans their marching band past is just talking about the uniforms. Marching band was fun!
Guy Stevens once said "All great songs speed up at the end." Do you agree or disagree? Is there ever a fear of becoming *too* technical?
Ha ha! Genius. I guess that depends on what his definition of "speed up" is. I think being too technical is a problem only when the player wants to wear all of their favorite outfits at the same time all the time. Technical players don't have to be super busy every measure, they can be tasteful.
Can one learn to be a great drummer, or is it an inherent skill?
I think anyone can learn to drum but you can't learn to have a great feel.
What's the best way to improve at drumming? Is it a skill that needs a regimented "course"?
Drumming requires muscle memory and is very athletic. In order to increase your drumming vocabulary so you have more adjectives and adverbs available, you must put the time in and push yourself beyond what you could do yesterday. I regiment myself.
Drummers are the least interviewed members of bands. Why are people so bigoted against drummers?!
Have you ever talked to a drummer or heard a drummer in conversation? They are often really boring and talking shop about some bullshit pedal not even the drummer they are talking at cares about. I blame drummers for being the least interviewed member! When I am in a room and I find out there is another drummer there, I try not to engage for fear I may end up stuck in a snare drum lug convo for 20 minutes!
You're not a self-hating drummer are you? Well, we are famously shop-talking gear nerds who twiddle with permutations all day. I say in a spirit of jest that perhaps we need to diversify our topics when speaking with other drummers, although I get it--small talk often involves starting with something you both have in common. That said, I hate shop talk and will usually try to steer the convo to something else--unless the topic is rudiments, I love rudiments. Let me tell you about my favorite rudiments…
You once drummed for Alice Bag. What was that like?
Alice Bag is one of the most gracious and wonderful people I have had the pleasure of playing with. She is a role model. What is important to me about her is how down to earth, gracious and feminist she is.
You also drum for World/Inferno. Tell us what is going through your mind while drumming, while five to ten people are performing in front of you?
I love playing with Inferno. I really get to stretch my legs, hit hard, play fast, be visual and enjoy the rabid antics of a large fan base. What is going through my mind in such a large band depends on the size of the stage, lighting and sound: am I "frustrated because there is a wall of asses in front of me and the band is soaking up the audience while I am soaking up my bandmates'…wind? Is the guy running the monitors paying attention so I can gesture to him or is he making out with his girlfriend? Is Jack going to remember the lyrics to this song or jump right to the chorus with no warning? Am I hungry? Shit, I am hungry…how long before I can have a snack?" ectcetera.
You've lasted in WIFS longer than most musicians. Why have you been able to hang? Yes, six years! I am sometimes zen and often use my words.
I would posit that one of the appeals of being a drummer in that many ways, you are the boss, and holder of power, in a band's live performance. Do you agree with this?
Oh yes. The drummer is the engine room as well the quarterback.
how did you come to join World/Inferno?
In 2009, I was playing a show with a band in Boston. Franz Nicolay and Peter Hess' band was on the same bill and they were also both members of World/Inferno at the time. Franz came up to me after the show and told me if World Inferno ever needed a drummer they would call me. I was flattered but didn't get my hopes up too high because they had Brian Viglione on drums at the time. Less than 6 months later I got the call to audition and realized I had to get to work preparing as I had some giant shoes to fill. < r> What's World/Inferno like, seen from the inside?
WIFS is the craziest/weirdest group of really smart, sweaty people I have ever met. Everything you have heard is true. When I first joined, there was a massive adjustment period. I was still drinking and every day was a drunken party. There was one time I was too drunk to be woken up in the van once we got where we were crashing so they left me in there. I woke up hours later thinking the others were just ahead of me walking into the house we were crashing at so I followed the only person I saw on the street into his home. Needless to say, he assured me the band wasn't there so I went back to the van and waited for rescue….which didn't come until morning… The van rides were where most of the action was since that was where we were all forced to deal with each other for most of the day in a confined space. There were fist fights, clothes thrown out windows, pillows thrown out windows and band members threatening to quit. Whenever we stop for gas or food and the sliding door opened, wine and beer bottles crash onto the ground and 8 really pale weirdos in black pour out for the locals to stare at. We all file into the gas station store and an old woman stops to ask, "Are you a band or a mob?" to which Jack replies, "A little of both…" Drum circles… like what is the deal with that?
Damn hippies.