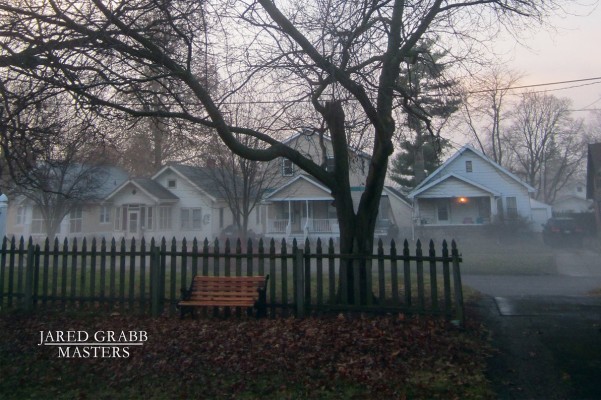 Today, Punknews is pleased to debut the new video by Jared Grabb.
In "Low Grumble," Grabb follows in the tradition of guys like Guthrie and Philips by singing the odes of working class America. Fittingly, the video features a rolling shot of middle-American houses. Grabb says, "I strongly encourage people to pre-order the LP from Bandcamp on Friday so that money can go toward the ACLU."
Pre-order Grabb's new album right here and check out the new video below, right now!
| Date | City | Venue |
| --- | --- | --- |
| 2/24/17 | Peoria, IL | Midnight Espresso w/ Into It. Over It. and Ky The Jelly Monster |
| 3/3/17 | Bloomington, IL | Waiting Room Records (evening Listening Party) |
| 3/3/17 | Bloomington, IL | Meltdown Creative Works w/ Brett Conlin and Alexandra Fisher (night) |
| 3/4/17 | Tolono, IL | Loose Cobra w/ Neoga Blacksmith and Bashful Youngens |
| 3/5/16 | Chicago, IL | Subterranean Downstairs w/ Hill Dunes (Sweet Cobra), Matt Arbogast (The Gunshy), and Jason Douglass Swearingen (Love & Squalor) |
| 3/8/17 | St. Louis, MO | Zen Den |
| 3/9/17 | Nashville, TN | Found Object w/ Mayhew The Traitor and Von Strantz |
| 3/10/17 | Memphis, TN | Found On Broad w/ Bryan Hartley and Stephen Chopek |
| 3/12/17 | Shreveport, LA | Strange Brew w/ Cory Branan and The Devil Anse |
| 3/14/17 | Austin, TX | Hard Luck Lounge w/ RJ Cresswell (Saw Wheel), Unwed Fathers, Brady Black (Devils and Dust, Despero), Mary Beth (East Cameron Folkcore), Cass Brostad (The Gents), and Lauren Burton (Lola Tried). |
| 3/17/17 | Tucson, AZ | Johnny Gibson's Downtown Market (afternoon) |
| 3/17/17 | Tucson, AZ | The Barrio Viejo Community Gardens (night) |
| 3/18/17 | Tempe, AZ | Time Out Lounge w/ DS Yancey |
| 3/19/17 | Taos, NM | Taos Mesa Brewing Downtown Taproom |
| 3/20/17 | Colorado Springs, CO | Weathertops House w/ Sour Boy Bitter Girl |
| 3/21/17 | Fort Collins, CO | Surfside 7 w/ Sour Boy Bitter Girl and Elli Perry |
| 3/22/17 | Denver, CO | Fort Greene Bar w/ Sour Boy Bitter Girl and Andy Thomas |
| 3/23/17 | Salt Lake City, UT | The Underground |
| 3/24/17 to 3/25/17 | Boise, ID | Treefort Music Festival |
| 3/28/17 | Minneapolis, MN | Palmer's Bar |
| 3/29/17 | Madison, WI | Wisco (Willy Street Pub & Grill) w/ Nate Meng and Luke Severson (The American Dead) |
| 3/30/17 to 4/2/17 | Peoria, IL | Mates Fest |