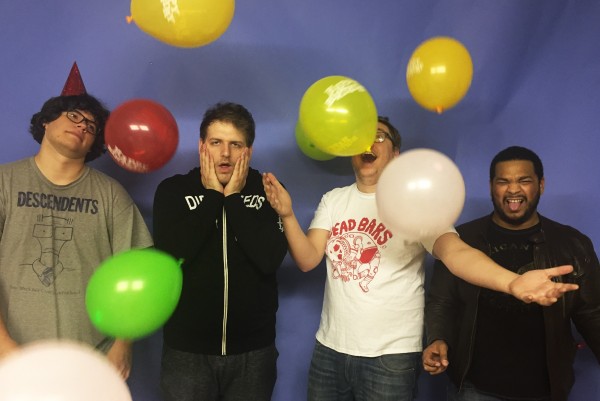 Today, Punknews is excited to debut the new video by Dollar Signs!
"Punk on the Weekend" is frikkin hilarious. In the video, frontman Erik Button finds himself trapped in the straight-job world when suddenly, he is haunted by that dreadful apparition known as "the 9 to 5." Watch as he fights for his life and tries to avoid becoming a cog in the machine. The whole chase is backed by Dollar Signs' wonderfully scrappy brand of pop-punk that seems to be in a state of constant collapse. There is also a nice KISS reference. Is it out of genuine appreciation or sardonic irony? You decide!
Speaking to Punknews about the track, Button said, ""The song is about trying to continue to go to shows and do punk shit as you get older. Saying that even GG Allin had a full time job. Talking about the Misfits' Instagram. So you can be punk on the weekend and then regret all of your decisions come Monday."
The tune is off their upcoming EP, Life is Ruff. That's out March 28 via Possum Heart Records. Pre-order that right here and then check out the new vid below, right now!
| Date | Venue | City |
| --- | --- | --- |
| march 28 | Duke Coffeehouse w/ Laura Stevenson | Durham, NC |
| march 29 | The Hideaway | Johnson City, TN |
| march 30 | TBA | Nashville, TN |
| march 31 | Cunt Cave | Atlanta, GA |
| april 01 | The Milestone | Charlotte, NC |
| april 04 | Church of Abe | Richmond, VA |
| april 05 | House | New Brunswick, NJ |
| april 06 | O'Brien's Pub | Allston, MA |
| april 07 | Trash House | Philadelphia, PA |
| april 08 | Bushwick Public House | Brooklyn, NY |
| april 09 | Castle Gayskull | Pittsburgh, PA |
| april 11 | The Cricketcave | Huntington, WVw/ Non Compliant |
| april 12 | TBA | Cleveland, OHw/ Non Compliant |
| april 13 | The Sanctuary | Detroit, MI w/ Non Compliant |
| april 14 | The Avenue | Lansing, MIw/ Non Compliant |
| april 15 | Subterranean | Chicago, IL w/ Non Compliant |
| april 16 | TBA | Lexington, KYw/ Non Compliant |