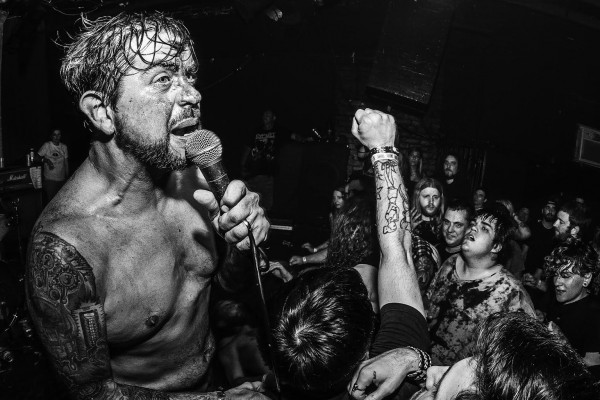 Today, Punknews is thrilled to debut the new track by Fuck You Pay Me!
In case you don't know, FYPM is the new(ish) band fronted by Cleveland punk champion Tony Erba. Perhaps more than ever before, FYPM puts Erba's acerbic, insightful humor on the forefront while the band itself just rips it up with some frikkin savage hardcore. "Ammosexual" is particularly biting with Erba lashing out at America's gun problem while the band speeds forward at 200mph.
Speaking to Punknews about the track, Erba said, "'Ammosexual' is about the sickening gun culture in America, these NRA types cling to a very literal interpretation of the Constitution but purposefully ignore the fact that we're no longer a group of militias staving off the Redcoats or 'Injuns' in pioneer times, there are very real problems in modern society and all I have to do is take a ferry 20 miles across Lake Erie to see a completely different culture across the water in Canada. Guns, guns, guns, this society worships their precious firearms at the cost of peace and sanity and they do it with a smugness that makes my blood boil. I'm no Mensa member but even a dumb construction worker like me can tell you that when gun violence is totally out of control , the answer is NEVER MORE GUNS!"
"Ammosexual" is off the band's upcoming album, Dumbed Down out March 24 via Tankcrimes. Pre-order that smasher right here and check out the new tune below!