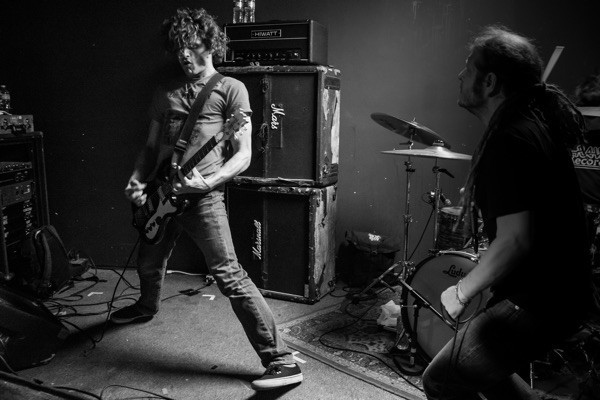 Some people just know how to make a damn entrance. Bursting onto the punk scene after a fortuitously failed Circle Jerk's album, Dimitri Coats, the down-stroke demon of Off!, has had little time to look back since the band's first gig at South by Southwest in 2010. Touching down for a few minutes, Writer Stevie Navarre Allen was able to catch up with Coats to talk about Punk Rock Bowling 2017 [pssst… we're sponsors!], how Keith Morris shapes up as a DJ, and why things with Off! might not always be so "black & white."
Photo credit: John Paul Allen
How are your bowling skills?
[laughs] I can get the ball down the center pretty good. When I was a kid I think I was better. I used to put some spin on the ball, but I've given up on that at my age.
Sounds advanced! Have you ever been to Punk Rock Bowing before? Or just to play?
I have.
How was it?—which year did you go?
I don't remember the year, but Off! played…
Was that last year? No… Flag was last year…
Yeah. Might have been a couple years ago and we had a good time!
It's always fun, but it's super-hot fun. Looking at the path that lead you to Off!—dropping out of Juilliard, playing your first show at 29, switching styles from Burning Brides to such a high visibility project as Off!—is part of your artistic process, kind of, going out of the way to make yourself uncomfortable? Is that your "starving artist"?
I definitely like to challenge myself. For instance, lately, I've been playing nothing but acoustic guitar. I've been teaching myself to finger pick and I've been writing more in that vein. I hope one day to make an album like that, for myself. And that's a little bit scary, but it's kind of where I'm at these days.
That's incredible. It would be something else to add to your long list of accomplishments.
Well, I think that beautiful music is some of the heaviest music.
You've said before that punk wasn't really a major part of your repertoire prior to Off!, have you kind of adopted more punk into your musical catalogue over the years?
Well, just from hanging out with Keith, and meeting all of his famous friends, and playing with a lot of those bands, yeah, I've been turned on to a lot of great music. But it's not like I didn't have punk records in my collection before we started Off!. I just didn't really like to categorize things. I had Ramones records and Saints records. To me it's just all rock 'n' roll. But I've never considered myself a "punk rocker". I'm still, to this day, waiting for a big cane to come across the stage and just yank me off and then everyone yells "Impostor!".
I'm not quite sure anyone out there wants that! Who are some of the more "stand out" bands you've been able to tour with while in Off!?
Negative Approach.
That's a big one…
John Brannon and I connected right away, and we keep in touch all the time. I was a Laughing Hyenas fan. Yeah, I just really respect people who are still doing it at a later age. […] And it's inspiring, also, just to stand next to Keith every time we play live, and we hit that first note, and he's like, you know, three feet up in the air like Roger Daltrey!
Just off the starting line, instantly! I know, it's unbelievable to see him go. Speaking of which, I saw you guys at a really intimate show in Ventura, California in November of last year and there was a documentary, I believe, being filmed at that show—is there anything you can tell us about that project?
Yeah! We were filming for a feature-length film. The portion of the film that we were filming at that point was definitely documentary-style, but that section of the film will only be about the first 20 minutes, and then it will change into a science fiction film.
That's an interesting approach, didn't see that coming at all! It was so hard to keep a straight face while booing you guys and flipping Keith off—by request, of course! Felt almost…sacrilegious!
[laughs] We appreciate all of you going along with that because the footage is amazing.
Good to hear. Are you guys working on any new material at the moment?
Yeah. The movie is really meant to be a catalyst for pushing our music into a different direction. The next album is essentially going to be a soundtrack for that film, and it's designed to give us permission to experiment. We're a little bit tired of doing the same thing over and over again. We want to see what else we're capable of.
You've talked about how Wasted Years was kind of "darker", musically and visually, compared to the first two releases—I think it'll be incredibly interesting to see where this sci-fi rock 'n' roll documentary goes, and how that influences the style and sound.
Well, Wasted Years was conceptualized at the same time as this next record, a few years ago. They were always sort of a "yin and yang," Wasted Years being mostly black album artwork for the first time, with the logo in white, stripped down, dark subject matter, recorded in our rehearsal space, demo-style… The next record being color for the first time—color artwork, pulling out all the stops, abandoning the one minute songs. It's really just the antithesis of Wasted Years and everything we've done to this point.
Stoked to hear what that sounds like 'cause, with most things in punk, it's always "Could I have a bit more, please?"!
[laughs] I'm sure it will alienate a lot of people, but I think fans of music will appreciate what we're trying to do.
And that's kind of how you've always approached Off!, from what I understand. It's kind of this idea that you don't have to be "on the inside" [of this scene] to make great music.
I'm sort of like the guy behind the curtain, you know, pushing buttons and pulling levers.
The wizard!
Well, I have one of the greatest punk front men of all time as our singer, so it enables me to just concentrate on songwriting, which is my strength. I wouldn't even say that I'm a very good guitar player, but I have a certain intensity that fits well with that style of playing and just works. It was a beautiful accident that happened, and it really comes out of friendship, first and foremost. We never sat down and said, "Oh, we're going to form a punk band." When I met Keith I liked him for who he was. I didn't care who he was.
And if you had to give him a rating as, say, a wedding DJ on Yelp!—what would you give him?
[laughing] 7.5. Wait. Yelp! is a five-star system, correct?
Correct.
Four and a half stars.
What can he work on next time? What do you think would take him to a 5-star rating?
Well, I think he bummed out a lot of the older people that were there by playing Foghat… [laughs]
You wear a lot of figurative hats in Off!. You write, produce, and play, but you also manage, or tour manage, the band—did you sign up for that role for any particular reason or did you just take the reins?
Well, let's be clear: I've never tour managed Off!, I was the manager. Big difference. I would be the worst tour manager. I guess I'm a little bit of a control freak. And, also, I fight really hard for this band and am able to create opportunities. I'm a little bit of a "cheerleader" and I make shit happen. And so I thought to myself, "I might as well get paid for it!". [laughs] So I talked them into letting me steer the ship, but I have stepped down. I am no longer officially the manager, although I still, you know, help out as much as I can.
I'm incredibly Type-A—was it hard to let go?
Well, it was getting to be a bit much. Wearing that many hats was causing some resentment, and I just thought that the best thing to do would be to step down. We're all capable of handling all the duties that come along with keeping a band afloat. Steven does that for Redd Kross, Mario does that for Earthless, and Keith is always looking to get his hands dirty. He likes to work. He likes to help out. So we all spread the job evenly now.
And you're a busy dad as well—in regards to music, do your children fall far from the tree? Have you actively influenced them, or is there a natural inclination?
It's really interesting—I've played them all my favorite bands and it's really fun to see them latch on to the certain things. I'm pleased to say they have excellent taste! They're huge fans of early Aerosmith. They love the Ramones. They love AC/DC. They've even been requesting Nick Drake lately which makes me pretty happy.
That's great. If anything, what the younger generation needs is probably musical guidance…
But, I'm sure there will come a time when they're going to get into some terrible stuff and there won't be anything I can do except yell, "Turn that crap down!".
Too funny! I don't want to keep you too much longer, but going back to Punk Rock Bowling—are you much of a gambling man? Going to take on Lady Luck while you're out there?
No, it's really not anything that interests me. I will probably be out by the pool, drinking something in a glass with an umbrella sticking out of it!