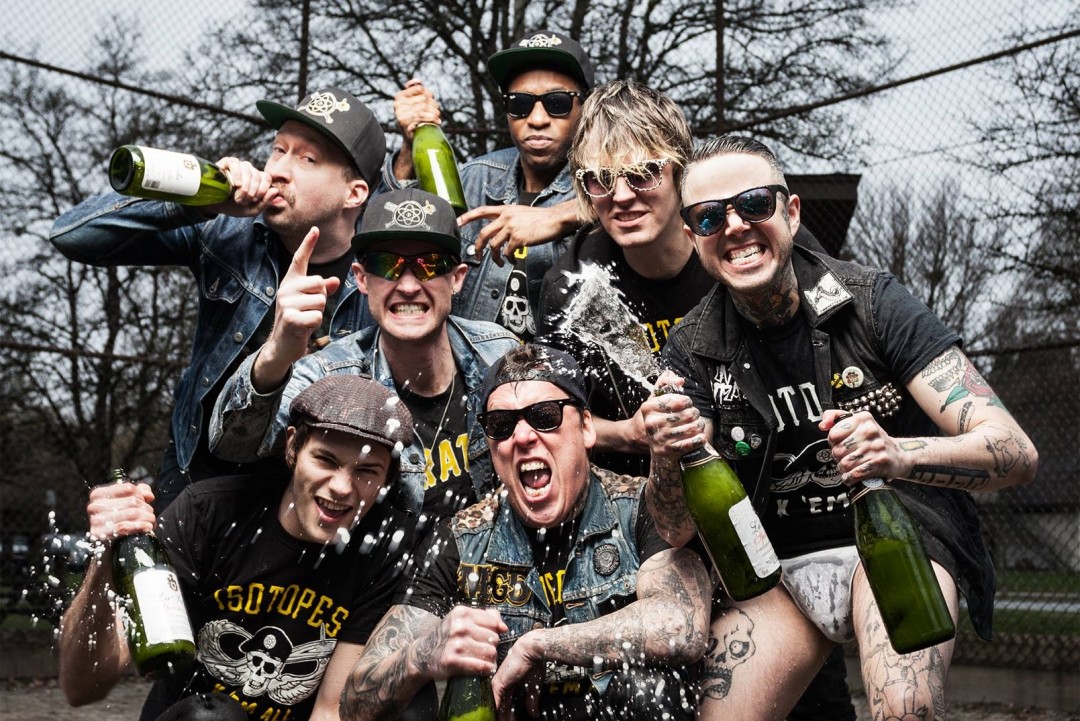 You can call them The World's Greatest Baseball Punk Band. The Isotopes have been firing catchy hits from the pitching mound since 2006, they specialize in baseball infused punk rock and have released a brand new album this year. Their new album called 1994 World Series Champions came out in April though Stomp Records. Editor Samantha Barrett spoke to lead singer Evan October to chat about baseball, the new album and Pouzza Fest.
Evan, You were in a regular punk band called Kidnappers before The Isotopes formed. Do you prefer playing in a baseball themed punk band than a regular punk band? Why?
Well, the Kidnappers was my band in high school between 2001 and 2003. We lasted about 2 years. Occasionally we'd wear ski masks and our songs had titles like "Bodies In The River" and "Murder At The Laundromat" so when that band ended and I was considering the idea of writing songs about baseball (which I knew a lot about), as opposed to, y'know, kidnapping (which I knew very little about), it felt to me like the baseball idea was a lot more regular.
So you guys were like the original "masked" punk band?
I wouldn't say original but we had a few years on the technicolored dream team if that's what you're getting at. I'm only kidding. I'd never wanna take anything away from Intruder. They are friends of ours and they do a hell of a good job at what they do. They're like us, they may not be the absolute first guys to do what they do, but they're sure as hell the best.
I read somewhere that you were a baseball player for most of your youth and decided to switch to being a singer in a punk band. What made you decide to switch? Do you still play baseball?
I always played baseball, yep. It's always been my favorite thing to do. I quit competitive ball when I was 17 because I wasn't really willing to put the time into it required to continue on at that age, and that just happened to be the age when I was getting into the idea of writing songs and starting a band so it kind of just was a natural thing. I always kept myself close to the game through that time though, playing beer league fast pitch.
In 2013 we started an adult hardball beer league in Vancouver called East Van Baseball League which is comprised mostly of band dudes and dudettes from our area. So when I'm home I'm quite busy with that. I play 2nd base/shortstop for the Isotopes and design all the uniforms for the league.
You guys call yourselves "The World's Greatest Baseball Punk Band", has any rival band tried to take away your title?
No. I mean someone could try but they wouldn't be the authentic thing, right? But that slugline is just a tongue-in-cheek thing anyway. I'm glad it gets so much play though.
You guys mesh punk music with baseball lyrics. How do you come up with the inspiration to write all these baseball themed songs? Do you watch ESPN feverishly for inspiration?
I always think most of the best songwriting has an element of humor to it. You gotta have a sense of humor to do this whole punk thing. When it comes to the baseball stuff, this is just a huge interest of mine and a huge influence throughout my life so I don't have to rack my brain too hard to come up with anything. Like for example the album title 1994 World Series Champions, it was just there. To me it was just so obvious, I can't believe nobody else claimed it before, but that's just what I mean - it comes naturally.
You recently released a new album, 1994 World Series Champion. What is the reason why you named this album after the champion that never was?
There's a few cool things going on here. One is that it's just a funny claim on something that obviously we don't have a claim on, but now we're associated to it because we were the first ones to put our name on it. Two is that it's an in-joke that instantly grabs anyone's attention who knows their baseball; and three is the Canadian connection due to the general consensus among at least Expos fans that the Montreal Expos had a fair shot of being in the postseason and possibly World Series given their standing in the league at the time of the strike. It's a good album title and I've had it for a long time but I didn't think it was a good debut album title which is why I didn't use it on the first LP.
The first LP had a lot of songs that were very recognizable by a casual baseball fan. This album seemed to touch on some of the more obscure references to baseball like Morganna. So tell me about the song "Morganna"?
She was a pretty interesting character in baseball history, I recommend the documentary ESPN made about her called Morganna: The Kissing Bandit.
You guys are playing Pouzza Fest in Montreal in May. Is there a band on this year's bill that you are excited about catching?
No, not really. I'm mostly excited about this Pouzza Fest ball tournament we're playing.
Oh, yeah! I saw that was happening on Saturday and Sunday. Tell me about this Pouzza Fest Ball Tournament?
I don't know anything about it other than Stomp Records called in the big guns to bring home a trophy!
I see you guys have been traveling a bit this year, touring Canada and Europe to support this release. Do you have any more plans on touring other areas?
Yeah, we do. I don't wanna say anything until there's anything to say, but yeah. We are looking at all kinds of stuff.