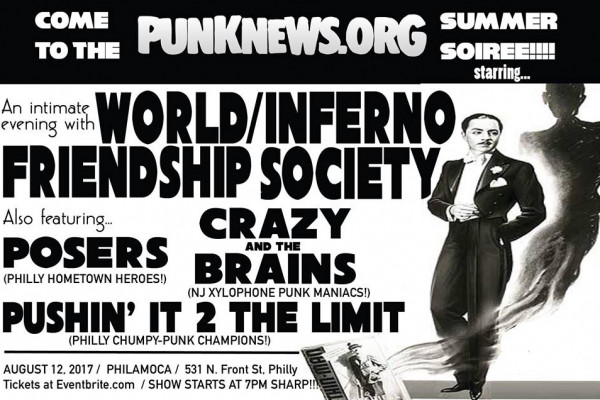 Today, Punknews is absolutely THRILLED to announce that we will be throwing the PUNKNEWS SUMMER SOIREE in Philly on August 12! The absolutely amazing World/Inferno Friendship Society will be headlining this show and it will be magical! But, on top of that, Philly punk champions Posers will be supporting Inferno! Plus, those revved up xylophone punk maniacs Crazy and the Brains will be playing before that. AND, Philly's best punk trio Pushin'' It 2 the Limit will be opening! They have a pet tiger!
But, that's not all! We'll also be playing the Punknews trivia game "Punx Points" with the audience between sets and may even play a round of the Punknews dating game "Punk Connection!" PLUS, we will have exclusive cassette tapes for sale at the show that you can only get at the show! PLUS, we'll have a charity raffle! PLUS, we'll be handing out goody bags to everyone there!
The show is August 12 at Philamoca in Philadelphia (531 N 12th St, Philadelphia, PA 19123). Doors are at 7 and the show starts PROMPTLY at 7:30, so don't be late! This will start up right away and you don't want to miss a moment!
You can find the facebook event right here!. Be sure to get tickets right here!. Don't wait. THIS WILL SELL OUT because Philamoca is an intimate venue and this will be a unique, special show. Come dressed in your finest evening wear or your finest costume. Let's make it a party!