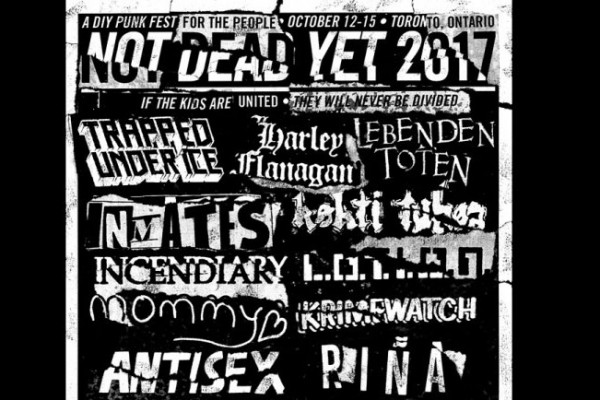 Organizers of Toronto's annual Not Dead Yet festival have announced their 2017 lineup. The fall punk and hardcore festival, now in its 7th year, will feature Trapped Under Ice, founding Cro-Mags member Harley Flanagan, the first Toronto appearance from Portland's Lebenden Toten, Cleveland acts Inmates and Vanilla Poppers, Halifax's Booji Boys, Mexican acts Anti-Sex and Rina and more including 1-900s, Acrylics, Burden, C.H.E.W., Collagen, Druj, Fried Egg, Incendiary, Kohti Tuhoa, Krimewatch, Kombat, L.O.T.I.O.N., Marbled Eye, Mommy, Nosferatu, Patsy, Public Eye, Rashomon, Rik & the Pigs, and Witchtrial. Not Dead Yet will take place from October 12 to 15 at venues around the city.
The feastival organizers add:

We aim to have the shows as accessible as possible but please note not all venues are accessible. Accessibility info will be available as specific shows are announced. We've said it before and we'll say it again - NOT DEAD YET is proud to be anti-racist, anti-homophobic, anti-transphobic and is generally opposed to any and all oppression. Let us take the opportunity, given the timing of this announcement to resoundingly say fuck the delusion of 'celebrating 150 years of Canada.' See you in October!
This story is part of a reporting partnership between Punknews.org and Some Party, a Canadian punk & garage music newsletter.