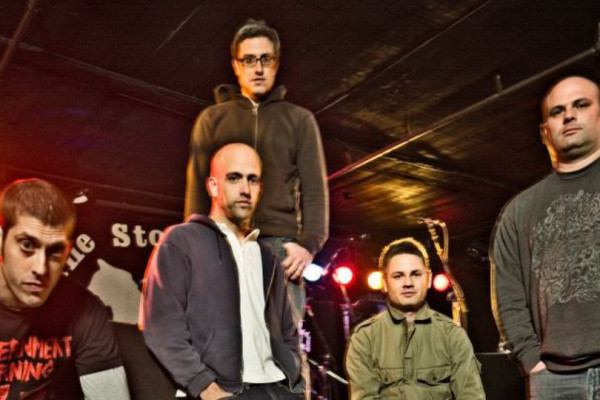 Today, we're beginning a new series at Punknews: Twenty Years Later. Helmed by Staffer Michael Musilli, the series will look back at hardcore and harcore-ish records at their 20 year mark. Not only will the pieces include analysis of a record's importance, but Musilli also contacted a slew of hardcore musicians in order to get their perspective on landmark records.
Today, we kick off the series with an in-depth look at Lifetime's Jersey's Best Dancers. Check it out below.
Twenty Years Later Lifetime's Jersey's Best Dancers is Still (Verona's) King
Mike Musilli
2017 marks the twentieth anniversary of Lifetime's Jersey's Best Dancers. The record was the band's third LP, and the second released on Jade Tree Records. It remains inarguably one of the benchmark releases of the era. And part of the record's staying power is its ambivalence toward genre overall. Then and now, the record defies those tacky category descriptors: pop punk, hardcore punk, melodic hardcore, or whatever hybrid jargon you want to apply here. What matters is that the sound that Dan Yemin and company harnessed on Hello Bastards was sharpened to a fine and seemingly indestructible point on 1997's Jersey's Best Dancers.
In retrospect, '97 was the turning point in the development of the hardcore sound. While there was always a dose of melody swirling around the otherwise brutal and heavy whirlpool of hardcore music – American Standard, Gorilla Biscuits, Fugazi, Dag Nasty, and on and on – 1997 was the beginning of the maturation of the hardcore sound. And Jersey's Best Dancers was to be a cornerstone of that evolution. The diversity of the record's tracks laid the groundwork for this sonic progression in the hardcore underground. Without digging themselves too far into any one musical hole, Lifetime crafted twelve diverse and enduring tracks.
At the time of Jersey's Best Dancers's release, much of hardcore and punk was still largely centered around the chest-thumping machismo of the New York, Boston, and New Jersey undergrounds. Sure there were outliers, but the nineties hardcore scene was dominated by the heavy metallic rosters booming over at Roadrunner, Victory, and even Equal Vision Records. And then there was Lifetime. The niche they were carving was finding its way into other smaller scenes too. Long Island, for example, wholly embraced the Lifetime ethos. Vinny Caruana, singer for The Movielife and I Am the Avalanche, opined, "Long Island hardcore, when I was coming up, was a very broad term. It came in very melodic forms. Jersey's Best Dancers resonated with us immediately for that reason." Lifetime was effecting change, whether they intended to or not. Their music was offering a different brand for people to embrace.
The story of that change largely began with tug-and-pull between Ari's vocal style and Dan Yemin's guitar writing. It was in that back and forth that Lifetime's ever-present influence bubbled up into the underground at large. "Turnpike Gates" was case in point. As the opening song on Jersey's Best Dancers, it began with frantically fast-paced guitars and drums. And even through the choruses, the speed behind Yemin's writing was palpable. Yet, Ari's cadence managed to slow all of that down with his now-signature emotive drawl. This tense balance presented an audible image of what was, at least part of, the crux of the punk and hardcore underground: chaotic and aggressive energy fed by nearly overwhelming emotion. For their part, Lifetime figured out like few before them how to manage that tension in such a way as to bring melody to an otherwise discordant scene and sound. The balance on the record is astounding, bouncing from the mid-tempo beats in "25-Cent Giraffes" to the ballad-esque slow dance of "Hey Catrine" straight to the blasting hardcore assault of "Bringin' It Backwards." No one would ever discount the achievements of other band of similar ilk, like Gorilla Biscuits, here. They pulled off a similar feat in terms of catchiness, but Jersey's Best Dancers still stands apart.
The fact is, Lifetime's third LP ushered in a new era of emotionally-driven music. The merit, or lack thereof, of this new era isn't the debate here. The point is that the record ignited an explosion of music that found its starting point in the hardcore underground and bled well into the mainstream, smoldering even to this day. Set Your Goals front man Matt Wilson fondly remembered, "They say that the records you listen to in high school years into your early twenties end up sticking with you for the rest of your life, and for me, Jersey's Best Dancers is one of the all-time classics." Anyone familiar with Wilson's own band can hear the influence of that record on their sound. The catchiness and measured aggression. The melodic but still edgy vocal stylings. It's all there. For Wilson, Jersey's Best Dancers was a record that offered him freedom from the otherwise rigid allowances of the hardcore underground. He found himself a sound that successfully, and with little talk of selling out, navigated the hardcore ethos while also expanding his musical canon.
For others, Lifetime and Jersey's Best Dancers were an auditory affirmation of the diversity that the underground should embrace, despite it often times doing just the opposite. "Years later when we had started touring in Crime In Stereo, we took on a similar style [to Lifetime]. We were always the more melodic band on all hardcore bills. That was who we were and that was where we had felt most comfortable and Lifetime definitely carved out that comfort zone," said Crime In Stereo's Kristian Hallbert. Lifetime indeed carved out a niche for bands like Crime In Stereo and Set Your Goals to occupy in the hardcore world. It wasn't a sideshow or a token act either. It was legitimate. The popularity of Jersey's Best Dancers galvanized that legitimacy. Lifetime played shows with everyone from 108 to Assuck to Snapcase on the popularity of Jersey's Best Dancers. Diversity was realized, and embraced.
Interestingly, Ari recently ranked the Lifetime catalog for Vice, and Jersey's Best Dancers came in at number two behind Hello Bastards. For him, the production woes and touring schedule surrounding the record soured things a bit. So much for the art being measured objectively, right? But maybe that doesn't matter all that much anyway. I mean, how could Ari or Yemin or any of the Lifetime gents objectively see the impact of Jersey's Best Dancers? By all accounts, they sought to write and record a full-length that reflected their band's sound. To suggest they were expecting to change the course of an underground would be both naïve and vapidly worshipful.
Twenty years later though, it is easy for us to say that Jersey's Best Dancers was an immensely powerful and influential record. The sound captured on that 1997 release is still booming through today's musical world via all sorts of bands, underground and otherwise. And that isn't naïve. So it seems that many a musician has done just what Lifetime suggested on Jersey's Best Dancers twenty years ago. They tuned their guitars appropriately.