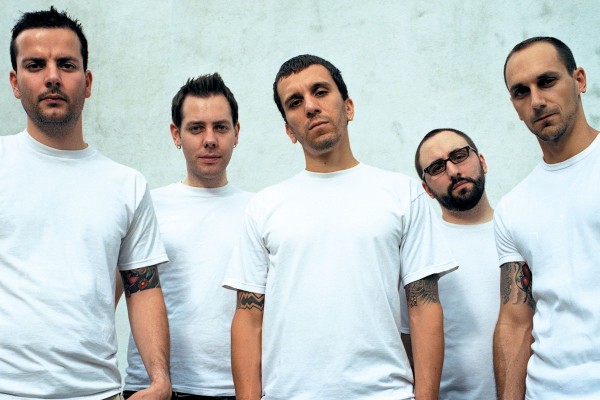 Today, we are continuing our Twenty Years Later series. Helmed by Staffer Michael Musilli, the series will look back at hardcore and harcore-ish records at their 20 year mark. Not only will the pieces include analysis of a record's importance, but Musilli also contacted a slew of hardcore musicians in order to get their perspective on landmark records. Today, Musilli takes an in-depth look at Snapcase's Progression Through Unlearning. Check it out below.
Progression Through Unlearning: Snapcase's Prescription for the Guilty
Michael Musilli
The upstate New York area has, for many years, been crafting its own brand of hardcore music. Buffalo in particular was a hotbed, offering up Despair and Buried Alive, Every Time I Die, Zero Tolerance, and Snapcase among many others. And while all of the aforementioned bands made their marks on the national scene, it was Snapcase whose impact was most felt. From Lookinglasself to Steps, we were offered a harmonically heavy and insightful hardcore band with socially conscious lyrics. With Progression Through Unlearning, Snapcase offered up an LP that bent the genre and opened audiences to an entirely new sound.
Progression Through Unlearning was the band's third release on Victory Records and was released during the hey-day of Victory promotion and dominance. While Snapcase and the record itself certainly benefited from Victory's then-desire to earnestly develop their roster, they also had a sound that was ready to break barriers. What they had planted on their previous releases, was now blossoming into a full-bodied sonic progression trademarked by their use of harmonic leads laid over grooving hardcore-ish rhythms. What they reined in on songs like "Drain Me" and "Windows" became their signature throughout Progression… Maybe even more remarkable was that Snapcase had switched primary song writers between the release of Steps and Progression… With the departure of Scott Dressler, Frank Vicario took over as the band's primary song writer. That's headache enough for any band, but Snapcase had just hit their sonic stride with Steps.
And yet, everything came together for Frank and company on Progression… From the opening drum hits on "Caboose" it was clear that Snapcase hadn't missed a step. In fact, they had also managed to further push their sound. Floating throughout that song were all of the pieces that Snapcase had assembled in their previous six or so years as a band. Their mix of driving rhythms, the staccato delivery of Taberski's vocals, the innovative leads, and the stunningly tight-popping drum beats had coalesced into an aggressive and forceful machine.
That machine strode the line between more traditional hardcore heavyweights like Sick of It All and more melodious underground rockers like Shift. This straddling of sorts is a huge part of Progression's… importance too. Ryan Young, frontman for Off With Their Heads, recalls, "I remember throwing the CD in the player and being immediately changed by it. It not only didn't sound like a punk band, but it didn't sound like any other hardcore band I had heard either." Snapcase was able to maintain that definitively hardcore angst while managing to appeal to a diverse fan base. So it was that the band would play the main stage at Warped Tour and open for Deftones and Quicksand, while also touring with Buried Alive and Kid Dynamite in the years around Progression Through Unlearning's release.
For Jeremy Smith, guitarist for Buffalo's No Reason and Dead Hearts, "Snapcase were accessible and brought younger kids, interested in digging deeper into the Buffalo hardcore scene, around to other shows to see other bands. They brought an energy that young people wanted to be a part of and kids really plugged in to that and started coming out." That energy was palpable in so many ways. For those who saw Snapcase live, it was felt through their uber-kinetic sets. But that energy was also captured in the record's lyrical content.
Taberski challenged the listener on every song. Be it "Guilty By Ignorance" and its scathing evaluation of consumer culture or "Killing Yourself to Live" and its reflection on the drudgery of workaday life, the lyrics offered up insightful commentaries. And then there was the power of the record's fifth track, "Zombie Prescription." The song's haunting and pioneering guitar leads aside, the energy that Daryl captured vocally on the song is unmatched. He wrote and delivered lyrics that were at once antagonistic and violent, and wholly introspective and thoughtful. Often times a band can offer one or the other, almost never can a band offer all. Yet here it all was on a single record, and threaded through every song.
But what might be the most interesting aspect of the record is its originality, both then and now. For the many bands who've cited Progression Through Unlearning as a watershed release – everyone from Refused to Deftones – none has quite managed to capture that sound. Boy Sets Fire guitarist, Chad Istvan, offers, "I literally remember where I was the first time I heard Progression…From the first drum hits, I was blown away by how heavy, energetic and original they sounded. This was the new benchmark and everyone else was left trying to catch up." And this uniqueness makes Snapcase a compelling lesson in ingenuity. The sound and energy harnessed on Progression… remains locked in there. As Jukai guitarist Kyle Beshaw notes, "The term 'hardcore' in the mid to late nineties was a term that, in my opinion, was being stretched and punctured through with bands experimenting in other influences. Snapcase…were right in the thick of it and it's crazy evident on Progression Through Unlearning." Frank, Daryl, and the band were testing themselves. They were pushing out against the often restrictive bubble of hardcore sound. That's something the band had done since Lookinglasself. And Progression Through Unlearning may just have been the culmination of that experimentation.
Progression Through Unlearning also thrust Snapcase into venues with much wider audiences. The record offered them an opportunity to continue to experiment not only with sound but also with their identity as band. One could see them opening for Bad Religion. Or one could see them headlining a tour themselves, bringing along friends like Boy Sets Fire and then-new acts like Saves the Day. No Reason's Smith remembers, "I'm not even talking about how their 'style' of hardcore changed what kids were playing locally or nationwide; I'm talking about what THEY DID for Buffalo, just by being the kind of band they were… although Snapcase were a band playing huge venues and enormous tours, they still liked to 'give back' to Buffalo." Similar sentiments are echoed by Boy Sets Fire's Istvan, "[Snapcase] were really good to us and I credit a lot of how well we did to them." For all the success they achieved with Progression…, they still kept their musical community close. While one could say that's a basic tenet of the underground, it's also easier said than done.
But Snapcase didn't say it. They did it. With the release of Progression…, they changed the sound of hardcore and heavy music. That change may seem more subtle at times, but it's there. Snapcase and Progression Through Unlearning remain a reminder that a particular sound is only one component of any genre. And they remind us that experimenting and testing our boundaries is often a very productive and creative exercise. Off With Their Heads' Young recalls, "because of that specific record, I wound up going to see [Snapcase] as a 16 year old kid by myself. Watching the energy from that kind of show pretty much planted the seed for what I would do with my life." Snapcase innovated and inspired. And Progression Through Unlearning is pinnacle evidence of those achievements.