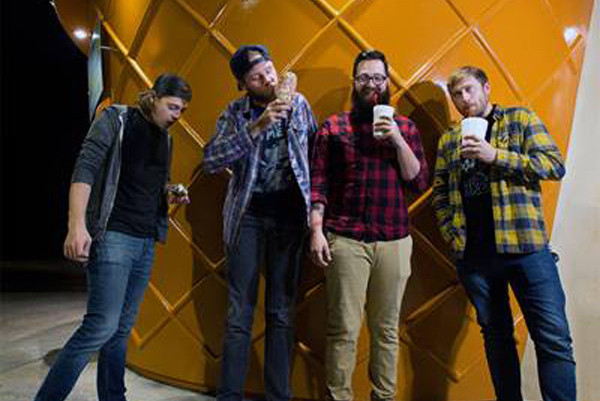 Today, Punknews is pleased to debut the new album by Debt Neglector/
Atomicland is 30 minutes of energetic, grungy pop-punk. The band has mastered the skill of multi-layered harmony, but just when it seems like things might get to shiny, the band scuff it up with some scuzzy grit. And fittingly, mirroring the album's ragged sound, the band contemplates depression, anxiety, and just generally being fucked up while trying to make it through the day.
Speaking to Punknews, singer Alex Goldfarb said, "Lyrically speaking, writing Atomicland was a pretty therapeutic experience for me. It helped me vent some of my frustrations and fears and cop to my issues with anxiety and depression. Being able to get in front of people and talk about how I'm fucked up or how the world is fucked up has helped me deal with some of it and feel a tiny bit better. It makes our songs kind of depressing, but I don't know how to write happy songs when the world constantly feels like it's falling apart. Musically, we tried to do something that was catchy and melodic, but still pissed off and aggressive. I've always loved the dichotomy of angry songs with catchy melodies and hopefully we captured some of that."
Atomicland is out this Friday! You can pre-order it right here! Meanwhile, check the whole thing out below, right now!
| Date | City | Venue |
| --- | --- | --- |
| 8/18 | Orlando, FL | Will's Pub w/ Caffiends, You Vandal, RushmoreFL |
| 8/19 | St. Petersburg, FL | The Bends w/ Awkward Age, Weak Knees |
| 9/15 | Gainesville, FL | Loosey's w/ When Particles Collide, Flag on Fire, Mock Toxins |
| 9/16 | St. Augustine, FL | Sing Out Loud Festival |
| 9/22 | Jacksonville, FL | Shantytown Pub |
| 9/23 | Atlanta, GA | Union EAV w/ Seagulls, Spray Tan, Burns Like Fire |
| 9/24 | Birmingham, AL | The Firehouse w/ Fake Tyrants |
| 10/6 | Tampa, FL | Microgroove |
| 10/7 | South FL | tba w/ friendly fire |
| 10/24 | Orlando, FL | Will's Pub Whatever Dude Pre Prefest |
| 10/25 and 26 | Ybor City, FL | Big Prefest in Little Ybor |
| 10/27 through 29 | Gainesville, FL | The Fest |