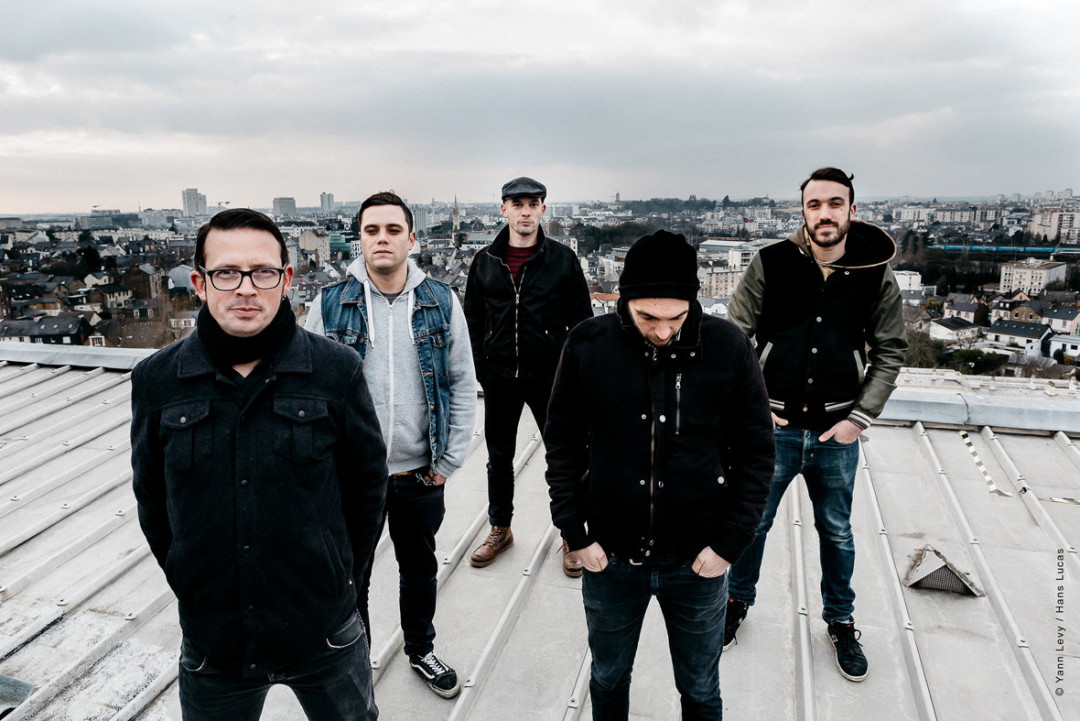 We should address the name first. Undoubtedly the famous NOFX single looms large over the Breton band, as it does for a wide swath of the punk scene from their generation. Of course, that means this isn't the only Decline out there. This may not be the only Decline we've spoken with on Punknews this year. They are, to my knowledge, the only that punctuates their name with a single space followed by an exclamation point. Your Google mileage may vary.
I spoke with Goose, one of the band's two guitarists, as they prepared to embark on their inaugural trip to FME. The story of how they ended up at the eclectic, remote Quebec music festival isn't remarkable. Their booking agent had the right connection and one thing lead to another. It is a fitting arrival point for them though, with FME's status as both a springboard for emerging artists and a passionately bilingual. The Decline !, a rising French band who sings entirely in English, fits that bill nicely.
To Goose there was never a choice as to what language the band would embrace on stage. "Our musical influences are mainly English and American," he reflected to me (in broken English, funny enough). "Kevin our singer is half Irish by his mother and the choice to sing in English was not even asked. Of my opinion, rare is the band who handles well the French language in punk rock."
That opinion may be put to the test at FME, as the band will share the stage with some local heroes, including the decidedly Francophone Montreal punk rock act Les Dales Hawerchuk. The pair, along with stoner rock group Lubik, will play the Petit Théâtre du Vieux Noranda on Saturday, September 2nd at the Festival's height.
Since emerging with their Old Indian Cemetery EP in 2010, The Decline !'s released three full lengths of rousing, working class punk rock. 2011's Broken Hymns For Beating Hearts and 2014's 12A, Calvary Road were recently followed with Heroes On Empty Streets this past May. It finds the band steeped in the influence of the Clash, Social Distortion, and Bad Religion, bands that either championed the thoughtful end of the punk rock spectrum or traded more on soul than chaos. That's driven home in the album opening "Along The Red Brick Walls," where Kevin's smokey growl drives a sense of somber urgency.
Yet at other moments, like the aptly titled "Joyful Thrill," the Decline ! seems to relax and embrace a very Rancid-esque marriage of speedy riffing and group vocals. I asked Goose how the record and it's sound came about.
"We had a different approach than the previous album. We wrote the new one in four months and recorded in the aftermath. On 12A Calvary Road we took a year to write it. The result is far less settled and more urgent," he said.
Songs like the single "We Love Our Scars" seem built for audience interaction, custom designed to get fists in the air and voices shouting along in unison. That's not accidental, as Goose explains:
"We always say between us when we write a song 'focus on the chorus.' A good song has to have a good chorus. From the first listen it must remain glued in your head. If you get there, the interaction with the audience is easy."
The Decline ! has played their share of small bars, squats, and house shows over the past seven years of touring Europe. This year saw their settings change dramatically, as they were invited to play Hellfest in June. The heavy metal festival, held annually Clisson in Loire-Atlantique, is positively massive. 55,000 tickets were sold for this year's edition. The footage of The Decline !'s performance finds them before a massive crowd, but also behind the imposing stage barrier that's typical of those scale events.
I asked Goose how the band handled that setting and the lack of intimacy. The group took the challenge in stride. "Ten people at the concert or a thousand we try to do the same show. Strangely we played it in front of ten thousand at Hellfest and it worked!" The band made some effort to maximize the opportunity, chaining every song in their set together to leave as little open air as possible. The video of their closing song before a seemingly endless crowd speaks for itself.
With monumental festival performances in Europe and tours alongside so many major US punk acts, the question looms as to when the Decline ! will finally land in the USA. Their appearance at FME and some surrounding Quebec club shows in September are as close as they'll get, for now.
"We would like very much to explore North America!" Goose exclaimed. "I do not know why we haven't done it. If there are promoters who read this, you can contact us we will be happy to tour in your country! Without joking every time we've tried to make connections our requests have remained unanswered, so, unfortunately, no US visit's in the works at the moment."
Logistics aside, one has to wonder if the contentious politics of Trump's America have deterred European acts from considering the trip. Goose brushes it off. "As I said earlier we would like to come and the current shit political climate does not scare us. We do often hear stories though, about the fear European musicians have of landing in the US with guitars only to not be accepted and forced to cancel the tour. That can be repulsive."
No such trouble is expected this coming Labour Day weekend, when The Decline ! joins 70 acts from across North America and Europe when they gather in the mining town of Rouyn-Noranda for FME.
Before I let Goose go, I asked him which bands from Rennes or the Brittany region we should check out. He didn't disappoint, so here's your French homework Punknews: "Right now in Rennes the bands we like are The Argument, Abuse, Radical Failure, Sons of O Flaherty, Totorro, and Slim Wild Boar & his Forsaken Shadow."
This story is part of a reporting partnership between Punknews.org and Some Party, a Canadian punk & garage music newsletter.