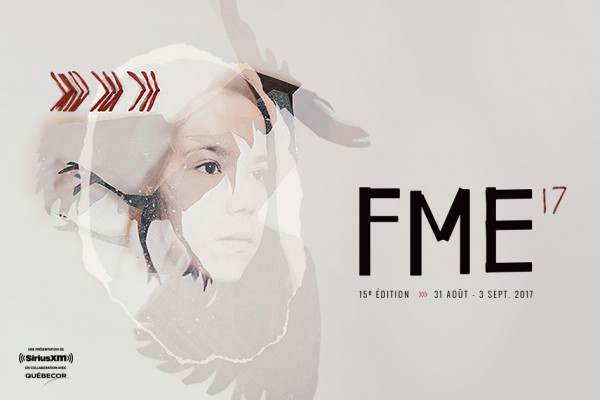 What's the goal of a music festival? It's an odd question, and in most cases "we wanna get loaded and we wanna have a good time" would suffice. It feels unfair to ascribe some higher concept to what's ultimately a commercial undertaking, and you'd be right to roll your eyes at any claim that your Coachellas or Bonnaroos or Whathaveyous are anything more than what they seem on the surface. FME, a music festival in a remote western Quebec mining town, doesn't need some high concept to define itself. In fact, its very name (Festival de musique émergente) quite plainly eschews such trappings. Yet compared to anything I've been to FME felt like a festival with goals greater than simply party (although that's a big part of it). FME had several goals, in my mind, and it somehow pulled them all off.
Rouyn-Noranda is at least seven hours from anywhere, and much more from anywhere else. If you're not Quebecois or involved in Canada's mineral resource economy there's probably little reason for you to have heard of it. Rouyn's isolation grants it something special though, a true sense of community (because there's no other choice). As such FME's reception around town feels different than other festivals. Every storefront, not just those directly servicing concertgoers, was wearing the event's logo. The regional tourism folks saw this not as one special interest event among many, but as an opportunity to showcase the region as a whole (which is to say I visited some moose). The impact of this massive influx of culture, money, and attention upon a small town was treated as a major tentpole of the community rather than an imposition upon it.
FME's programming at times rewarded these locals. Sunday night ended with a massive open-air free concert. A crowd that numbered greater than town's population crowded onto a beach before a stage built in the shallows of Lac Noranda. Here a pair of well regarded Francophone folk-rock acts, Klô Pelgag and Matt Holubowski, warmed the crowd before an elaborate and loving tribute to local hero Richard Desjardins. I asked someone from the town about Desjardins' profile in the region, and they described him as their Woodie Guthrie, someone who sang the working people's songs. When the nearly 70-year-old singer appeared on stage, unannounced, to cap the evening the crowd was elated. As a love letter from FME back to the people of the town, mission accomplished.
Across town, at the same moment of Desjardins' emotional homecoming, the controversial Swedish band Marduk revelled in blasphemy. The black metal standard bearers headlined a show that featured New York's Incantation, California's Abysmal Dawn, and brutal local trio Black Empire. The contrast couldn't have been greater, and it's the perfect example of how FME's programming defied expectations all weekend. Taken as an alphabetized list, the 70 performing acts seemed to have little in common, and yet FME never felt needlessly eclectic. There was enough variety that scheduling conflicts were rare and each venue's lineup felt cohesive.
There was the Saturday night punk show, with The Decline ! from France making their North American debut to a packed house. The band's stage presence, which at times channeled the Bouncing Souls or the Dropkick Murphys, easily won the crowd. The Breton group played a number of songs from their recent album Heroes On Empty Streets, with the crowd pumping their fists to every chorus like they were old favourites. That evening was headlined by the hockey-themed Montreal band Les Dales Hawerchuk. Before the festival, I'd completely fallen in love with the band's 2005 debut, which was full of charming and irreverent punk rock songs, but the Dales on stage was the current model, a muscular hard rock band who carried themselves like one. While the material on 2016's Désavantage numérique doesn't strike me as playful, the crowd made no distinction. Every bit of energy the band threw out was reciprocated. When the Les Dales' namesake theme song finally arrived, the audience shouted every word.
The Decline ! wasn't the only European punk group to make their first North American appearance at FME, Belgium's It It Anita also made the trip as well. The four-piece recorded their last full-length Agaaiin in New York City but never played to an audience there. It was a huge privilege to see their first frenetic performance in the crowded Cabaret de la dernière chance. It It Anita shares a cultural DNA with bands like METZ and the Toronto noise-punk scene, the sound of a bunch of punk kids reinterpreting the sounds of both Fugazi and Steve Albini's discography. On stage, the band packs themselves tight, with the guitarist and bassist facing each other and the entire band playing so close to one another you could fit them in a closet. There's an intimacy to it, with the band recreating a tight practice space rather than the expected and traditional three-and-drums stance of a rock band. (In speaking with the band they said this was clearly what they preferred -- even when playing a huge European festival they'll put their setup on a few risers to build a smaller stage on a larger one).
A major facet of the sound this year's FME came from the participation of Montreal's Distortion Psych Fest, who curated a number of garage and psych-rock shows over the weekend. I was most excited to see Paul Jacobs, the Windsor-born garage artist who's made a name for himself by being a wildly prolific. With six albums (plus numerous EPs and singles) released over the last three years, Jacobs exudes an obsessively-driven outsider-artist vibe. When I spoke with him and his newly formed seven-piece band before the show, you could absolutely sense him struggling to discover the balance between his creative output and the commercial realities of selling music. Jacobs revealed that he had over 100 songs written and waiting with nowhere to go. Were he still performing as a one-man-band, it's possible that he could continue to release material at random, but there's a now whole group of people involved in the project. One would assume that would be a constraint, limiting Jacobs' selfish impulses in the interest of the group, but that's not the impression I got. His band seemed quite devoted to facilitating and encouraging whatever drives driving Jacob's output. On stage, opening for the NYC avant-jazz combo Sunwatchers, Jacobs took an Iggy Pop persona, writhing wildly before the stage with a tambourine in hand. His band, packed behind him, bounced through fuzzy garage-pop gems like "Born In A Zoo" while he ricocheted in the crowd. One doesn't get the impression that Paul Jacobs' universe is all that stable, but damn if it isn't exciting.
The centerpiece rock show of the weekend was clearly Brooklyn's critically-heralded noise-rock trio A Place To Bury Strangers. The band stood up to their reputation for punishing labels of volume within the Petit Théâtre du Vieux Noranda (they sell branded earplugs at their merch table, naturally). It's incredible that a band that comes off as so studious and reserved in person, can so quickly turn on and project danger and chaos on stage. Several guitars did not survive the band's performance, which was the talk of the weekend. They headlined a show that featured Montreal psychedelic rock group Elephant Stone (sitarist Rishi Dhir joined Place for their finale) and Saint-Lambert's band Zen Bamboo (an incredibly affable four-piece with a bit of a Libertines vibe).
A rockabilly showcase took up a two-night residency at Rouyn's Au Diable Rond, featuring Canada's wild Bloodshot Bill, Missouri's 50s-authentic Deke Dickerson, and Florida's The WildTones. The three bands shared members, performed each others' songs (along with a number of classics), and gave some pretty high-art days a vintage, down-to-earth chaser. Having the (repeated) opportunity to cap your night dancing to some cool rockabilly was a pretty nice bonus.
There were special performances around every corner of FME. Festival veterans Duchess Says, the Montreal-based synth-punk group, played a pair of shows. At a secret backyard performance vocalist, Annie-Claude Deschênes stalked around a pool with her mic, belting out aggressive versions of Sciences Nouvelles hits like "I Repeat Myself" and "Negative Thoughts." As a performer, Deschênes has such presence and unpredictability that even that laid-back setting couldn't defang the band. Across town at a local brewpub, Laura Sauvage used FME to launch her new record "The Beautiful." She rewarded a packed afternoon patio crowd with a tight set of charming slacker rock with pocked with noisy post-punk moments and deeply amusing slice-of-life lyrics.
My observations are coming from the rock'n'roll end of the spectrum, but you could easily have had a parallel experience at FME with an entirely different set of bands. While it all felt natural, there was clearly an enormous amount of work done to achieve the balance of genres at play.
FME had one other obvious goal, and it's not one I've ever seen addressed at a Canadian music festival with such fervor. The organizers of FME partnered with the First Nations communities who also occupy the Abitibi-Témiscamingue region create a dialog through art. The spirit of reconciliation and rapprochement were made an integral, central part of FME and those efforts gave the festival a weight and sense of importance.
The central aspect of this was Makwa, an exhibition presented by the Pikogan Pow Wow which showcased Algonquin culture through dance and story. A group of dancers, young and old, in full, vibrant costume took to the main street before the festival entrance, performing in the intersection and amassing a massive late afternoon crowd of onlookers. Both performers and the audience processed through the town down to the shore of Lac Osisko, where they were greeted warmly with drums and storytelling lead by Richard Kistabish.
It felt fitting, given the First Nations presence at FME, that the most widely anticipated performance of the entire festival would come from indigenous Ottawa-based DJ trio A Tribe Called Red. The group was supporting their acclaimed recent full length We Are The Halluci Nation, which samples pow-pow music and mixes it against electronica, hip-hop, and a half dozen other genres. Of any artist operating in Canada today, it's Tribe that truly feels like they've captured the zeitgeist, coming into public prominence at a time when the Canadian government has finally taken some baby steps towards addressing and acknowledging 150 years of repression. Their music is thus charged with the politics of the time. I asked the band if they felt any pressure, as one of the recognized standard-bearers of indigenous music in the country:
"I don't think we ever took it as a pressure because that would mean that we're addressing it after the fact," Ehren 'Bear Witness' Thomas reflected "We addressed it right from the get-go and said 'this is a responsibility'"
A Tribe Called Red never seems burdened by the limelight or these expectations. That their music amplifies indigenous sounds and stories is a statement in and of itself, core to their entire project. Their stage performance, a throbbing spectacle with dancers, improvisation, and trippy animated accompaniments, was an absolute blast and certainly lived up to its reputation on the main stage at FME. "I think we've always tried to have a balance there and still have fun," Bear told me, "because at the heart, at the root of what all this is, we want to create party music."
This story is part of a reporting partnership between Punknews.org and Some Party, a Canadian punk & garage music newsletter.