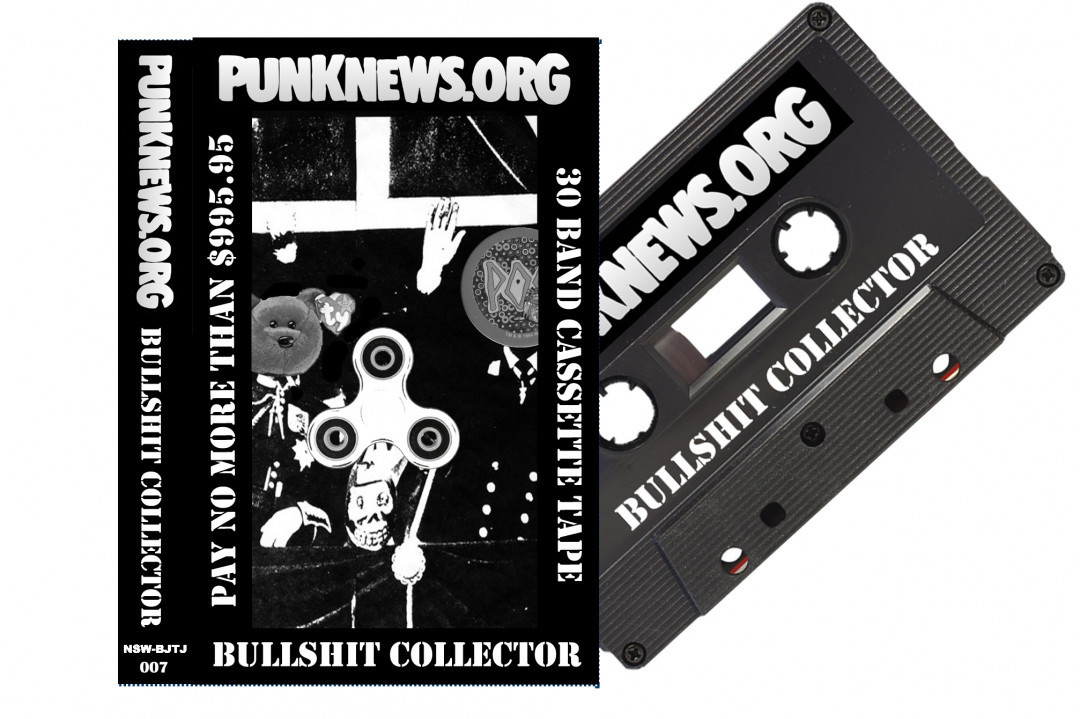 Punknews is absolutely THRILLED to announce that we will be taking part in Cassette Store Day 2017! We'll be releasing a tape!
Cassette Store Day is an international event where record stores and other cool shops sell tapes made just for that day. CSD 2017 is October 14 and, in the USA, it's being organized by cassette champions Burger Records. Check out all the neat tapes being released on CSD site here!
For our part, we're releasing a 30 band compilation that includes some of our favorite new, up-and-coming, and unsigned bands! It's called Bullshit Collector! In contrast to the "Punknews Mixtape" series which has bands from all eras, Bullshit Collector focuses mostly on the newer stuff. (We threw in a few obscure tunes for good measure.) As is our style, it's mixed like a Hip Hop mixtape, includes intros, outros, and skits, and it's hosted by punk rock's two hottest turntablists: DJ Johnny G and Dynamite Adam White!
Check out some of the awesome bands on this comp: Crazy and the Brains, Posers, Family Pet, Sneakers Award, Duchess Says, Ellen and the Degenerates, Medium Mystic, Gnarboots, Kicker, The Droogettes, Cliterati, War//Plague, The Pathogens and many more! We also have some exclusive jams!
You will be able to buy the tape right here, online on October 14. However, we encourage you to get out of the house and pick up the tape at your nearest participating store! You can see the tracklist and participating stores below!
Bullshit Collector Tracklist:
Side A:
"Gotta Collect 'em All!" (Intro) featuring DJ Johnny G, Dynamite Adam White, Audrey Crash, DJ Dunansteio
Crazy and the Brains - "I'm Rich"
Kicker - "You Can't Take Me Anywhere"
Pushin' It 2 the Limit - "The World's Greatest Song Ever in the Whole Wide Fucking World"
Sprocket Nova - "The Star Wars in His Mind"
Medium Mystic - "Trashy Feast" (Exclusive)
Teenage Bigfoot - "Icarus" (Exclusive)
Cliterati -"Looking for the Answers"
Connoisseur - "The Answer"
Shitty Summer - "City Smoke" (First physical release)
Ellen and the Degenerates - "Fair to Me"
Yulia - "Tomobiki High" (First physical release)
Duchess Says - "Pink Coffin"
The Pathogens (featuring Cinder Block and Jesse Luscious) - "Rattle the Cage" (Exclusive)
Chotto Ghetto - "Great Again"
Dronez - "Mare of State" (First physical release)
Johnny Madcap and the Distractions - "10 Names"
Side B:
"Collector Scum" (Intro) featuring DJ Johnny G, Dynamite Adam White, DJ Dunansteio
DFL - "Shut It Down"
The Droogettes - "Best Oi Times" (Exclusive)
Posers - "Wanna Know"
Sneakers Award (featuring Brian McGee of Plow United) - "Never Say Die" (First physical release)
Rats in the Wall (featuring Brad Logan of F-Minus/Leftover Crack) - "Sinking"
Boboso -"A Guey with Words" (First physical release)
The Rentiers (featuring Joel Tannenbaum of Plow United) - "Don't Go to College"
Family Pet - "Family Pet"
The Brood - "Sinkhole" (First physical release)
The Flames - "Nothing Seems to Work Out"
Posture - "Flame"
Hiccup - "Neverwhere"
War//Plague - Disease"
Collecting thanx (interlude)
Gnarboots - "End of the World" (Exclusive)
Participating Stores

| State | Store | Street | City |
| --- | --- | --- | --- |
| California | Touch Vinyl | 1646 Sawtelle Blvd | Los Angeles, CA 90025 USA |
| California | The Octopus Literary Salon | 2101 Webster St. | Oakland, CA 94612 USA |
| California | Fingerprints Music | 420 E. 4th St | Long Beach, CA 90802 USA |
| California | Siren Records Monterey | 527 Ramona Ave | Monterey, CA 93940 USA |
| California | Burger Records | 645 S. State College Blvd #A | Fullerton, CA 92831 USA |
| California | GnarBurger | 3436 N. Figueroa | Los Angeles, CA 90065 USA |
| California | Twist & Shout | 2508 E Colfax Ave | Denver, CO 80206 USA |
| Colorado | Independent Annex | 3020 E. Platte Ave | Colorado Springs, CO 80909 USA |
| CONNECTICUT | Redscroll Records | 24 North Colony Road | Wallingford, CT 06492 USA |
| CONNECTICUT | Willimantic Records | 744 Main Street - Riverside Entrance | Willimantic, CT 6226 USA |
| FLORIDA | Tonevendor | 81d King Street | St. Augustine, FL 32084 USA |
| FLORIDA | Park Ave | 2916 Corrine Dr | Orlando, FL 32803 USA |
| FLORIDA | Sweat Records | 5505 NE 2nd Ave. | Miami, FL 33137 USA |
| FLORIDA | Daddy Kool Records | 666 Central Ave | Saint Petersburg, FL 33701 USA |
| FLORIDA | Tattookah | 304 SW Broadway St B | Ocala, FL 34471 USA |
| FLORIDA | My Music Bodega | 326 NW 19th Lane | Gainesville, FL 32609 USA |
| IDAHO | The Record Exchange | 1105 W. Idaho St. | Boise, ID 83702 USA |
| ILLINOIS | Bucket O'Blood Books & Records | 3182 N. Elston Ave | Chicago, IL 60618 USA |
| ILLINOIS | Bric-a-Brac Records | 3156 W Diversery Ave | Chicago, IL 60647 USA |
| INDIANA | Landlocked Music | 202 N. Walnut St | Bloomington, IN 47404 USA |
| INDIANA | Karma Records of Warsaw | 2606 Shelden St | Warsaw, IN 46582 USA |
| IOWA | CDs 4 Change | 3305 Asbury Rd #2 | Dubuque, IO 52002 USA |
| MINNEAPOLIS | Dead Media Records | 3330 E. 25th St | Minneapolis, MN 55406 USA |
| MISSOURI | Mills Record Company | 4045 Broadway Blvd | Kansas City, MO 64111 USA |
| MONTANA | Ear Candy Music | 624 S Higgins | Missoula, MT 59801 USA |
| NORTH CAROLINA | Lunchbox Records | 825 Central Ave | Charlotte, NC 28204 USA |
| NORTH CAROLINA | Nice Price Books & Records | 3106 Hillsborough St | Raleigh, NC 27607 USA |
| NEBRASKA | Homer's Music | 1210 Howard | Omaha, NE 68102 USA |
| NEW MEXICO | Heads Up Music | 216 Paseo Del Pueblo Norte - Suite C | Taos, NM 87571 USA |
| NEW YORK | Darkside Records | 611 Dutchess Tpke | Poughkeepsie, NY 12603 USA |
| NEW YORK | Looney Tunes | 31 Brookvale Ave | West Babylon, NY 11704 USA |
| NEW YORK | Tapehead City | P.O. BOX 243 | Atlantic Beach, NY 11509 USA |
| NEW YORK | Rough Trade NYC | 64 North 9th St | Brooklyn, NY 11249 USA |
| OHIO | Music Saves | 15801 Waterloo Rd | Cleveland, OH 44110 USA |
| OREGON | Music Millennium | 3158 East Burnside Street | Portland, OR 97214 USA |
| OREGON | 2nd Avenue Records | 400 SW 2nd Avenue | Portland, OR 97204 USA |
| PENNSYLVANIA | Repo Records | 538 South St | Philadelphia, PA 19147 USA |
| TENNESSEE | Sonic Temple | 73 North Tucker St | Memphis, TN 38104 USA |
| TEXAS | CD Warehouse Records & Tapes | 1213 S. Cooper St | Arlington, TX 76010 USA |
| TEXAS | Good Records | 1808 Greenville Ave | Dallas, TX 75206 USA |
| TEXAS | End of an Ear | 4304 Clawson Rd | Austin, TX 78704 USA |
| TEXAS | Waterloo Records & Video | 600 N Lamar Blvd Ste A | Austin, TX 78703 USA |
| TEXAS | Wired Up-Modern Conveniences | 2608 Dunlavy St | Houston, TX 77006 USA |
| VIRGINIA | Mobius Records | 10409 Main St. Suite D | Fairfax, VA 22030 USA |
| VERMONT | The Howlin' Mouse | 158 N. Main St. , #2 | Rutland, VT 5701 USA |
| WASHINGTON | Rainy Day Records | 301 5th Ave SE | Olympia, WA 98501 USA |
| WASHINGTON | Jigsaw Records | 608 NW 65th St | Seattle, WA 98117 USA |
| WASHINGTON | The Business | 216 Commercial Ave | Anacortes, WA 98221 USA |
| WASHINGTON | Silver Platters | 2930 1st Ave S | Seattle, WA 98134 USA |
| WISCONSIN | MadCity Music | 2023 Atwood Ave | Madison, WI 53704 USA |
| WEST VIRGINIA | Admiral Analog's Audio Assortment | 133 West German Street Suite 101; PO Box 1851 | Shepherdstown, WV 25443 USA |
| CANADA | 2nd Thoughts Buy And Sell | 1412 2nd Ave | Prince George, BC V2L3B6 CAN |
| CANADA | Shortstack Records | 256a Queen Street West | Toronto, ON M5V1Z8 CAN |
| CANADA | Royal Cat Records | 21 Macdonell St | Guelph, ON N1H 2Z3 CAN |
| CANADA | The Dupe Shop | 1185 Bloor St. West | Toronto, ON M6H1M9 CAN |
| CANADA | Le Knock-Out! | 832 St-Joseph Est | Quebec, QC G1K 5V2 CAN |
| MEXICO | Musiclab | Tamazunchale 403 | Monterrey, NL 66220 MX |