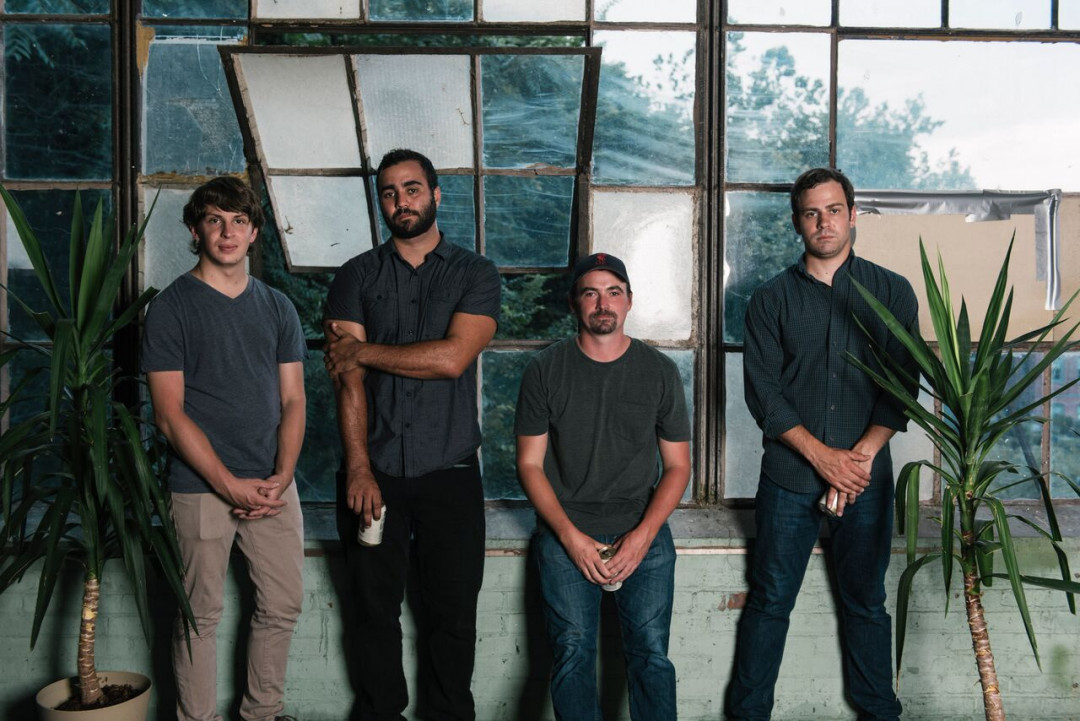 New Jersey's Prawn have been one of the many bands attributed to the emo revival in the late 2000s. However, they've always transcended that genre and label, producing shimmery post-rock, indie anthems which up the ante on what 'emo' means. Their journey led to a tour with Jimmy Eat World earlier this year and now, they're back again, following up 2014's Kingfisher, with Topshelf Records once more providing a home for their new full-length. Prawn's lead, Tony Clark, chatted with Punknews' Renaldo Mantadeen on the new release, Run, which is out now.
Off the bat, Run feels like a return to the lighter songs before the time of Kingfisher which is one of my favorite albums ever. Kingfisher felt so thick and dense, but Run reminds me a bit of one your earlier stuff, like Ships for example. How come you guys decided to go lighter and thinner in sound?
I think a lot of that has to do with the recording process and engineer. We've previously gone with Greg Dunn. While we love working with him, we wanted to get a different engineer to have a go with our songs. We enlisted Brett Romnes, who wasn't too familiar with us going into the studio and [who] had fresh ears. I think the 'lighter and thinner' sound comes from him trying to capture what he heard us playing live in the studio. We didn't want to add layers upon layers to these songs, and keep them more natural-sounding. We wanted to the record to sound like what we sound like live.
I read that you guys recorded in just two weeks but the writing took two years? How was this?
It was great. It took us a while to write this one because we weren't rushed and we were writing in between tours. The recording process was great. It was the most time we've had in a studio so we took our time and made sure everything sounded how we wanted.
With that said, apart from this process, how has things changed since Kingfisher?
Not too much, except for a few grey hairs! [laughs] We've toured a lot the last few years. Wrote and recorded the record. Been having a blast.
And how excited were you guys for the Jimmy Eat World tour? How was that? That was definitely one of the coolest things we've done as a band. Tom from Washed Up Emo suggested us as openers to JIMMY EAT WORLD. The band liked us so asked to join them for a few shows. Shows were amazing and Jimmy Eat World were some of the nicest guys we've met in a band. 10/10!
Sounds badass. What are some of your favorite memories from it?
The whole night of Webster Hall. I've seen so many shows there and to be able to play it -- just us and JIMMY EAT WORLD -- was very, very cool. Most of our family came to the show and it was nice for them to see us on a stage like that.
That's great stuff man! Now just getting back on track here with Run, what are the some of the themes of this album? Essentially, what's it about?
A lot of it was me looking into myself and my relationships and seeing what they were like, and why they were making me feel a certain way. The whole Run theme has a twofold meaning. The main one is using running as an analogy. It's about being present in the world and trying not to have expectations. The line 'you run just to run again' really encapsulates that feeling.
Now, I noticed since Kingfisher and Ships, you guys sang thematically a lot about the sea -- oceans and waves -- but this new record touches more on the animals, forest, trees and leaves. Can you explain this dynamic to me that Prawn has with nature? Especially on your last two records?
I love nature. I've always found it easy to equate human emotions with things found in nature. They go hand in hand for me, so it always come out in my lyrics.
I guess that explains the dog on the new album cover? [laughs]
[Laughs] Well, Charlie Wagers has done our last two album covers. We brainstormed the idea at a show in Louisville while we were on tour with PUP. The dog running obviously tied into the name of the album. I took care of a German Shorthaired Pointer for a few weeks while writing the record and fell in love with the breed. They're beautiful animals!
Awesome man! So diving back into the new music now, "North Lynx" feels like a Kingfisher track to me. I especially love the breakdown -- it feels like Mineral meets Sunny Day Real Estate meets Rainer Maria. What's this song about?
"North Lynx" is probably one of the more darker tracks on the record. It's kinda got this apocalyptic feel to it. The vocals match that as well. It's about feeling burnt out in life, but not in a negative way. It's just about feeling low and recognizing that and being present with it, but also knowing that the feeling is temporary.
What about going harder and more aggressive like this song? Do you think we'll get more of this from Prawn?
Maybe! We haven't started writing again yet. [laughs]
Oh, before I forget… I missed the horns on the new record dude! Where'd they go?
We made a conscious effort to exclude horns or strings on the record. As much fun as it is to add those and give the song a different feel, we wanted this record to be as much like us live as possible. We've barely ever had live horns. The record is more straightforward and we wanted every part to stick out on their own without other instruments fighting for a spot.
Fair. And I guess as we're touching on that note, I have to ask -- I've seen endless debates over your genre -- indie, emo, post-rock. What do you categorize the band as?
Who knows? [laughs]
Well, what about the musical acts you think influenced you in crafting this? I sense a lot of Explosions in the Sky and Mogwai.
Definitely both of those bands. I think the bands we toured with more had a say in the record. After Kingfisher, we toured with a lot of punk rock bands that I think really rubbed off on us. Gnarwolves, PUP, Hey Mercedes, Jimmy Eat World, to name a few.
With that said, do you think you could name your favorite tracks off the record and why?
I can't pick one. [laughs] I love all the tracks. They all give something different to the record!
Lastly, what can fans expect from Run?
It's more straightforward. It's a change for the band. We didn't want to write Kingfisher or Ships II. We wanted the songs to mirror our live performances, which are much more aggressive and much more raw than our records.