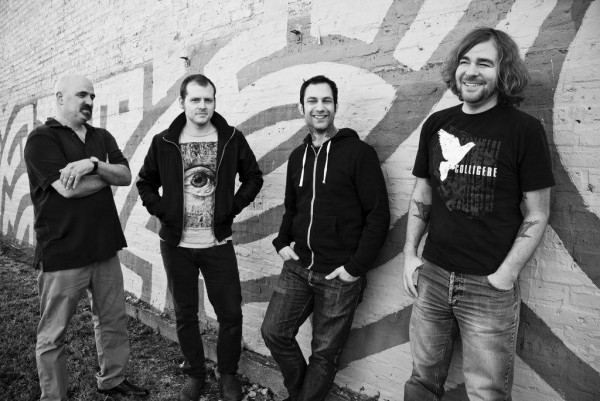 Today, Punknews is thrilled to debut the new tune by Dead Ending!
In case you don't know, Dead Ending is the heavy duty punk combo featuring Vic Bondi, front-man of the legendary Chicago punk band Articles of Faith, Derek Grant, drummer of Alkaline Trio, Jeff Dean of the Bomb and Noise by Numbers, and newest recruit, and Nathan Voorhees (Ensign, Vision). The band is gearing up to release their new LP, Shoot the Messenger out November 17 via Alternative Tentacles.
"Bring on the Mob" is a RIPPER. In a mere 97 seconds, the band kicks in the door with a classic hardcore riff on for Vic Bondi to start howling in his ragged, fractured voice. Surprisingly, on the second half, the snaps into a huge, post-punk texture before breaking back into their stormin attack for the grand finale! Whew!
On top of that, the band will be having a record listening party on November 17 at Kuma's Corner in Chi-town at 7pm. The restaurant will be serving an exclusive, one-time only Dead Ending Burger which is described as: "Bloody Mary" Tomato-Vodka Sauce, Applewood Smoked Bacon, Blue Cheese Crumbles, Green Olive-Sweet Pickle Relish, Parmesan Crisp, Fresh Dill. They'll also have giveaways and other cool stuff!
You can Pre-order Shoot the Messenger right here! Meanwhile, check out the new tune, and the Dead Ending Burg, below, right now!