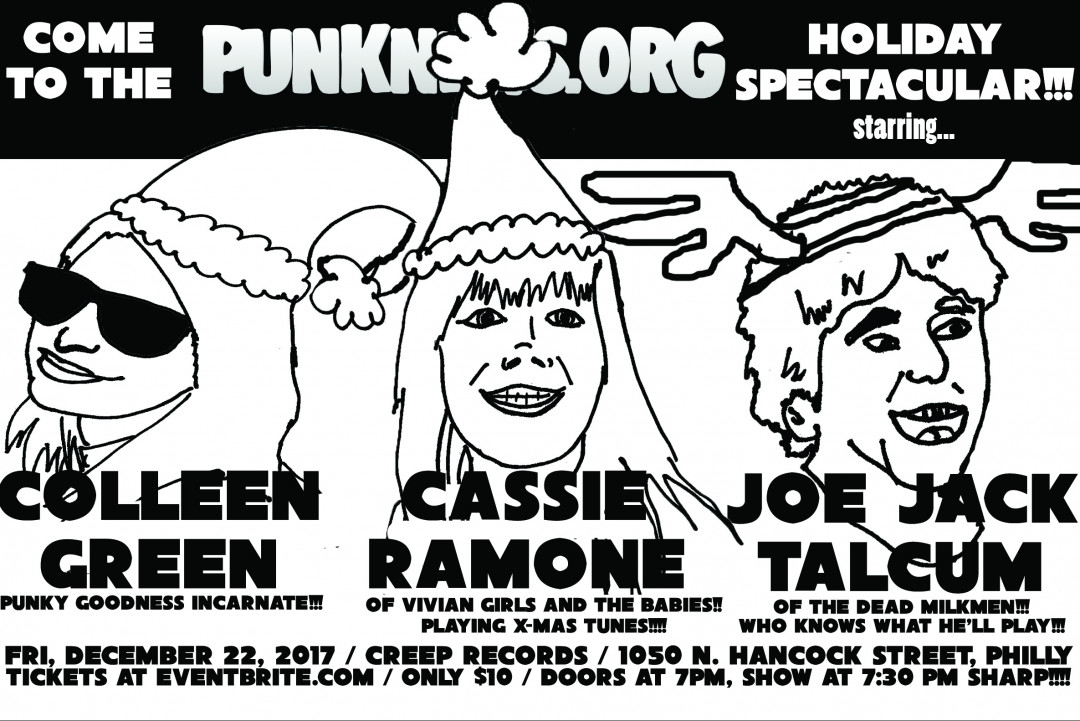 Wahooo! Happy Holidays! We are mega-excited to announce the Punknews Holiday Spectacular! And boy do we have a shindig planned!
Cassie Ramone of Vivian Girls and The Babies will be playing songs from her holiday album Christmas in Reno! Before that, Colleen Green is going to tear up the place with a solo set of pop-punk goodness! Also, at the end, Cassie and Colleen will team up for a combo set! ALSO, thee glorious Joe Jack Talcum of a little band called The Dead Milkmen will play a solo set! WHOA.
But, on top of that, between the sets, we're going to be playing the Punknews trivia game, Punx Points, with members of the audience! On top of that, we're going to be selling limited edition cassettes that you can only get at this show! Then, on top of THAT, we have heard that a certain Jolly Old Elf might swing by during the show… you better be nice until then!
The whole thing will be December 22 at Creep Records in Philly. (1050 N Hancock St #76, Philadelphia, PA 19123). Doors are at 7pm and the show starts at 7:30pm SHARP. Don't be late because you won't want to miss a minute!
You can Get tickets here!. Also, you can check out the facebook event right here!