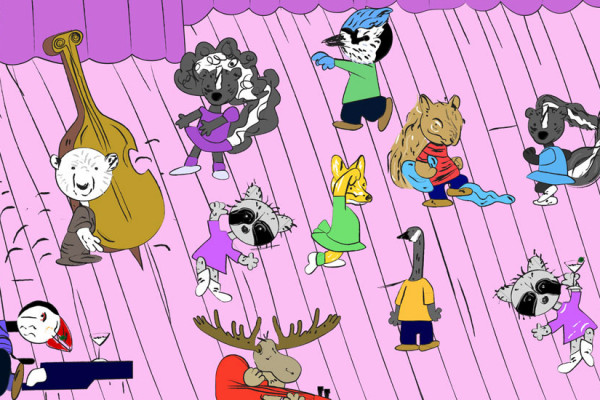 On Saturday, February 3 Punknews.org, along with Some Party and Melanie Kaye PR, will throw our first event in Toronto, Ontario Canada. We're calling it the Hinterland Hoedown. The show goes down on at the Bovine Sex Club and will bring together four Canadian bands for a night of punk rock and surprises. The event features St. Catharines vets The Lucky Ones, the reunited Toronto garage-punk group The Exploders, Montreal's eclectic bilingual Bolo Mojo making their first appearance in the city, and celebrated Markham-based singer-songwriter Jenn Fiorentino. You can find more details over at the Facebook event page.
The show is $10 at the door. Doors at 9:00 PM and it's a 19+ show.
The Lucky Ones
Old school vets from Niagara, the Lucky Ones are back with a new album of booze-soaked, bare-knuckled punk rock. With their new record "Better Late Than Never" in hand the raucous four-piece has returned. Over the years they've shared the stage with bands like Stiff Little Fingers, the Bouncing Souls, NOFX, and the Forgotten Rebels.
The Exploders
The classic Toronto garage punk act is back, and after all these years they're still raunchy, loud, and out of control. The Exploders have bailed together a caustic mix of 70s punk, 60s garage rock, and back-to-basics 50s rock'n'roll with a little surf and blues thrown in for good measure.
Bolo Mojo
Bolo Mojo's an eclectic bilingual punk rock band from Montreal with a wild set of influences ranging from the The New York Dolls to Alice Cooper, The Cramps and Ian Dury. Hot on the heels of their second EP "Happiness" the band's set to make their Toronto debut at the Hinterland Hoedown.
Jenn Fiorentino
Since first going viral on YouTube, where she amassed over six million views and tens of thousands of followers, Jenn's been touring her honest rock'n'roll through the United States and Eastern Canada. She's shared the stage with artists like Chris Cresswell, Austin Lucas, and Billy Pettinger and has become a popular fixture at Montréal's annual Pouzza Fest.