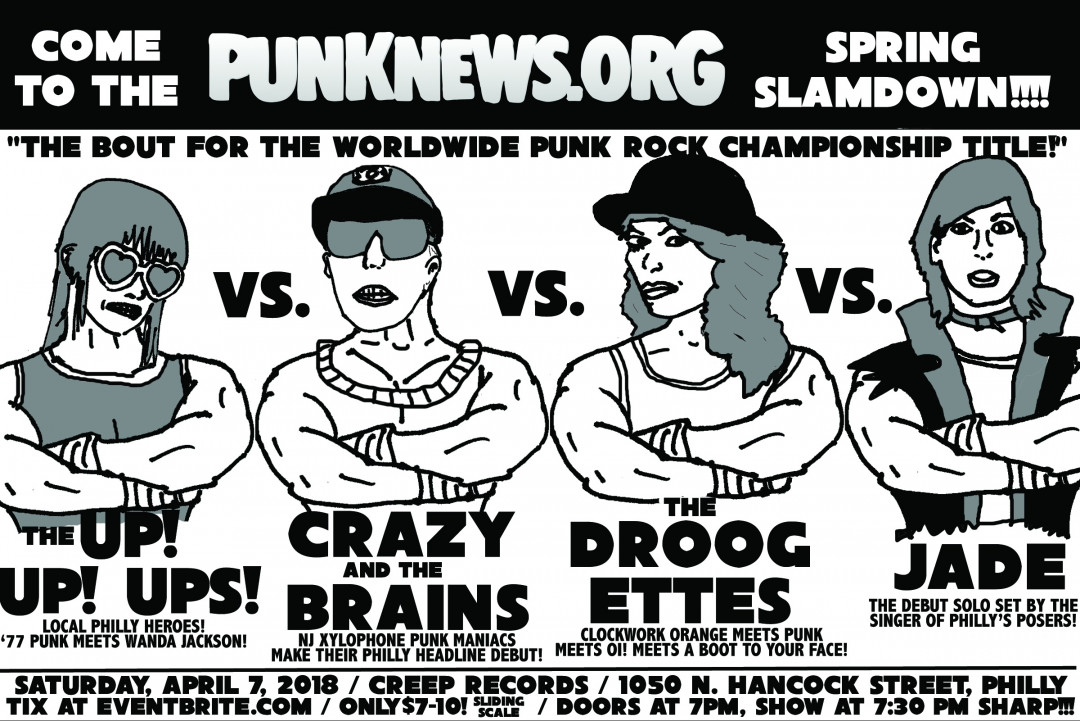 You can get your tickets online right here!!!
LET'S GET READY TO RUUUUUUUUMBLLLLEEEEE!!!!! Punknews is throwing the Spring Slamdown in Philly on April 7 and have we got a fightcard for you!
This is going to be one hell of an evening, people. New Jersey xylophone punk weirdos Crazy and the Brains are going to be playing their debut headlining set in Philly and they have got a TON of new tunes to blast you down! Before that, The Droogettes are going to bring their hard stomping punk meets oi! style to the stage and will put a boot in your face! And then, before that The Up! Up! Ups! are going to rip the place apart with their kick ass '77 punk meets Wanda Jackson style. DAMN! But, even before THAT, JADE, singer of Philly's now sadly defunct Posers will be playing her debut solo set! Who knows what she'll do! OHHHHHH SNAPS!!!!!!
But, that's not all! On top of that, we will be selling a limited edition cassette tape, limited to 100 copies, that you can only get at the show that will have exclusive songs FROM EACH BAND ON THE BILL! But on top of that, we'll be playing the Punknews trivia game Punx Points! between one of the sets! And if that's not enough, we'll be doing a charity raffle (benefitting St Jude's Cancer research hospital) where you, yes YOU, could win signed records by each band!!!! HOLY MOLY!!!
Not only that, but tickets are $7-10, sliding scale! Cheap! Doors are at 7pm and the show starts at 7:30pm SHARP! This event is all ages.
You can check out the facebook event right here! And you can get your tickets online right here!