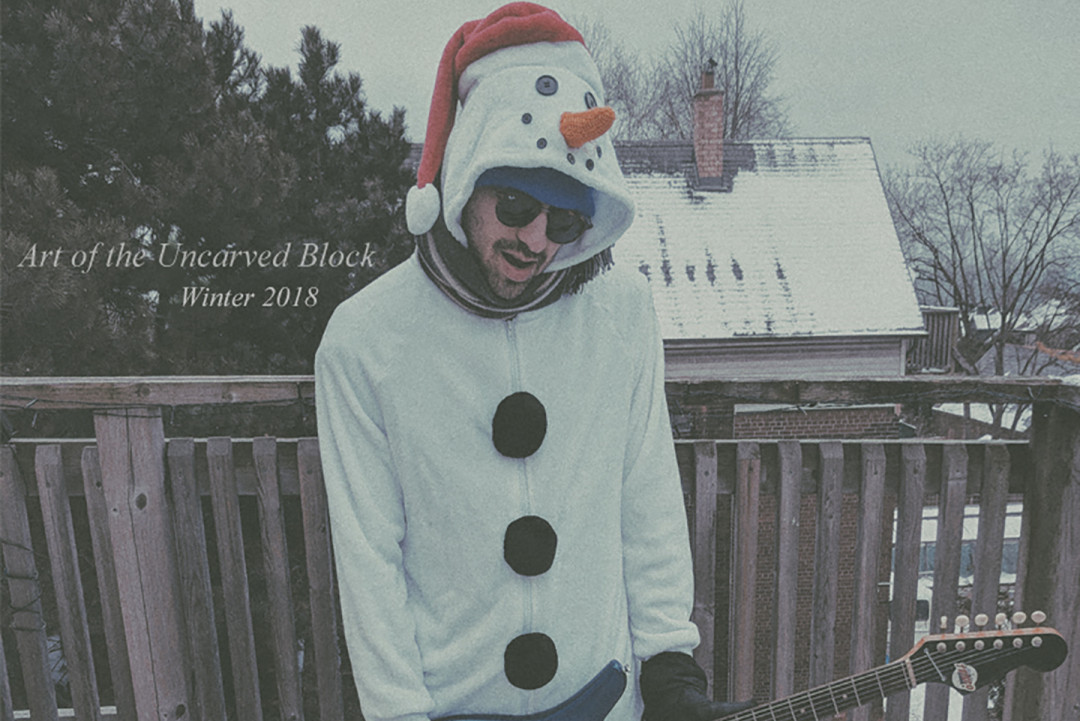 Toronto record label Art of the Uncarved Block is gearing up for the release of their Winter 2018 compilation. The 10-song set bands from the city's underground, including the low-fi indie rock of Triples (featuring Eva Link from PONY), the dissonant post-hardcore act Humanities, the authentic screamo of Stresser, and twangy slowcore from Chris. Bands on the comp from outside the Big Smoke include Boston's Dust From 100 Years and Winnipeg's now-defunct 1971. Click below to learn more and stream the entire compilation at NOW.
The comp will be released digitally by the label on this Friday, March 2, with a cassette release show at the Dupe Shop on Saturday, March 3 featuring live performances from Triples, Low Sun, Chris, and Stresser. You can find the event listing at Facebook.
Art of the Uncarved Block is run by brothers Peter and Rob Johnson of the band Low Sun (formerly of Shahman). The brothers had this to say about the project:
The compilation is part of a new seasonal series (summer/winter) that the label will offer in order to both promote and celebrate releases from the past six months or so. Peter and I grew up discovering bands through our favourite labels compilations. We fondly recall discovering our new favourite bands and becoming obsessed with entire discographies simply by stumbling upon a single song. It felt like winning some sort of sonic lottery. Hopefully we can do the same for other potential listeners while also promoting the excitement and mysticism found in physical releases; a format that is arguably less celebrated in today's digitally focused world.
The brothers had this to say about their label:
The main goals of the label are too archive, curate, and organize. We come from a DIY scene that is both rich in diversity and immense talent. We wanted to create a home for the scene to rally behind, to gain strength and visibility through numbers. The label is very much a passion project for Peter and I, we are admirers of once small DIY labels such as Merge and Dischord records, drawing endless inspiration from their stories and histories. These are labels that put art and music before everything else and their ethics and passion to archive their scenes is extremely influential. Overall, we believe music to be a sacred form of expression and the physical format an important part of the experience and ritual. Running a label in this age requires both creativity and the understanding that a balance between these ideals and new forms of experiencing music are important in order to flourish. What can we say? We're doing the best we can…
Chris - "Under the Weight"
This story is part of a reporting partnership between Punknews.org and Some Party, a Canadian punk & garage music newsletter.