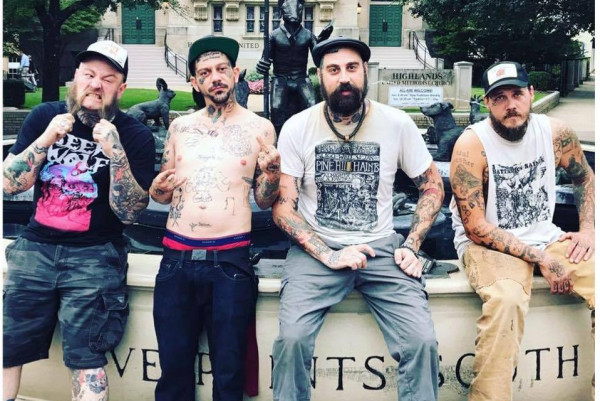 Today, Punknews is pleased to debut the new song by The Goddamn Gallows!
Speaking to Punknews, singer Mikey Classic (Vocals, Guitar, Banjo) said, "'The Trial' is about humanity being forced to face judgement for all the atrocities brought about because of our own natural/destructive existence. It's time to burn the mother fucker to the ground!"
The Trial is out March 23 and you can pre-order right here. Meanwhile, hear the new song below, right now!
| Date | City | Venue |
| --- | --- | --- |
| Mar 17 | Eindhoven, Netherlands | Faster and Louder Festival |
| Mar 22 | Westland, MI | Token Lounge |
| Mar 23 | Newport, KY | Southgate House Sanctuary |
| Mar 24 | Nashville, TN | Exit/In |
| Mar 25 | Lexington, KY | Cosmic Charlie's |
| Mar 26 | Columbus, OH | The Shrunken Head |
| Mar 27 | St. Louis, MO | Fubar |
| Mar 28 | Springfield, MO | Outland Ballroom |
| Mar 29 | Wichita, KS | The Elbow Room |
| Mar 30 | Englewood, CO | Gothic Theatre |
| Mar 31 | Grand Junction, CO | Mesa Theater |
| Apr 1 | Salt Lake City, UT | Metro Music Hall |
| Apr 3 | Las Vegas, NV | Dive Bar |
| Apr 4 | San Diego, CA | Soda Bar |
| Apr 5 | Santa Ana, CA | The Observatory |
| Apr 7 | San Jose, CA | The Ritz |
| Apr 8 | Santa Cruz, CA | The Catalyst |
| Apr 10 | Sacramento, CA | The Blue Lamp |
| Apr 11 | Chico, CA | Maltese |
| Apr 12 | Grants Pass, OR | Rogue Theatre |
| Apr 13 | Portland, OR | Dante's Inferno |
| Apr 14 | Seattle, WA | El Corazon |
| Apr 15 | Spokane, WA | The Pin! |
| Apr 16 | Whitefish, MT | Remington Bar and Casino |
| Apr 17 | Bozeman, MT | Eagles Ballroom |
| Apr 18 | Billings, MT | The Pub Station |
| Apr 20 | Minneapolis, MN | Lee's Liquor Lounge |
| Apr 21 | Green Bay, WI | Lyric Room Live Music |
| Apr 22 | Chicago, IL | Reggie's Rock Club |
| June 14 | Milwaukee, WI | Cactus Club |
| June 15 | Des Moines, IA | The Gas Lamp |
| June 17 | Kansas City, MO | Riot Room |
| June 23 | New Orleans, LA | One Eye Jacks |
| June 27 | Birmingham, AL | Zydeco |
| June 28 | Atlanta, GA | The Earl |
| June 29 | Huntsville, AL | Sidetracks Music Hall |
| July 3 | Charlotte, NC | Neighborhood Theatre |
| July 4 | Asheville, NC | The Grey Eagle |
| July 6 | Virginia Beach, VA | Shaka's Live |
| July 7 | Philadelphia, PA | Voltage Lounge |
| July 8 | Dunellen, NJ | Roxy and Dukes |
| July 10 | Brooklyn, NY | The Kingsland |
| July 11 | Providence, RI | Alchemy |
| July 12 | Cambridge, MA | Middle East Downstairs |
| July 15 | Syracuse, NY | The Lost Horizon |
| July 17 | Buffalo, NY | Mohawk Place |
| July 18 | Altoona, PA | McGarvey's |
| July 19 | Cleveland, OH | Beachland Ballroom |
| July 20 | Northwood, OH | Boonies |
| July 21 | Lansing, MI | Mac's Bar |
| Sep 1 | Cookeville, TN | Muddy Roots Music Festival 2018 |