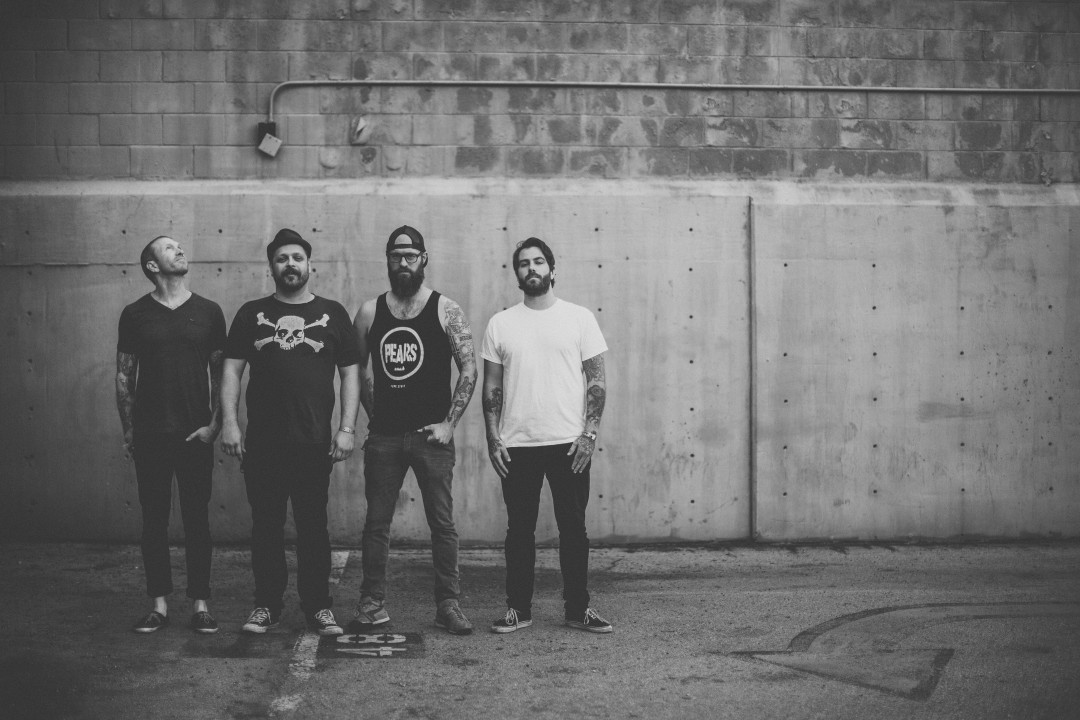 Not only does Garrett Dale from Red City Radio have one of the most iconic moustaches in punk rock, he is one savvy day drinker in Oklahoma City area and is a great punk crooner. His band recently released a new album titled SkyTigers through Red Scare, contributing editor Samantha Barrett woke up the very delightful vocalist/guitarist Garrett Dale to talk about the new album, tour, and giant margaritas.
You guys released two tracks last year that are being now released on you new EP called SkyTigers. What lead to the creation of this EP? And was this release a long time coming?
I would say that the EP was a long time coming. We had almost everything happen to us that can ever happen to a band in the quote-unquote music industry. Seriously, we had all of the beautiful letdowns. We decided, why spend any more time pushing our music to people that don't like it, or don't want to hear it. We have so many wonderful fans all across this world and sometimes we like to make jokes that the only people that come to Red City Radio shows are the fans. There are never any cool people, never like any labels people, like agents or any of that cool stuff that apparently happens. Red City Radio is just going to progressively make music until we decide until we don't want to, I don't think that is going to happen anytime soon. So… I would say the EP is a long time coming as it is our way of showing people exactly what we are capable of when we feel free, happy and want to make some kind of rock and roll. We decided to make a small collection of music instead of a large collection of music. There are so many great albums and it seems like people listen to them once or twice and kinda toss it out. We decided to make a smaller collection of music to have people focus on it more.
I would have to say that there are record label people who follow you guys somewhat because you have had many record label shifts throughout Red City Radio's career. You guys finally found a home with Red Scare. How has that been for you guys?
It has actually been 100 percent super awesome. Toby is one of my favorite people on the planet earth. He has also said a lot of good things about you, as well.
Nice!
He said you were cool. Yeah, Toby is my friend and it has been wonderful doing business with him as well. He is not only extremely supportive but his passion for the current music scene and the future of the music scene is as inspiring as it is refreshing.
Your band seems to consistently evolve with each release you put out. This sounds a bit different (more of a rock influence) from the rest of your catalog. What influenced you to go in making this album?
When writing music that truly means something to you. How do you ever make a decision in how it is going to sound? It is going to sound the way that it. With the way we write our music, the way that we collaborate together, we are now at an all-time high and I feel like the contribution that we made together has been exponentially more impactful. You know what I mean by that, you know…
Yeah.
We are utilizing our strengths as a band and I believe it shows in the product and how we operate as a business. Even though Red City Radio has been a band for like 12 years and we have three full-length records and now, two EPs. I believe this is the beginning of our career. I believe this is the beginning of our future in the way we operate.
Who produced the EP?
We recorded with our good friend Mike Kennerty who is the guitar player of the All-American Rejects. He is wonderful. He is currently recording the new Direct Hit album. He has recorded with Masked Intruder, Russian Girlfriends. Honestly, he is one of the hottest producers in music right now, easily. He recorded and produced my EP that came out in May last year.
Your solo album, right?
Yes, ma'am. I believe he will be doing the next one. He is wonderful to work with and overall he is a super great human being. We are super lucky to have so many wonderful rock and rollers in Oklahoma. It is a strange place here. Lot's of day drinking.
You mean giant margaritas? With little bottles of other booze in them? I love them so much. I have a picture, I posted a picture of it on my Instagram but then I fell asleep. A lot of day drinking down here. There is a whole bunch of bars that open up early out here.
Back to the album, I am really loving the album art. Who did it?
His name is Craig Horky, he is pretty awesome. He is a wonderful artist, he knocked it out of the park with our EP cover and I cannot wait to get that tattooed on to my skin.
Did you have that image in mind for the cover?
Not really, we told him the idea of the name and he just knocked it out of the park. A true artist and his portfolio of art are beautiful. I highly suggest the fans of the visual arts to give him a gander.
You guys are going on tour with Lawrence arms and Sincere Engineer?
Yeah, I am so excited. Right now just the East coast and West coast of the 'We Are Champions' tour with The Lawrence Arms and Sincere Engineer. I am a big fan of Sincere Engineer, her record is SO good and she is such a fun person to watch live and when it comes to The Lawrence Arms, everyone knows them. There is a reason why they have been around for so long and have such a great reputation for being such great guys. Even though the tour has not started yet we are all very eager to begin this circus.
Haha… the drinking tour?
Yeah, it will be something else. I highly encourage the readers of this interview to check the dates for ticket links and to come party with us. It's going to be something else. It is not going to be a regular tour. This is not going to be normal. I can absolutely guarantee you that.
We will also be heading out on to Canada and UK later this summer.
| Date | Location | Venue | Details |
| --- | --- | --- | --- |
| 4/3 | Pittsburgh, PA | Smiling Moose | - |
| 4/4 | Cambridge, MA | The Sinclair | w/ The Lawrence Arms, Sincere Engineer |
| 4/5 | Garwood, NJ | Crossroads | w/ The Lawrence Arms, Sincere Engineer |
| 4/6 | Lancaster, PA | Chameleon Club | w/ The Lawrence Arms, Sincere Engineer |
| 4/7 | Baltimore, MD | Soundstage | w/ The Lawrence Arms, Sincere Engineer |
| 4/8 | Philadelphia, PA | Theatre of Living Arts | w/ The Lawrence Arms, Sincere Engineer |
| 4/9 | New York, NY | Gramercy Theatre | w/ The Lawrence Arms, Sincere Engineer |
| 4/10 | Cleveland, OH | Grog Shop | w/ The Lawrence Arms, Sincere Engineer |
| 4/11 | Detroit, MI | Magic Stick | w/ The Lawrence Arms, Sincere Engineer |
| 4/12 | St. Louis, MO | The Bootleg | - |
| 4/13 | Oklahoma City, OK | Tower Theatre | SkyTigers EP release show |
| 4/27 | Seattle, WA | El Corazon | w/ The Lawrence Arms, Sincere Engineer |
| 4/28 | Portland, OR | Hawthorne Theater | w/ The Lawrence Arms, Sincere Engineer |
| 4/29 | Sacramento, CA | Holy Diver | w/ The Lawrence Arms, Sincere Engineer |
| 4/30 | San Francisco, CA | Bottom of the Hill | w/ The Lawrence Arms, Sincere Engineer |
| 5/1 | San Francisco, CA | Bottom of the Hill | w/ The Lawrence Arms, Sincere Engineer |
| 5/2 | Las Vegas, NV | Beauty Bar | w/ The Lawrence Arms, Sincere Engineer |
| 5/3 | Phoenix, AZ | Crescent Ballroom | w/ The Lawrence Arms, Sincere Engineer |
| 5/4 | San Diego, CA | The Casbah | w/ The Lawrence Arms, Sincere Engineer |
| 5/5 | Los Angeles, CA | El Rey Theatre | w/ The Lawrence Arms, Sincere Engineer |
| 5/6 | Denver, CO | Oriental Theater | w/ The Lawrence Arms, Sincere Engineer |
| 5/12 | Madison, WI | The Frequency | w/ Worst Days Down |
| 5/13 | Minneapolis, MN | 7th Street Entry | w/ Worst Days Down |
| 5/15 | Winnipeg, MB | Handsome Daughter | w/ Worst Days Down |
| 5/16 | Saskatoon, SK | Black Cat Tavern | w/ Worst Days Down |
| 5/17 | Regina, SK | The Exchange | w/ Worst Days Down |
| 5/18 | Calgary, AB | Palomino Smokehouse | w/ Worst Days Down |
| 5/19 | Edmonton, AB | Brixx | w/ Worst Days Down |
| 5/20 | Kelowna, BC | Doc Willoughby's | w/ Worst Days Down |
| 5/21 | Vancouver, BC | SBC | w/ Worst Days Down |
| 7/01 | London, UK | New Cross Inn | - |
| 7/02 | Newcastle, UK | Think Tank Underground | - |
| 7/03 | Glasgow, UK | Audio | - |
| 7/4 | Bridgewater, UK | The Cobblestones | - |
| 7/5 | Northwich, UK | The Salty Dog | - |
| 7/6 | Stafford, UK | Redrum | - |