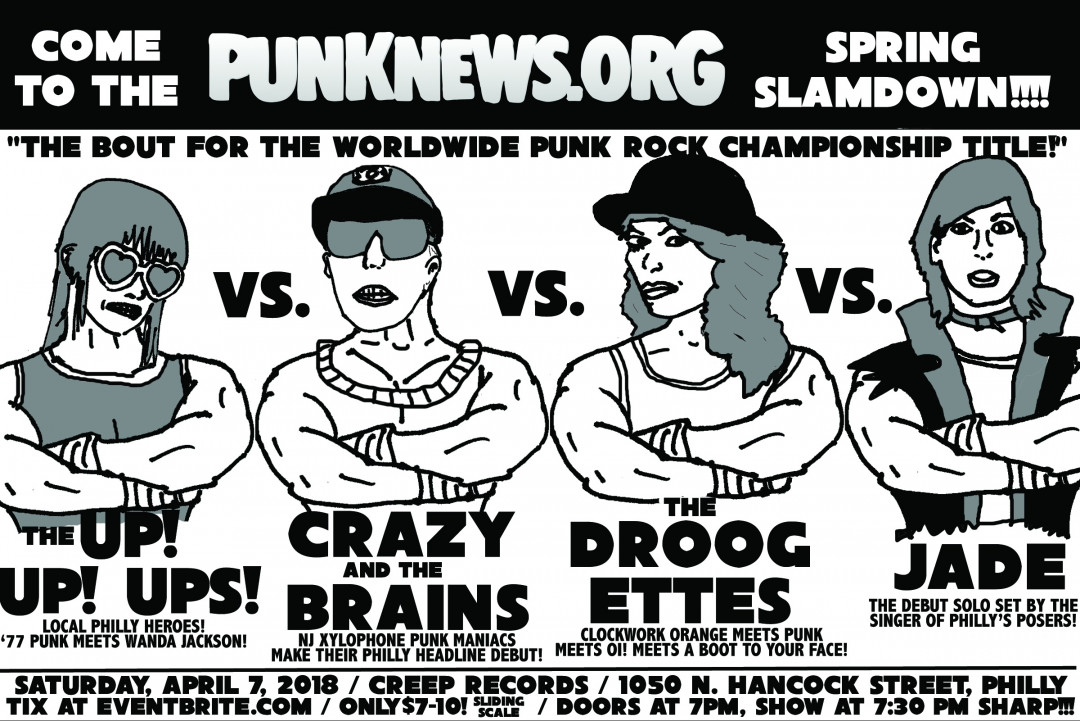 You can get your tickets online right here!!!
Let's get ready to ruuuuumble! This Saturday is the Spring Slamdown at Creep Records in Philly! It's gonna be a bash!
Crazy and the Brains are playing their debut Philly headline set and a little birdy told us that they have some really cool surprises for their set list! Before that, The Droogettes are going to blast through a full set and will play songs from their upcoming album! Before that, The Up! Up! Up!s are going to give us a full set of their kick ass '77 punk-meets-Wanda Jackson style! And opening the show will be the debut solo set of JADE from Philly's Posers!
On top of THAT, we'll be selling an exclusive tape that you can only get at the show that has exclusive tunes from each band! PLUS, we'll be doing a charity raffle benefitting st. Jude's Children's hospital. PLUS, we have even more surprises planned!
Advance tickets are only $8 and come with a free record tote bag, free flexi-disc, free CD, free stickers, and a free 12-inch record! You can also get tixckets at the door for $7-10, sliding scale. You can check outt he Facebook event here and we will see you Saturday night. Doors are at 7:00pm and music starts at 7:30 SHARP! Don't be late!