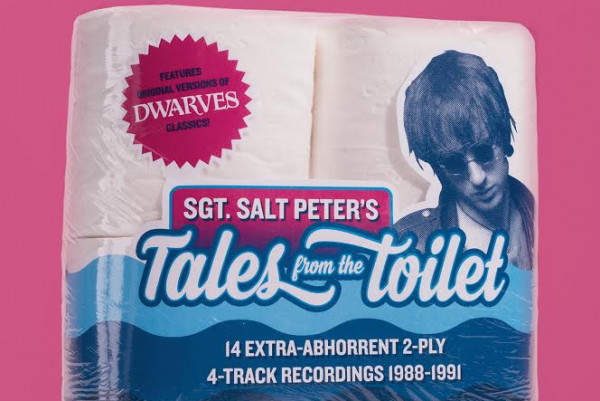 Perhaps one of the most overlooked aspects of The Dwarves is that the band truly is a collaborative effort. Throughout their 35 year existence, the band has received a special touch from many luminaries including Mr. Blag himself, HeWhoCannotBeNamed, Rex Everything, Vadge Moore, The Fresh Prince of Darkness, and not the least of Sgt. Salt Peter,
On Record Store day 2018, Burger Records will be shining a light on this reclusive guitarist and will be releasing a 10-inch of unreleased recordings from 1988-1991. Not only does the record include early versions of jams that would later be re-recorded as Dwarves classics, but it also has a number of unreleased songs.
Interestingly, the release has a sort of post-garage vibe, suggesting a lo-fi, bubblegum buzz that would later be utilized by West Coast rockers such as Nobunny, Wavves, and Thee Oh Sees. Tales from the Toilet will be out April 21 at shops doing the RSD thing. Before then, you can check out Burger Records here and check out an early version of "Motherfucker" below, right now!