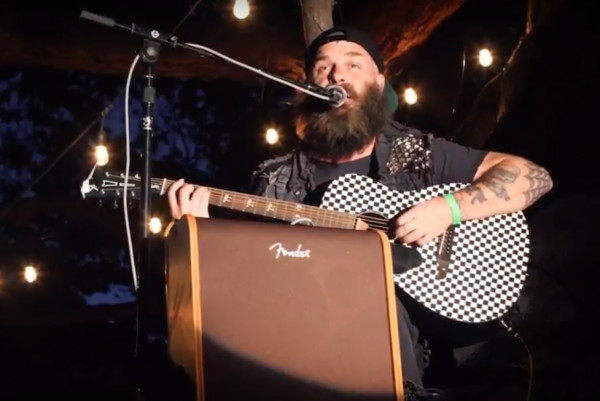 Today, Punknews is THRILLED to debut a really cool video. It concerns Tim Armstrong of Rancid, a tree, and a classic punk tune. Stick with us, here.
Every year, Musack throws the Rock 'n' Roll Carnival in order to fund a program that has a mission of giving kids and teens a voice through music. All proceeds from the event go to providing guitar, drums, and other instruments to Musack programs in Compton, LA, Nantucket, Haiti, Appalachia, Cuba, Chattanooga, Australia, and Alaska.
This year, the Carnival will take place August 25 in LA and Tim will be making his fourth appearance at the event, once again playing a unique set from up in a tree. Honestly, it's kind of silly and it's a lot of fun and that's kind of the point. Attendees get a special set of classics and covers and kids across the world get some free gear. Not bad! On top of that, Flavor Flav of Public Enemy will be doing a DJ set and a bunch of acts are going to be announced over the next few months! Previous years have included John Doe and Excene Cervenka, Mike Watt, The Interrupters, Members of the Specials, Dickie Barret, Weird Al, Rancid, The Enlgish Beat, Billy Bragg, and a lot more, so this year is sure to be a blast.
So, to get you amped, you can check out a video from last year of Tim playing the classic "11th Hour" below. The vid was shot by punk rock filmmaker Josh Roush (who's also currently in production on his debut feature length documentary about actor Michael Parks titled Long Lonesome Highway.) Also, be sure to pick up your tickets for the Carnival right here!