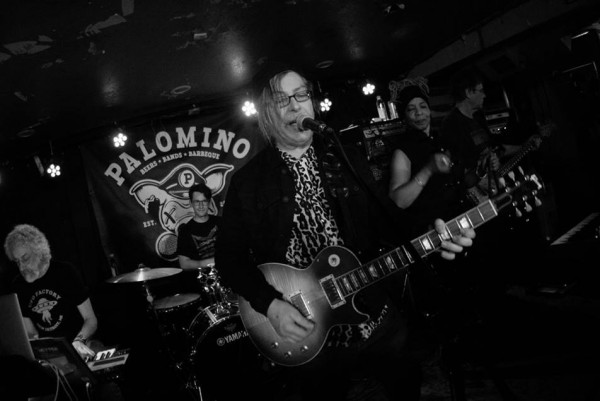 Legendary Hamilton, Ontario psych/proto-punk act Simply Saucer has announced the release of their first new material in 40 years. The band will issue a new 7" single on June 21 via Label Obscrura featuring the songs "Lo-Fi Garage Symphonette" and "Alien Cornfield." The cult band is riding high on the recent In The Red Records reissue of their storied lost album Cyborgs Revisited. That record, recorded back in 1974/75, was unearthed in 1989 and has gone through several forms before the new deluxe LP. The band earlier reissued their 1978 debut through their hometown label Schizophrenic Records.
Nyles Miszczyk produced the new songs at Toronto's Royal Mountain Studio. The band's lineup for the project features founding singer/guitarist Edgar Breau and bassist Kevin Christoff alongside guitarist Mike Trebilcock (The Killjoys), vocalist and multi-instrumentalist Colina Philips (who's worked with everyone from Alice Cooper to Bruce Cockburn), keyboardist Ed Roth (a Rick James collaborator), and drummer/percussionist Jesse Locke (Tough Age, Century Palm). Locke has also served as the band's biographer, having authored the *Heavy Metalloid Music: The Story of Simply Saucer* book. Artist Julia Dickens created the single's cover art.
In the premiere at Paste Magazine, Edgar Breau commented on the songs:
"'Lo-Fi Garage Symphonette' is our homage to the garage influences Simply Saucer had in the '70s like The Seeds, ? and The Mysterians, Wally Tax & The Outsiders, and a lot more obscure psychedelia. I was thinking about the street level, everyday life I was experiencing in the East End of Hamilton while living in a storefront on a piece of foam, basically sleeping with the amps and the instruments while writing the songs that became Cyborgs Revisited."

"'Alien Cornfield' is kind of a throwback, retro sci-fi thing where two children encounter teenage aliens in a cornfield. The kids tell their parents, but they don't believe them and think it's all made up. One of the aliens, a girl named Stella Stayhigh, gets arrested. Then the children come up with a plot to spring them free and end up going back where they came from. That's the story of the song in a nutshell."
The band will support the new single with a pair of release shows. They'll appear at Toronto's Baby G on June 21 and Hamilton's This Ain't Hollywood on the 30th. You can find details on those shows at Facebook.
This story is part of a reporting partnership between Punknews.org and Some Party, a Canadian punk & garage music newsletter.