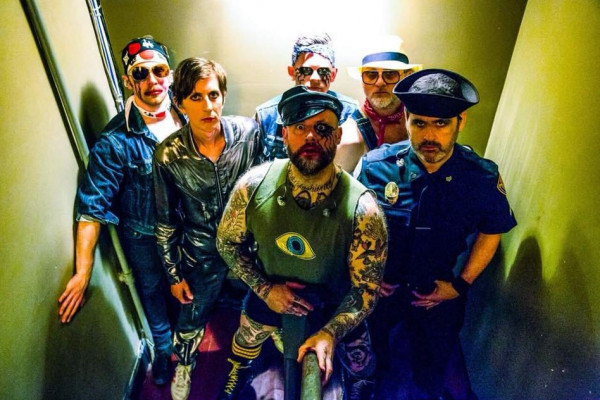 Today, Punknews is THRILLED to debut the new video by Norwegian Nutbags, Turbonegro!
This one takes the cake, people.Titled "The Rock And Roll Machine Part I-III," the track opens with a little bit of Van Halen style synth before suddenly snapping into a down-and-dirty, New York Dolls meets AC/DC style knuckleduster! TurboNegro have always been totally weird, and they've always totally rocked, and they're doing both here in top form.
Speaking to Punknews, the band said, "Basically the suite is excerpts from the first three tracks of the new Turbonegro ROCKNROLL MACHINE album combined in a short short movie animated and directed by LA artist Thomas Lynch III, using his trademark paintbrush technique. The basic storyline is the Denim Alpha Recruits (i.e. Turbonegro) being transformed into The Rock And Roll Machine; half flesh, half chrome, half binary instinct. Thus Turbonegro singlehandedly, in the midst of a dark and difficult age for rock music and culture, are securing the future of rock."
The band's new album is out now via the great Burger Records and you can pick it up right here. Meanwhile, check out the new video below, right now!