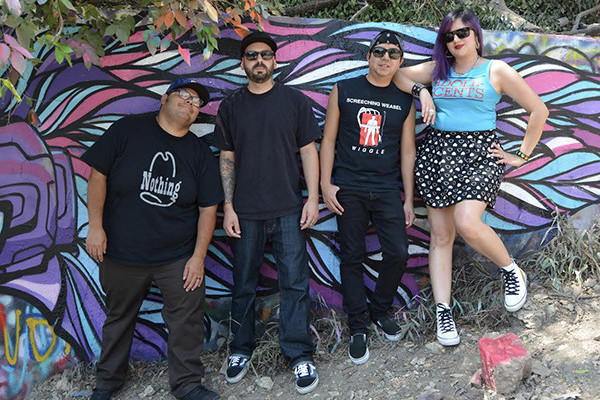 Punknews is excited to premiere a new video from Austin pop-punks The Sweethearts. The song, "What'd You Say," is an energetic burst of pop-punk full of hooks, backing vocals, and upbeat sound.
Lead vocalist Linette Sweetheart has this to say about the song and video:
"We finally have an official music video, and we couldn't be happier with the way it turned out! After having three full length albums, and having played for more than 10 years, we feel that it was long overdue! "What'd You Say" is a fun song that captures our energy and we really enjoy playing it live. People often tell us that the song gets stuck in their heads, so it made sense to do our first video for this song! We also had an idea for a character in the video, based on the lyrics, "You've been caught, you dirty little rat". We found the perfect rat mask for our character and had so much fun running around Austin filming the different scenes. The video captures us in our natural habitat and hopefully will give you an inside peek into our personalities and sense of humor! We filmed the video in the Texas scorching heat, in just two days, and had a blast making it! We had an excellent experience working with video producer, Jeff Antons, who did an amazing job of shooting and editing our scenes! Thanks to Punknews for the exclusive premiere! Hope y'all enjoy!"
The song comes off of the band's most recent full-length, Traces of Time, which recorded at the famous Sonic Iguana Studios by Mass Giorgini, and released earlier this year on Eccentric Pop Records.