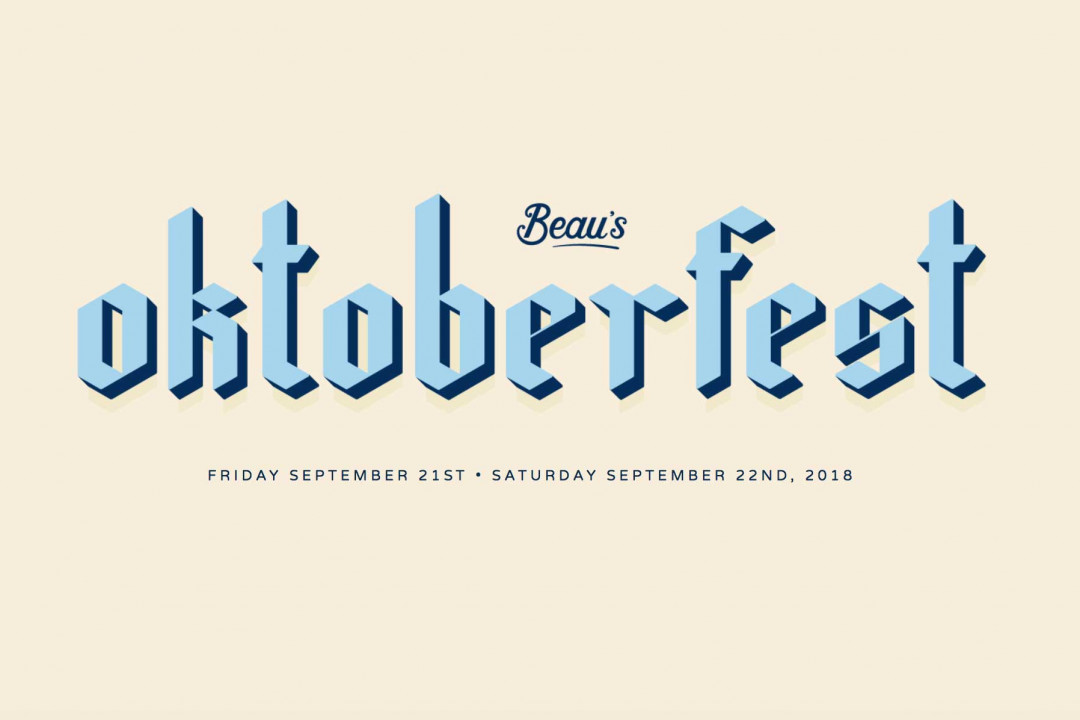 Canadian craft brewery Beau's has announced the lineup for their annual Oktoberfest music festival and charitable fundraiser. The event, which will place Friday, September 21 and Saturday, September 22 in Vanleek Hill, Ontario, once again features a 100% Canadian lineup presence, both on the main stage and the punk rock Black Forest Stage. The main stage will feature headlining sets from the East Coast mainstay the Joel Plaskett Emergency and power-pop legends Sloan, along with sets from long-running Toronto punk act The Flatliners, Toronto art-punks Weaves, and Montreal ska mainstays The Kingpins among others. The Black Forest stage will be headlined by Cancer Bats and feature sets from Lost Love and Talk Show Host among others. You can find tickets online now and click below for more details.
The organizers describe the Cancer Bats-headlined Black Forest stage as follows:

What Oktoberfest event has a whole area dedicated to punk rock and skateboarding? Beau's Oktoberfest. We've built the Black Forest with help from our friends at Birling, House of TARG, and Vans, with the goal of paying homage to the music and counterculture that brought so many of us at Beau's together in the first place. A tip of the hat to early editions of Beau's Oktoberfest when the stage was more intimate, the Black Forest is an energetic and exuberant music experience.
Black Forest this year will raise funds for For Pivots Sake, a nonprofit organization founded by the Ottawa-area Antique Skate Shop (now Birling) to engage and mentor youth in the Ottawa community:
Engaged with the community since its inception in 2012, For Pivots Sake has made great strides with the refurbished decks program, which asks skaters in the community to donate their used skateboard parts (trucks, wheels, boards, bearings, hardware). The crew at Antique Skate Shop create new boards from donated hardware to give back to youth in need of them within the community.
Main Stage
Sloan
Joel Plaskett Emergency
Weaves
The Flatliners
Fred Penner
Dubmatique
The Kingpins
Wolf Saga
Walter Ostanek
Hosted by: Taggart & Torrens
Black Forest Stage
Cancer Bats
Lost Love
K-Man and the 45s
The Stand GT
The Trapt
Teenage X
Eagleson
Brutal Cherie
Talk Show Host
The Anti-Queens
Laureate
Neck
Barrasso
Ship of Fools
Give Up
Rory Taillon
Brooklyn Doran
Po'Boy Jeffreys
Hosted by: Remi Royale
Punknews.org and Some Party are excited to sponsor Beau's Oktoberfest this year. Here's more info on the festivities and tickets:
This year's edition of Oktoberfest will once again have all the components for a great time: a vast selection of Bavarian-inspired cuisine from local restaurants, more than 65 different beers to try (15 brewed by Beau's), an activities area with keg toss, sausage eating, and other games, a Kinderfest area for kids, a Beau's themed midway with prizes, and a Ferris wheel. The beer-curious can sign up for "School of Bock" classes to learn more about pairing food with beer, brewing, and all things craft beer. Round-trip bus transportation will once again be available from Montréal, Ottawa, and Cornwall; Ottawa festival-goers can also sign up for a United Way fundraiser bike ride to the festival grounds. Camping passes are available to add on to a ticket purchase.

Tickets for the 2018 Beau's Oktoberfest are on sale now at www.beausoktoberfest.ca. Weekend passes are $45, single-day tickets $32. Child (18 and under) passes are $5 when accompanied by an adult.