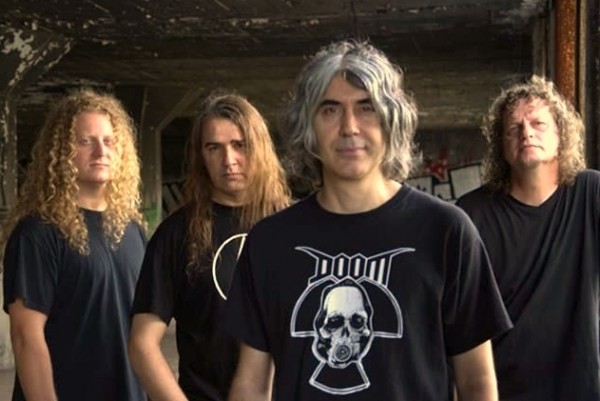 Canadian progressive metal outfit Voivod have announced that their long awaited new LP The Wake will be released in late September via Century Media Recordings. Drummer Michel "Away" Langevin had this to say about it:
"…The music is like a futuristic prog thrash metal trek with many twists and turns, and the story involves the usual Voivodian topics: disasters, chaos, conflicts, strange plots and alternate consciousness. We are excited with the result and can't wait to get the material out to you this fall!…"
In support of the upcoming record, the quartet have also announced a mammoth run of European shows. Check out full details below.
| Date | Location | Venue | Support |
| --- | --- | --- | --- |
| 07.09.2018 | Prague, CZ | Futurum | w/ Maggot Heart |
| 08.09.2018 | Poxnan, PL | U Bazyla | w/ Maggot Heart |
| 09.09.2018 | Warsaw, PL | Hydrozagadka | w/ Maggot Heart |
| 10.09.2018 | Krakow, PL | Kwadrat | w/ Maggot Heart |
| 11.09.2018 | Bratislava, SK | Randal Club | w/ Maggot Heart |
| 13.09.2018 | Cluj-Napoca, RO | Flying Circus Pub | w/ Maggot Heart |
| 14.09.2018 | Belgrade, SB | Elektropionir | w/ Maggot Heart |
| 15.09.2018 | Budapest, HU | Durer Kert | w/ Maggot Heart |
| 16.09.2018 | Vienna, AU | Szene | w/ Maggot Heart |
| 18.09.2018 | Bologna, IT | Locomotiv | w/ Nightrage |
| 19.09.2018 | Rome, IT | Largo | w/ Nightrage |
| 20.09.2018 | Milan, IT | Santeria | w/ Nightrage |
| 21.09.2018 | Winterthur, CH | Gaswerk | w/ Nightrage |
| 22.09.2018 | Seyssinet Pariset, FR | Ilyade | w/ Nightrage |
| 24.09.2018 | Barcelona, ES | Boveda | w/ Nightrage |
| 25.09.2018 | Madrid, ES | Nazca | w/ Nightrage |
| 26.09.2018 | Porto, PT | Hard Club | w/ Nightrage |
| 28.09.2018 Marseille (France) – Jas' Rod | Marseille, FR | Jas'Rod | w/ Bio-Cancer |
| 29.09.2018 | Paris, FR | Petit Bain | w/ Bio-Cancer |
| 30.09.2018 | Nantes, FR | Ferraileur | w/ Bio-Cancer |
| 02.10.2018 Southampton (UK) – The Joiners | Southampton, UK | The Joiners | w/ Bio-Cancer |
| 03.10.2018 | Cardiff, UK | The Globe | w/ Bio-Cancer |
| 04.10.2018 | Leeds, UK | Temple of Boom | w/ Bio-Cancer |
| 05.10.2018 | Glasgow, UK | Cathouse | w/ Bio-Cancer |
| 06.10.2018 | Manchester, UK | Rebellion | w/ Bio-Cancer |
| 07.10.2018 London (UK) – Underworld | London, UK | Underworld | w/ Bio-Cancer |
| 09.10.2018 Brussels (Belgium) – Magasin 4 | Brussels, BE | Magasin 4 | w/ Bio-Cancer |
| 10.10.2018 Amstelveen (The Netherlands) – P60 | Amstelveen, NL | P60 | w/ Bio-Cancer |
| 11.10.2018 Eindhoven (The Netherlands) – Dynamo | Eindhoven, NL | Dynamo | w/ Bio-Cancer |
| 12.10.2018 Cologne (Germany) – Luxor | Cologne, DE | Luxor | w/ Bio-Cancer |
| 13.10.2018 Hamburg (Germany) – Logo | Hamburg, DE | Logo | w/ Bio-Cancer |
| 14.10.2018 Copenhagen (Denmark) – Pumpehuset | Copenhagen, DE | Pumpehuset | w/ Bio-Cancer |
| 15.10.2018 Stockholm (Sweden) – Klubb Nalen | Stockholm, SE | Klubb Nalen | w/ Bio-Cancer |
| 17.10.2018 Helsinki (Finland) – Tavastia | Helsinki, FI | Tavastia | w/ Bio-Cancer |
| 18.10.2018 Tampere (Finland) – Klubi | Tampere, FI | Klubi | w/ Bio-Cancer |
| 20.10.2018 Oslo (Norway) – John Dee | Oslo, NO | John Dee | w/ Bio-Cancer |