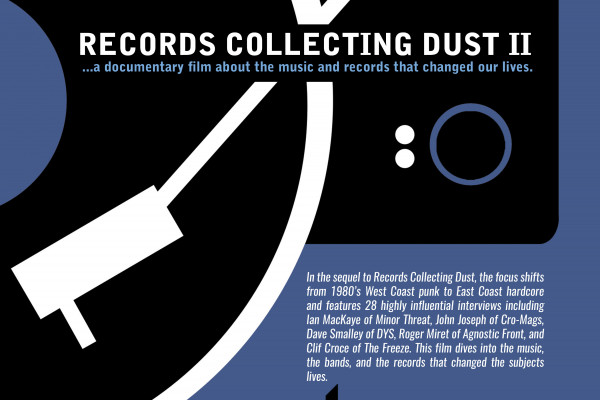 The first Records Collecting Dust film was any record collector's fantasy come to life- that film was basically sitting in the same room as punk rock legends like Keith Morris, Mike Watt, Jello Biafra, and just talking about cool records. It was a simple premise that ended up being more informative than most documentaries.
Well, the new sequel, Records Collecting Dust II is basically more of the same except this time it focuses on East Coast musicans and that is FANTASTIC. Today, we are pleased to bring you a trailer for that film. The trailer gives just a few hints of whom we get to hang out with this time around: Walter Schreifels, Dave Smalley, Brian Baker, Roger Miret, Paul Bearer, John Joseph, and more all geek out on records. Ian MacKaye even talks about how he ganked his first ever record…
You can check out the Film's website here and see the trailer below!
| Date | Theatre/Venue | City |
| --- | --- | --- |
| AUGUST 4th | The Fremont. | Des Moines IA. |
| AUGUST 16th | Hollywood Theatre. | Portland OR. |
| AUGUST 19th | Alamo Drafthouse Ritz. | Austin TX. |
| AUGUST 23rd, 24th and 25th | Digital Gym. | San Diego CA. After film Q&A w/ director Jason Blackmore and special guests tba. |
| AUGUST 26th | Film Bar. Phoenix AZ. | After film Q&A w/ director Jason Blackmore and Roger Miret (Agnostic Front). |
| AUGUST 28th | The New Parkway. Oakland CA | . After film Q&A w/ director Jason Blackmore. |
| AUGUST 30th | Balboa Theatre. San Francisco CA. | After film Q&A w/ director Jason Blackmore. |
| AUGUST 30th | Texas Theatre. | Dallas TX. |
| SEPTEMBER 7th and 8th | The Wooly. | Gainsville FL. |
| SEPTEMBER 8th | Still Waiting Studio | Los Angeles CA. After film Q&A w/ director Jason Blackmore, Page Hamilton (Helmet), Jason Farrell (Swiz/Red Hare), Craig Wedren (Shudder To Think) and special guests tba. |
| SEPTEMBER 12th | Black Cat. | Washington DC. After film Q&A w/ director Jason Blackmore and J Robbins (Government Issue/Jawbox/Channels). Plus special guests tba. |
| SEPTEMBER 13th | Nitehawk Cinema. | Brooklyn NY. After film Q&A w/ director Jason Blackmore, Paul Bearer (Sheer Terror), Tom Lyle (Government Issue) and Michael Hampton (S.O.A./Faith). |
| SEPTEMBER 14th | Regent Theatre. | Boston MA. After film Q&A w/ director Jason Blackmore, John Sox (FU's), Al Quint (Suburban Voice) and special guest tba. After film performance by Antibodies and FU's. |
| SEPTEMBER 24th | Davis Theater. | Chicago IL. |
| OCTOBER 4th | Record Bar. | Kansas City MO. After film Q&A w/ director Jason Blackmore. |