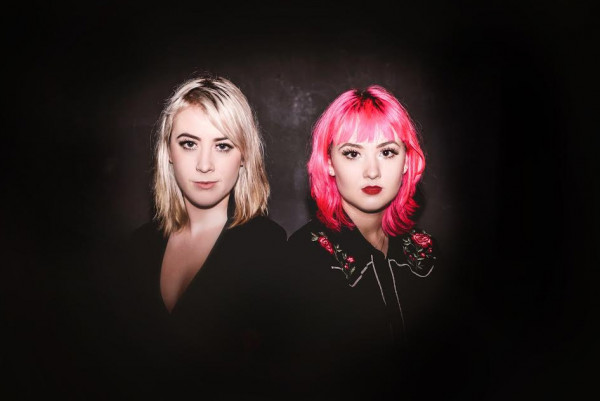 The three chord, high energy duo Dog Party are about to release their sixth record, Hit & Run. As before, sisters Gwendolyn and Lucy Giles stick to a sharp guitar/drum attack that is reminiscent of the Ramones and the first wave of west coast punk. But this record is their shortest, fastest, and meanest one to date- and that's a good thing!
Because the record is out this Friday, Punknews' John Gentile spoke to the band about the LP, the Beatles, and keepin' it DIY. Check it out below.
"Don't wait too long, just end the God damn song," says Lucy Giles. That's the mantra the drummer used when writing the new Dog Party record along with her sister, guitarist Gwendolyn Giles. And true enough, the sixth Dog Party record, aptly titled Hit & Run is the duo's punchiest record yet. Clocking in at about 25 minutes, the record is short and to the point- all but one song is under three minutes and a lot of them are under two. The duo still focus their sound on a Spartan guitar and drum attack, but this time around, the riffs are sharper, the drums smash harder, and the sisters come off with an aggressive edge
To a degree, that's no surprise. The album concludes a tenure of change for the duo. They've been blasting out Ramones-meets-Go Gos jams for about ten years now. After two records for Asian Man and backing Kepi Ghoulie for a few years, the sisters piled their funds together and are self-releasing the album. Lucy explains, "We wanted to break from a label a this point and do it for ourselves. We put all our means into it." Gwendolyn continues, "We recorded it. We oversaw the mixing and mastering. We sent it to the plant… and we did it all. It was definitely a lot harder than we though."
But moreso, this is the sister's most personal record. One seems to want to call it a "mature" record, except that it's their most volatile and bombastic release to date. Can a record truly be "mature" if it is based on Johnny's buzzsaw guitar and serrated edge lyrics ala Penelope Houston?
"Over a year ago, when we were writing this album, there was a continuous span of a couple of months of… drama…" says Gwendolyn.
"It was first with me," Lucy adds, "After a breakup, I wrote all these songs and Gwennie didn't have any, so I was on her case. Then she went through a break up- it did inspire her songwriting. The new songs had soul and raw power."
Lucy continues, "Hit & Run deals a lot with heartbreak. This was our journey though it. It's crazy to think all of those emotions we were feeling then an how much has changed in our relationships. Writing songs is a way of dealing with your problems. It's actually kind of terrifying. Putting your feelings out there. This is the first time I've written songs that were this personal. You're actually letting other people read your diary…"
Perhaps the most interesting thing about the new record is that it's a record about breakups, but it's not a breakup record. One is reminded of Carly Simon's "You're So Vain" which had the iconic line, "you're so vain, you probably think this song is about you." Hit & Run serves as sort of a black mirror to that record. Where Simon made the point that her tale of heartbreak was about her and not the doofus that called it quits, Dog Party drives down a similar road, except that instead of a gentle ballad backing them, charging three chord punk serves as the chassis.
"During the writing of this record I was listening to a lot of Shannon and the Clams and Best Coast. I was listening to a lot of Beatles," Lucy says. "I really related to Paul's song 'For No One.' I feel like Paul is the most talented one, instrumentally. He's just a true master… so I studied how he and the great songwriters would write a song back in the day and analyze what they did."
Interestingly, although Lucy is the younger of the duo, she does most of the speaking and comes out swinging when describing the new record. Meanwhile, Gwendolyn seems to hang in the back, chiming in with insightful nuggets before darting away. Amusingly, the sisters seem to share a psychic link when the speak, begiing and ending each other's sentences. For instance, when asked if they are ever concerned about a record label or a producer trying to wedge his perspective into the band's art:
Lucy : That's one of my biggest fears! Someone coming in and trying to tell me how to write my songs!
Gwendolyn: You have a vision.
Lucy: Ha! Well, I don't like my vision to be…
Gwendolyn: Disrupted?
Lucy: Disrupted! Gwennie and I are a good duo.
Gwendolyn: I'd say for siblings, we get along fairly well.
Lucy: Historically, through our childhood, we were just kind of chill with each other.
Gwendolyn: We'll always be sisters. You can can not be someone's friend anymore, but you can't un-sister someone.
Lucy: I could change my name?
Gwendolyn: But, you'd still be my sister.
Lucy: That's true, that's true.
To that end, the album finds the sisters dealing with their own feelings and relating them to each other. To a degree, the album almost feels like a conversation between them, and how they are growing. Any other characters mentioned are almost incidental.
Gwendolyn explains, "Expressing these emotions that we were feeling- we were both feeling them and they are sort of universal feelings. It might feel like the world is ending, and that's something everyone can relate to."
Lucy jumps in, "I think that's one of the most special things about music. It's a reminder that you're not alone, even if you think you are, and people do feel the same way. And then, you go through this journey of personal growth and discovery, with yourself, and you find that you're in a different place and the emotions behind it all have changed. I mean, I can tell you one thing- we're not in despair any longer, right?"